2019 US CX Nationals Rankings, Photos & More
Ready For The Crown: Can Curtis White Conquer US Cross?
Ready For The Crown: Can Curtis White Conquer US Cross?
Will White follow in the footsteps of multi-time champions Jeremy Powers and Stephen Hyde, and join the royalty of US Cross?
Nov 8, 2019
by Molly Hurford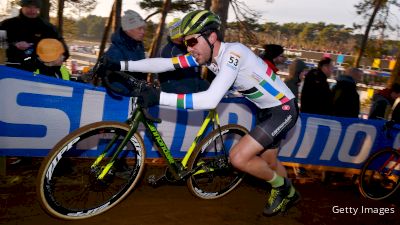 Unlock this video, live events, and more with a subscription!
Get Started
Already a subscriber? Log In
Unlock this article, live events, and more with a subscription!
Get Started
Already a subscriber? Log In
In 2018, Curtis White went from a promising talent to an international champion with a sprint win at the Pan American Cyclocross Championships. But he failed to follow up at the national championships, the biggest stage in US cyclocross.
A year later, will White follow in the footsteps of multi-time champions Jeremy Powers and Stephen Hyde, and join the royalty of US Cross?
White doesn't want you to call 2018 his breakout year. Sure, he picked up the Pan Ams jersey and he was second at the National Championships behind longtime teammate Stephen Hyde, but the season didn't completely go according to plan.
The analytical 25-year-old cyclocross racer knew he still had some work to do.
The 2019 season might very well be White's true breakout year. He heads back to the 2019 Pan American Cyclocross Championships on Sunday, Nov. 10 with seven UCI victories and two top-20 World Cup finishes.
He's feeling confident about tackling the Silver Goose course in Midland, Ontario, again. And his chief rivals will be similar to last year: Three-time Canadian National Champion Michael Van den Haam, two-time US National Champion Stephen Hyde and other top US racers like Kerry Werner will be on the start line with him.
A personality doesn't make an athlete—it helps build a brand.
White's been racing since he was nine years old. He's studied under mentors like former teammate Tim Johnson, and current teammate Hyde.
He may not get as much press, or be as outspoken in the sport as some of his fellow racers. But that doesn't mean he's not ready to take on the mantle of National Champion this season—if the race goes according to plan.
We caught up with White at his home in upstate New York as he prepped for Pan Ams, and delved deep into his cyclocross roots and his rise to the top of the elite men's field.
Consider this: If White wins Nationals this year, he'll be the youngest champion since Ryan Trebon won in 2006, at the age of 25.
You've been racing for more than a decade, but how did you get into racing?
Cycling stood out to me. We had all of these old VHS tapes of big races like Paris-Roubaix. And when I was five or six, there was a really wet, rainy Paris-Roubaix and riders were crashing all over the cobbles and I got so fired up that I begged my dad to take me out on a ride.
It was springtime, 45 degrees, pouring rain, and he still took me. A normal parent might not have, but he was fine to take me out for a 90 minute ride. I remember being on the roads and having so much fun. I was six years old racing Paris-Roubaix in my head and loving it.
Dad took me out for more bike rides, and in 2004 when I was nine, he took me to my first criterium.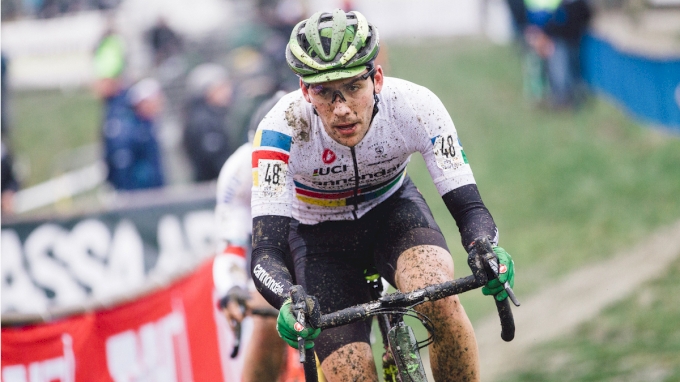 Balint Hamvas
You shifted in the past year to a cyclocross focus—do you miss the road?
I had some awesome opportunities on the road over the years and was able to get some good results, but cyclocross is my true skill set and what I love to do. I love the cyclocross racing scene.
I'm still a strong road racer, and still raced a few high-level races this summer. I could go back to the road, but cyclocross is where I want to develop and where I feel like I have most to give right now.
How did your CX racing goals, training, and life change when you stopped racing road?
With cyclocross, you do still need some other racing because it's a short season. To develop your other skills, you need road or mountain. But no team really wants to split your time—road teams want you to be available for everything.
I always had cyclocross, and I've balanced school on top of that. I graduated college last fall and this past year, I decided to take a step away from that full-on road program and develop my own program doing some road, gravel and mountain bike racing with the focus on becoming more well-rounded for cyclocross.
It was a completely solo program which was frustrating at times but it helped me develop such a wide range of skills.
You've had an amazing season so far, winning your last three races, but it seems like you're flying a bit under the radar.
Are you thrilled with it?
Honestly? I really just feel like I'm performing up to my potential right now. I'm not overextending or overreaching. Over the last few years, I've had a consistent upward trajectory.
Last year, people talked about it being a breakout year for me, but I didn't feel like that by any means. I had flaws in races, even the ones I won. They were mistakes I could look at and assess and work on. This year, I feel like I'm performing at my potential, bringing my best into every racing situation, analyzing courses better, analyzing competition better, and representing my team and sponsors better on a higher level.
But I have more to give and I'm excited for the rest of the season.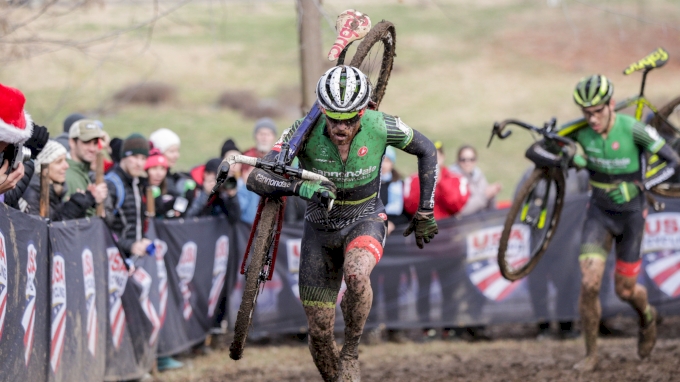 Bruce Buckley
You're right: Looking at it, this year feels like it's more your breakout year than last year.
You're racing a full field—your teammate, Stephen Hyde, isn't injured—everyone is racing at their full potential and you're still winning.
Yes—last year, there were some asterisks around me winning, depending on who was there or who was injured.
But this year, my results haven't been contingent on what other riders are doing. That's what makes me feel really happy. With the time and resources I have right now, I feel like I can hit that full potential. There's always room to improve!
How does it feel having your top nemesis (at least, according to CrossResults) also be your teammate?
Stephen and I have been teammates for six years. Before this year, it was five years of him being an incredible mentor, teammate and friend.
I've had a lot of great mentors but he's the one who grabbed me by the collar, shook me and said, 'What are you doing? You're making poor decisions, and this is what you need to be thinking about, living like a true student of the sport. This is how you have to operate.
There was a lot of learning that went with that. The product of that is I get better and better.
This year, Hyde is still not where he wants to be, but he'll certainly come back. He's one of the most meticulous teammates I've had when it comes to being the most holistic athletes in terms of training, nutrition, mindset, everything.
We're great teammates and that's something I really value.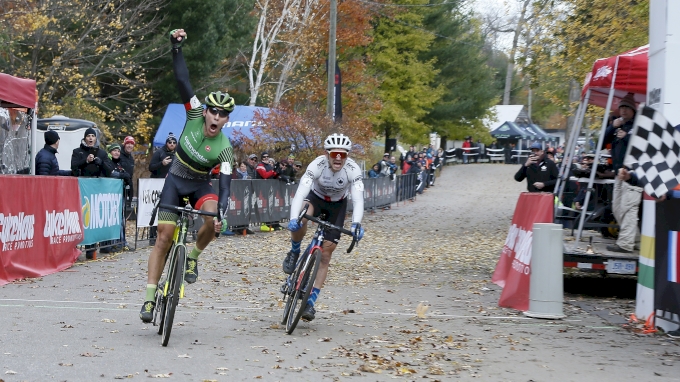 John E. Sokolowski/USA Today
Compared to a lot of the big names in the sport like Hyde or Jeremy Powers or Tim Johnson, you seem a little more private.
Is it hard being less extroverted than those guys?
A personality doesn't make an athlete—it helps build a brand. Right now, my main focus is to improve as an athlete, be the best athlete and teammate I can be and get results.
I think that building a brand will come in time, it's something I'm working on, becoming better on social media and things like launching my own website. But I've never felt pressure to have more of a voice in the sport.
I've been content with sitting back, watching and learning from as many people as possible. But this is the first time I've been at the front of the race, making the decisive moves.
I'm still analyzing how to get better and improve. But guys like Tim Johnson, those are guys I want to be like. I've been taking notes on how to be more like them.
With Nationals under a month away, how are you feeling after last year's second place?
I've been thinking about Nationals every day. Last year, I brought my best to the start line and had the potential to win but I made mistakes in the race. I wasn't racing the course as well as I could have. I was riding too aggressively.
It was the heaviest course we'd had all year and it was easy to go into the red and overextend myself.
Stephen was focused on how he was riding, while I was focused on if I had a gap, or if he had a gap on me and I needed to close it. Those burned matches added up.
Stephen's experience helped deliver a beautiful championship win. I was proud of my result but there were things to learn from.
Physically, I'm at a higher level than I was last year, but it won't just take watts, it takes a lot of different things. One thing I'm working on is not having one championship effort but having a consistent effort every single race.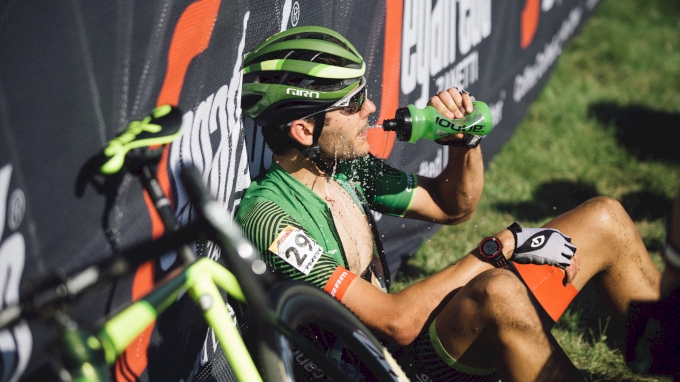 Balint Hamvas
If you won, you'd be the youngest National Champion in the US since 2006.
How does that feel, being in the position to be the frontrunner?
Internationally, and in the US you see that there's a surge of really young racers in recent years—Lance Haidet, Gage Hecht, Katie Clouse—there are a lot of young racers knocking on the door.
It's weird, because I'm also a young guy but these guys are a few years younger and they're the ones I'm watching when the racing is chaotic.
There could be a dark horse younger than me who wins it.
How are you feeling heading into Pan-Ams this weekend? By all accounts, you're the front-runner.
I'm feeling coming into it. We haven't seen a lot of this cold and potentially snowy weather yet this season. But a big part of my training this year has been working on my technical skills, so I'm comfortable, whatever the weather conditions.
There aren't any new features on the course, but they've changed up the order of the features for this year. I'm really looking forward to it.
Last year, the weather was all over the place. The day before the race, it went from snowing and 20mph winds to sun and feeling like it was 50 degrees. Then it rained, then it was sunny—the weather couldn't make a decision.
But we're cyclocrossers, we race in any conditions you throw at us. The less you can get attached to your expectations about weather or the course, the better off you are.