Alison Tetrick's Dirty Kanza Training Plan: Week 9
Alison Tetrick's Dirty Kanza Training Plan: Week 9
Tetrick's ninth and final week of training for the dirty kanza 200 mile gravel race in Emporia, Kansas.
Jun 4, 2018
by Michael Sheehan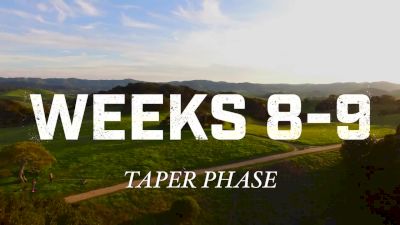 Unlock this video, live events, and more with a subscription!
Get Started
Already a subscriber? Log In
Unlock this article, live events, and more with a subscription!
Get Started
Already a subscriber? Log In
Below, you'll find Alison Tetrick's actual training plan from the run-up to the 2018 Dirty Kanza 200. A Carmichael Training Systems athlete, Tetrick has worked with coach Dean Golich since 2012. Tetrick put together this training program, and the "pro tips" included in our videos with the help of CTS.
With less than one week remaining before Tetrick lines up at Dirty Kanza, the hard work is behind her. Tetrick began her taper phase last week to ensure she does not carry excessive fatigue into the race. All that remains is to keep her legs moving and to get herself to Emporia, Kansas!
The ninth and final week of Tetrick's training plan will include a light mix of riding, resting and travel. With no more gains in fitness to be made prior to the big day, proper rest, hydration and fueling become the critical factors in Tetrick's final approach to race day.
Here is the eighth week of Alison's Dirty Kanza Training Plan.
Because Tetrick is naturally inclined to geek out on numbers, and can become consumed with data, Golich purposely designs her training to rely more on feel. He incorporates elements of fun and adventure, and unstructured training such as regular group rides.
However, we realize not everyone is Alison Tetrick. So we also provided structured workouts that mimic Alison's plan, for those with limited schedules or desire for a more scripted training plan. Scale these workouts and rides as needed depending on your ability level, and the amount of time you have to train.
You can find additional weeks of training at the following links:
WEEK 1 – WEEK 2 — WEEK 3 — WEEK 4 — WEEK 5 — WEEK 6 — WEEK 7 — WEEK 8
Week 9

Monday

Rest Day

Tuesday

2-3 Hour Easy Spin With 5x5 HC

Wednesday

3-4 Hour Fast Group Ride

Thursday

Travel Day

Friday

1-2 Hour Easy Spin

Saturday

RACE DAY!

Sunday

Hard Earned Rest Day
MONDAY:
Rest Day
Tetrick will take the day entirely off the bike following her weekend rides.
Description:
Rest days are every bit as integral to a training plan as any other day. Use today to rest and relax, destress, catch up on life's other obligations, and mentally prepare yourself to launch into the next block of training.
Tip:
Today is meant to be restful. However, with very few days left before the race, it may be necessary to take advantage of today's free time to prepare for the many logistics of Dirty Kanza. Acquiring and organizing race food, flat repair kits, tools and other race-day items takes a lot of time. Don't wait until the last minute!
---
TUESDAY:
2-3 Hour Easy Ride With 5x5 Mins High Cadence
Tetrick will log some easy miles today with a light set of high cadence drills. These drills are intended to activate fast twitch muscle fibers without inducing the fatigue of high intensity intervals.
Description:
Ride 2 hours at zone 1 to light zone 2. Include 5x5 mins @102-130 rpm with 5 mins TBI @85+ rpm. Remain below 85% LT during high cadence drills
Details:

Warm up
25 min @40-50% LT
Zone 1
Endurance
30-60 min @ 50-72% LT
Zone 1-2
Repeat 5 times

VO2 Max
5 min @ 60-85% LT
102-130 rpm
Recovery
5 min @ <68% LT
85+ rpm

Gradual Cool Down
30 min @ 45-65% LT
Zone 1-2
Tip:
Ease into the high cadence drills. While the power output is not meant to be challenging, spinning such a high cadence can be difficult for a sustained amount of time without practice. You can increase the cadence in the final minute of each drill for an added challenge.
---
WEDNESDAY
3-4 Hour Fast Group Ride
Tetrick will utilize a local fast group ride for todays training. She will remain mostly in the draft of other riders throughout the day rather than animating the front of the ride. This will allow her to enjoy the benefits of a long ride, without inducing too much fatigue prior to Dirty Kanza.
Description:
Ride a flat to rolling course today and remain mostly in zones 1 and 2. Spin a cadence >88 rpm throughout the entire ride and refrain from spending too much time in the wind. This ride is to be performed similar to a light motor-pacing session.
Tip:
Drink lots of water during and after today's ride! Proper fueling and hydration become more and more crucial as the race day approaches.
---
THURSDAY:
Travel Day
Tetrick will ship out to Emporia, Kansas today.
Tip:
Bring along a foam roller for some post-flight hotel room recovery! A foam rolling and stretching session will help loosen up the body. Drinking lots of fluids will also be key as flights can dehydrate you. Optimal hydration in the days leading up to the race are paramount.
FRIDAY:
1-2 Hour Easy Ride
Tetrick will go for a pre race spin today. She may even opt to do it on part of the course. Pre riding key parts of the course can be very useful preparation for race day.
Description:
Ride a flat course while spinning an easy gear for 1-2 hours. Power output should remain <65% LT throughout the entire ride. Avoid hard accelerations and spikes in heart rate, and maintain a cadence >88 rpm.
Tip:
Use today to spin the legs and wake them up before tomorrow's race. Keep in mind, 200 miles is a very long distance. There is virtually no need to warm up with any hard efforts or big miles before race day. Simply get a spin in and make sure your bike is dialed for tomorrow's efforts. 2 hours is the absolute maximum duration you should ride today. Get this ride in before it gets too hot outside and don't do anything that will make you go into tomorrow's race tired!
Details:

Warm up
10 min @40-50% LT
Zone 1
Easy Spinning
30-90 min @ <65% LT
Zone 1
Cool Down
20 min @ <50% LT
Zone 1
---
SATURDAY:
Race Day
Good Luck!
Race smart, stay on top of hydration and smile for the cameras!
---
SUNDAY:
Rest Day
Description:
Win or lose, you worked hard, had an adventure and will undoubtedly be coming home with stories to tell. You deserve to put your feet up and feel proud of your efforts. Chapeau!