Alison Tetrick: Gravel Queen
Alison Tetrick's Dirty Kanza Training Plan: Week 5
Alison Tetrick's Dirty Kanza Training Plan: Week 5
Week 5 of Alison Tetrick's Dirty Kanza Training Plan
May 21, 2018
by Michael Sheehan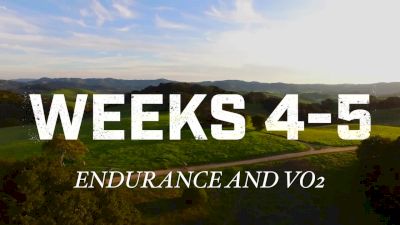 Unlock this video, live events, and more with a subscription!
Get Started
Already a subscriber? Log In
Unlock this article, live events, and more with a subscription!
Get Started
Already a subscriber? Log In
Below, you'll find Alison Tetrick's actual training plan from the run-up to the 2018 Dirty Kanza 200. A Carmichael Training Systems athlete, Tetrick has worked with coach Dean Golich since 2012. Tetrick put together this training program, and the "pro tips" included in our videos with the help of CTS.
The first three weeks of Tetrick's Dirty Kanza training plan focused on increasing her lactate threshold (LT) primarily through the use of long sweet spot intervals, combined with group rides and training races. The fourth week of her plan however ushers in a new phase of training.
Weeks four and five of Tetrick's plan will begin to incorporate high intensity efforts above her LT. Week four saw Tetrick begin to do efforts in the VO2 Max range, then she capped it off with a hard weekend of riding at Campo Velo in the hills of Napa County. VO2 efforts are taxing on the body and require more recovery than workouts at lower intensities. This week will be a bit lighter for Tetrick to allow her to recover from the past week, and allow her to have some form going into a race this coming weekend.
Here is the fifth week of Alison's LT building phase of training for the Dirty Kanza 200.
Because Tetrick is naturally inclined to geek out on numbers, and can become consumed with data, Golich purposely designs her training to rely more on feel. He incorporates elements of fun and adventure, and unstructured training such as regular group rides.
However, we realize not everyone is Alison Tetrick. So we also provided structured workouts that mimic Alison's plan, for those with limited schedules or desire for a more scripted training plan. Scale these workouts and rides as needed depending on your ability level, and the amount of time you have to train.
You can find additional weeks of training at the following links:
WEEK 1 – WEEK 2 — WEEK 3 — WEEK 4 — WEEK 6 — WEEK 7 — WEEK 8 — WEEK 9
Week 5

Monday

Rest Day

Tuesday

2-4 Hour Endurance Ride

Wednesday

Group Ride (Hard Fast 3-5 Hours)

Thursday

Travel

Friday

1.5 Hour Spin

Saturday

Chino Gravel Race

Sunday

1 Hour Active Recovery Ride
MONDAY:
Rest Day
Following a long weekend of training and racing, Alison will put her legs up and get some well earned recovery. Remember, training makes you fit, resting makes you fast!
Description:
Rest days are every bit as integral to a training plan as any other day. Use today to rest and relax, destress, catch up on life's other obligations, and mentally prepare yourself to launch into the next block of training.
---
TUESDAY:
2-4 Hour Endurance Ride
Tetrick will ride at a light endurance pace for 2-4 hours today. This workout relies on how well Tetrick has gotten to know her body throughout the course of her professional career. If she is feeling recovered following the past weeks efforts, she has free reign to push this ride into the four hour range. If she is still feeling tired and sluggish, she will opt for a shorter two hour ride.
Description:
30-minute warmup gradually building to endurance pace.
MS:
75-minutes - 3.5 hours of steady endurance paced riding
15-minute easy cool down
Tip:
If you are feeling tired, err on the side of caution and ride shorter to make sure you are primed for tomorrow's hard ride.
Details:

Warm up
30 min @ 45-60% LT
Zone 1-2
Endurance
1:15:00 - 3:30:00 @ 50-75% LT
Zone 1-2
Cool Down
20 min @ <55% LT
Zone 1
---
WEDNESDAY
3-5 hours Hard Group Ride
Every professional cyclist has a group of training partners whom they rely on for both company, and challenging workouts. Today Alison will ride with a group of people who can physically challenge her over the course of a long ride. While these group rides often do not involve attacking each other, all riders will take turns taking strong concerted pulls on the front, then using the draft of the other riders to recover for the next big pull.
Description:
Ride a hard steady pace for 3-5 hours in a group of 4-8 riders. Pulls on the front should be a steady wattage fluctuating naturally between Zones 2-3 depending on the terrain.
Tip:
Ride in a relatively small group with friends who can challenge you, but are similar in strength.
---
THURSDAY:
Travel
Tetrick will take today to travel to the Chino Gravel Race.
Tip:
Travel is hard on the body. Pros use recovery techniques such as stretching, yoga and foam rolling to rejuvenate the body.
FRIDAY:
1.5 Hour Spin
Tetrick will complete an easy spin today to get the legs moving again following her travel day.
Description:
Spin a light gear (>88rpm) at a low intensity for 60-90 minutes. If your legs are heavy, include 3-6 x 2 min openers @91-106% LT.
Tip:
Openers before a race are a tradition of many professionals. While they are not always necessary, they can be helpful to "wake up" the legs if they are feeling heavy from a taper, or travel. Openers can be 30-120 seconds around an athletes LT. They should get the blood pumping without inducing any undue fatigue. If the openers feel hard or unsustainable, you are going too hard and should just ride easy for the remainder of the pre-race ride.
Details:

Warm up
15 min @40-50% LT
Zone 1
Light Endurance
60 min @ 50-68% LT
Zone 1-2
Cool Down
15 min @ <50% LT
Zone 1
---
SATURDAY:
100 Mile Chino Gravel Race
Alison will race across 100 miles of Arizona Gravel today. Racing can be used to great effect as training leading up to an athlete's A-race. If you have a long gravel race at your disposal today, go out there and rip it! If racing is not an option, try this workout instead.
Description:
4 hour ride with 1x20 minutes @Tempo and 5x5 minutes @VO2 Max.
Details:

Warm up
15 min @40-50% LT
Zone 1
Endurance
60 min @ 50-75% LT
Zone 1-2
Tempo
20 min @ 76-90% LT
Zone 3
Endurance
60 min @ 50-75% LT
Zone 1-2
Repeat 5 times

VO2 Max
5 min @ 106-120% LT
Zone 4-5
Recovery
5 min @ <55% LT
Zone 1-2

Gradual Cool Down
30 min @ 45-65% LT
Zone 1-2
Tip:
Pace your effort throughout the ride. The 5x5 set will be very challenging, so stay hydrated and well fueled, and save some energy to finish the ride strong.
---
SUNDAY:
1 Hour Easy Recovery Spin
After a stout day in the saddle, it is time for an active recovery spin. Alison will maintain a low and steady heart rate for the entire hour spin.
Description:
Ride a flat course while spinning an easy gear for 1 hour. Power output should remain <55% LT throughout the entire ride. Avoid hard accelerations and spikes in heart rate, and maintain a cadence >88 rpm.
Tip:
Pro cyclists love a recovery day coffee shop ride. Including a stop at a cafe for a beverage and snack towards the end of this ride is perfectly fine. Invite some friends along and enjoy the easy day in the saddle.
Details:

Warm up
15 min @40-50% LT
Zone 1
Active Recovery
35 min @ <55% LT
Zone 1
Cool Down
10 min @ <50% LT
Zone 1
Stay tuned for weeks 6 and 7 of Alison Tetrick's training plan for Dirty Kanza!