Alison Tetrick's Dirty Kanza Training Plan: Week 8
Alison Tetrick's Dirty Kanza Training Plan: Week 8
Alison Tetrick's final taper phase for the 200 mile Dirty Kanza gravel race
Jun 4, 2018
by Michael Sheehan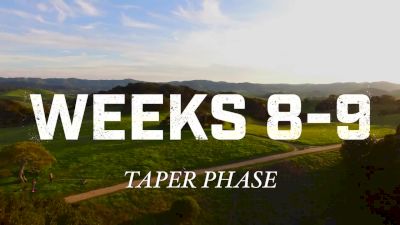 Unlock this video, live events, and more with a subscription!
Get Started
Already a subscriber? Log In
Unlock this article, live events, and more with a subscription!
Get Started
Already a subscriber? Log In
Below, you'll find Alison Tetrick's actual training plan from the run-up to the 2018 Dirty Kanza 200. A Carmichael Training Systems athlete, Tetrick has worked with coach Dean Golich since 2012. Tetrick put together this training program, and the "pro tips" included in our videos with the help of CTS.
Following her final pre-Kanza prep race, Tetrick will begin her taper leading up to the big day. A taper generally involves a reduction in training volume, while incorporating occasional short, hard efforts to keep the legs sharp.
A taper is an art as much as it is a science. Over time, every athlete learns how their body responds to tapering, and will adjust the process accordingly to best prepare for their A-race.
Tetrick likes to still spend a relatively sizable amount of time in the saddle during her taper, but she has arrived at this strategy following years of learning how to walk the fine line between managing the fatigue of training, while still arriving to the start line feeling fit and fast.
Here is the eighth week of Alison's Dirty Kanza Training Plan.
Because Tetrick is naturally inclined to geek out on numbers, and can become consumed with data, Golich purposely designs her training to rely more on feel. He incorporates elements of fun and adventure, and unstructured training such as regular group rides.
However, we realize not everyone is Alison Tetrick. So we also provided structured workouts that mimic Alison's plan, for those with limited schedules or desire for a more scripted training plan. Scale these workouts and rides as needed depending on your ability level, and the amount of time you have to train.
You can find additional weeks of training at the following links:
WEEK 1 – WEEK 2 — WEEK 3 — WEEK 4 — WEEK 5 — WEEK 6 — WEEK 7 — WEEK 9
Week 9

Monday

Recovery Day

Tuesday

2 Hour Ride With With Short Hard Climbing Efforts

Wednesday

3 Hour Group Ride

Thursday

2-3 Hour Climbing Ride

Friday

Recovery Ride

Saturday

3-4 Hour Fast Group Ride

Sunday

3 Hour Endurance Ride
MONDAY:
Recovery Day
Tetrick's primary goal today is to allow her body to rest and recover. S
Description:
Use today as a recovery day. You can either stay off the bike entirely, or go for a very easy ride on a flat course ensuring that you remain within zone 1 the entire day. Keep a low and steady heart rate, taking care to avoid any spikes.
Tip:
Active recovery techniques such as yoga, foam rolling and stretching are great options for the day's activity.
---
TUESDAY:
2 Hours With 4x5 Mins @VO2
Tetrick will be working at the Amgen Tour of California this week. She capped off a solid block of training leading up to this week, so a couple days off the bike, will not only provide her with key recovery, but will allow her to focus on life's other obligations.
Description:
Ride 2 hours at zone 1-2. Include 4x5 mins @106-120% LT with 5 mins TBI @<55% LT. Efforts are best done up a gradual climb of 3-8% gradient.
Details:

Warm up
25 min @40-50% LT
Zone 1
Endurance
30 min @ 50-75% LT
Zone 1-2
Repeat 4 times

VO2 Max
5 min @ 106-120% LT
Zone 5
Recovery
5 min @ <55% LT
Zone 1

Gradual Cool Down
30 min @ 45-65% LT
Zone 1-2
Tip:
This is Tetrick's preferred workout for intensity. 5 minutes however can be quite a stout effort at VO2 power. Repeating VO2 efforts in the 2-3 minute range may be more effective for riders less experienced than Tetrick, especially during a taper!
---
WEDNESDAY
3 Hour Group Ride
Tetrick will ride with one of her trusted group rides today. However, because she is tapering, she will opt to sit in, rather than animate the front of the ride.
Description:
Ride a steady pace for 3 hours in a group of 4-8 riders. Keep power mostly within zones 1-2. Limit time spent on the front as much as possible. Get some miles in, but take full advantage of the draft being offered up by friends!
Tip:
Group rides during a taper require a certain amount of self control. It is important to remember that you are trying to help your body recover from the hard block of training you have just completed. Limit accelerations and avoid competitive pulls on the front.
---
THURSDAY:
2-3 Hour Climbing Day
Tetrick will head out for hilly ride today to finish off a little three day block on the pedals. The goal of today is to keep her legs acclimated to tackling challenging terrain, without actually pushing her body too hard.
Description:
Ride 2-3 hours on a rolling course. Ride mostly within zones 1 and 2. Remain seated on climbs and maintain a steady power over the top of the climbs.
FRIDAY:
1 Hour Recovery Ride
Recovery days are always a critical component of any training regiment. During a taper, they become even more important. Recovery days are not only a day for lightly spinning to coffee shop. They are an opportunity for athletes to sleep in, and use the extra free time to relax and unwind. Massages, stretching and yoga are great options for rejuvenating both the mind and body.
Description:
Ride a flat course while spinning an easy gear for 1 hour. Power output should remain <55% LT throughout the entire ride. Avoid hard accelerations and spikes in heart rate, and maintain a cadence >88 rpm.
Tip:
Pro cyclists love a recovery day coffee shop ride. Including a stop at a cafe for a beverage and snack towards the end of this ride is perfectly fine. Invite some friends along and enjoy the easy day in the saddle.
Details:

Warm up
15 min @40-50% LT
Zone 1
Active Recovery
35 min @ <55% LT
Zone 1
Cool Down
10 min @ <50% LT
Zone 1
---
SATURDAY:
3-4 Hour Fast Group Ride
Tetrick will utilize a local fast group ride for todays training. She will remain mostly in the draft of other riders throughout the day rather than animating the front of the ride. This will allow her to enjoy the benefits of a long ride, without inducing too much fatigue prior to Dirty Kanza.
Description:
Ride a flat to rolling course today and remain mostly in zones 1 and 2. Spin a cadence >88 rpm throughout the entire ride and refrain from spending too much time in the wind. This ride is to be performed similar to a light motor-pacing session
---
SUNDAY:
3 Hour Endurance Ride
Description:
Ride at a steady zone 1 to zone 2 power output today. A group ride is fine as long as long as it is ridden at a steady pace (not too much coasting and no big surges/ attacks!). Remain seated on climbs and practice maintaining a smooth and steady power output throughout the entire ride.
Tip:
Stay hydrated and meter your effort. The big day is less than a week away!
Stay tuned for the final week of Alison Tetrick's training plan for Dirty Kanza!