2017 Derby City Cup
Everything You Need To Know About The Derby City Cup
Everything You Need To Know About The Derby City Cup
As racers head to Louisville, Kentucky there's a chill in the air. Fall has reared its sometimes-ugly head.
Nov 3, 2017
by Ian Dille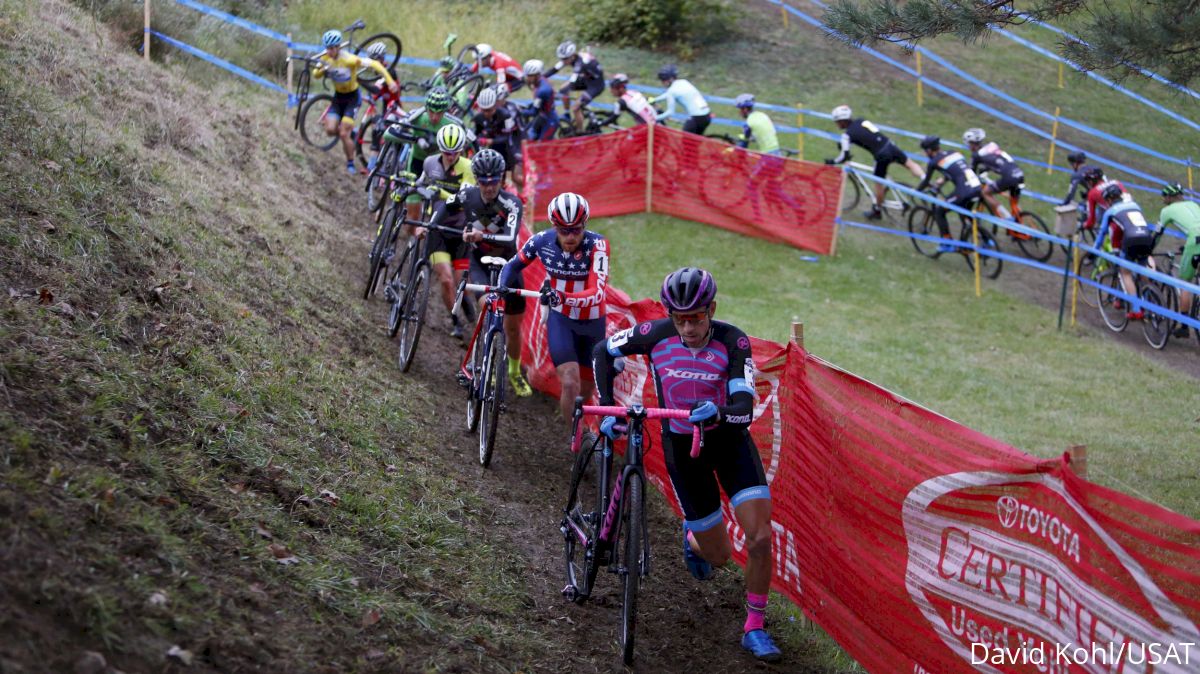 As racers head to Louisville, Kentucky — site of 2013 Cyclocross World Championships — there's a chill in the air. Fall has reared its sometimes-ugly head. Mud and muck abound.
Every racer who complained about the warm and dry early season is about to get exactly what they were asking for. If you're heading to the Derby City Cup, pack your rain boots.
Between Saturday's final U.S. Cup-CX race, with more than $10,000 on the line for the top male and female rider, and Sunday's Pan American championships, this just might be the biggest weekend of the 2017 U.S. cyclocross season.
Racers will be competing for the highest payout of any given weekend. There's a lot going on. Here's what to expect at the Derby City Cup.
1. A Brand Spanking New Course
The Derby City Cup is leaving a longtime Louisville venue at Eva Bandman Park — site of the world championships (and the ridiculous Ohio River flooding that almost caused worlds to be cancelled) — for a new and unknown venue: Joe Creason Park, on the outskirts of town.
With more elevation change on offer at the new location, racers are expecting a more demanding course. Louisville is also the host of the national championships for the 2018-19 cyclocross season, so Derby City will serve as a test event.
Between the new course and a potential chance of rain for the weekend, the races could see unexpected dynamics. No one will arrive at Joe Creason Park with the benefit of experience.
2. The U.S. Cup-CX Is Finishing On A High Note
With more than $10,000 on the line for the U.S. Cup-CX series win, Stephen Hyde and Kaitie Keough, both Cannondale-CyclocrossWorld.com racers, seem to have a lock on the overall title, barring some kind of major screw-up or mechanical failing on Saturday.
Keough's teammate Emma White is right behind her, back only 25 points, while Aspire Racing's Ellen Noble trails the two by nearly 100 points in third — still good enough for a multi-thousand dollar prize payout, thanks to a crowd-sourced and matched addition to the overall prize money.
Behind her, Becca Fahringer trails by 10 points and is followed by Crystal Anthony, but Noble has been racing well the last weekend and it seems likely that the top three will remain as-is.
In the men's field, Hyde has come out swinging in the last two races, and has a 70-point lead over second place, Kerry Werner of Kona. Behind Werner, Curtis White has a slight lead over Tobin Ortenblad. But Ortenblad, who runs a one-man race team sponsored by Donkey Label and Santa Cruz, will certainly be fighting hard to move back into the third spot and secure some sort of payout.
3. Pan-Ams Are Kind Of A Big Deal
While the Pan American championships don't get as much press or attention as the U.S. national championships, the Pan Am race is a more important race than most realize.
The UCI points available at Pan Ams are actually higher than at the national championships. And the timing — ahead of many UCI World Cup races — is ideal for Americans.
This is especially true for under-23 men. While their European competitors can accrue UCI points throughout the season in under-23 only events, such as the DVV Trophy and the Superprestige series, American under-23 men have limited opportunities to gather UCI points against age-based fields. They're forced to garner most of their season-long UCI points in the elite men's fields, which can prove brutal for under-23 racers not vying for podium placings.
Because U.S. nationals occurs late in the season, in January, having a UCI championship race such as the Pan Ams in November allows under-23 men to get points — and subsequently better start positions — for upcoming World Cup races.
4. Katie Compton Is Back
And not just literally back on American soil. After a somewhat disastrous World Cup race in Waterloo, Compton has been crushing it in Europe, racking up points, podiums, and wins against the best in the world. If she can avoid being too jet-lagged to throw down, she'll be a major force.
Early-season slumps are common for Compton, but if there's one thing the 13-time national champion and reigning Pan Am champ knows how to do, it's win championship races.
Keough, however, has been uber-consistent all season, so she'll be Compton's top threat. Noble is also one to watch, and if the course suits her she could unseat Compton and trade in her current under-23 Pan-Am jersey for the women's elite version.
5. Stephen Hyde Is The Man to Beat—Both Days
While Hyde's lead is almost assured — he would have to DNF while Werner would need to win to simply tie him in the standings — he's also the reigning Pan Am champion, so he'll have a massive target on his back both days. But after three weeks off and a great weekend in Cincy, Hyde's likely feeling pretty darn good, so he'll be tough to compete with.
Ortenblad, Werner, and Jeremy Powers will all be racers to watch. On the right day, any one of them could pull off a win. Curtis White and Jamey Driscoll will also vie for the podium.


6. Under-23 Fields Shake Up The Elites
For Sunday's Pan-Am race, the elite fields may look a little smaller, and the racing at the front will certainly be different than in previous weeks. In the men's field, both Spencer Petrov and Gage Hecht — both second-place finishers in Cincinnati — will be racing in the under-23 men's field. A number of other riders who normally place top-15 in the elite race will join them. That opens up the front of the race for the rest of the field, and could change the racing dynamic.
In the women's field, Emma White will drop into the under-23 race. As a staple on the podium this season, White missing out on the elite women's race could change the dynamic. White is teammates with Keough on Cannondale-CyclocrossWorld.com. Without team tactics at her disposal, Keough's approach to the elite women's race could change.
---
By Molly Hurford