Keogh Is Queen And Tobin's A Star: Five Lessons From Charm City Cross
Keogh Is Queen And Tobin's A Star: Five Lessons From Charm City Cross
At Charm City Cross, the top U.S. riders duked it out on a course that national champion Stephen Hyde called "super Euro."
Oct 11, 2017
by Ian Dille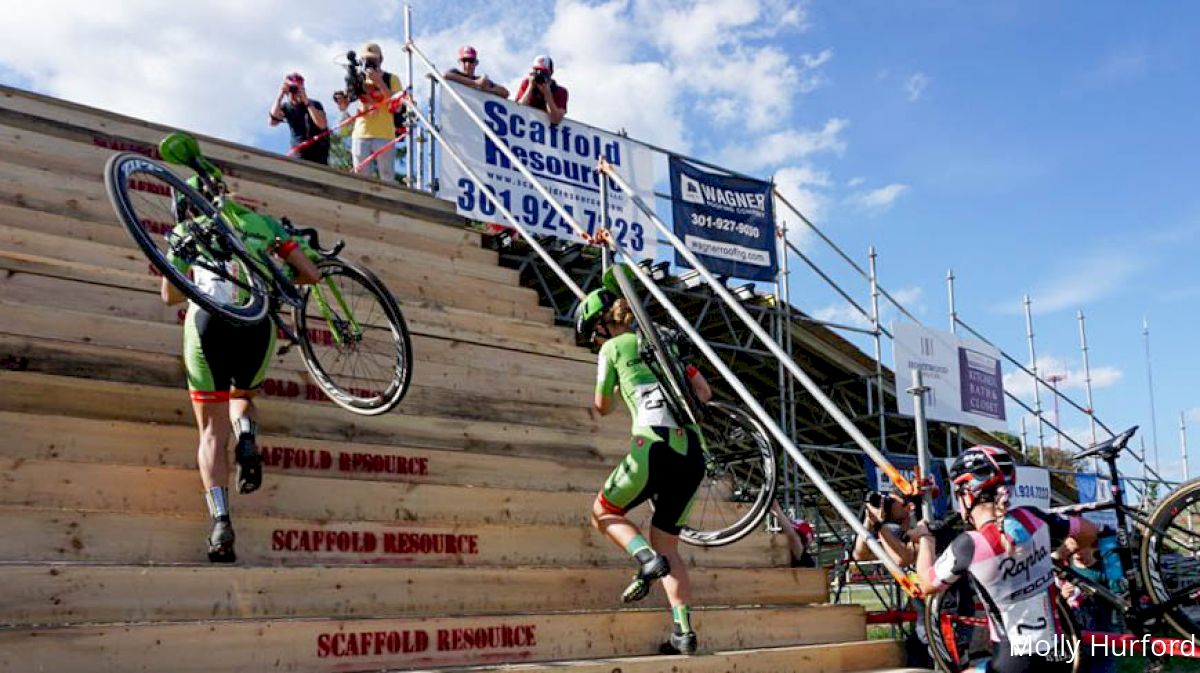 At Charm City Cross, the top U.S. riders duked it out on a course that national champion Stephen Hyde called "super Euro."
Despite the dry and dusty conditions that greeted riders on day one, Hyde said that outside of the World Cups, "This is probably the best course we've done so far."
Now that the dust has settled, what did we learn in Baltimore?
Kaitie Keough Is Ms. Consistency
The Cannondale-CyclocrossWorld.com rider took back-to-back wins this weekend, further cementing her lead in the U.S. Cup-CX overall standings. While Keough's teammate, Emma White, isn't too far behind in second place, it's been Keough's consistency this season that's made her the top American rider so far. The 25-year-old's worst finish at a major race this season was third on day two of the KMC Cross Fest in Thompson, Connecticut.
Other racers are having similarly stellar seasons — notably White and fellow young rider Ellen Noble of Aspire Racing — but Keough has established herself as the rider to beat for now.
Can Keough hold her fitness through the entire season? We'll find out, as she plans on traveling to Europe for the Koksijde World Cup in Belgium before the last two race weekends of the U.S. Cup-CX.
Tobin Ortenblad Is The Breakout Rider of the Season
In Charm City, Tobin Ortenblad further secured his spot atop the U.S. Cup-CX standings, though Stephen Hyde is closing in on him. Ortenblad has said that the $10,000 winner payout would be a huge help to his solo-rider program, a team comprised of just himself and his mechanic (who also happens to be his coach).
The disparity between his under-the-radar setup and the vans, trailers, and tents of bigger teams like Aspire Racing and Cannondale CyclocrossWorld.com is noticeable on major race weekends like Charm City. And honestly, it makes his results this season seem just a bit more badass.
The Series Is Nowhere Near Locked Up
Because of the points structure of the series, Ortenblad is being closely chased by Stephen Hyde. After Hyde's win on Sunday at Charm City, he closed to within 15 points of the lead.
"I was surprised to see how well Tobin raced both days at KMC — winning one wouldn't have been a surprise, but going two for two shows good consistency and maturity for a younger rider," said U.S. Cup-CX series organizer Ryan Trebon. "I think Tobin is finally starting to come into his own as he gets older; I hope he continues to race well the rest of the season."
But as we saw Sunday, even a fourth-place finish can drag a rider's rankings down. This series is all about consistency, race after race.
The Overall Winner Must Be Talented In All Conditions
There have been a number of hot and dry races early this season, but with the last two competitions of the U.S.-Cup CX Series happening at the end of October and in early November, the odds of at least one wet, cold, or muddy race are high.
Additionally, the Louisville course is at a new venue (which will also serve as a preview of next season's national championships). Riders won't know what to expect until they arrive in the Derby City. The ultimate winners of the U.S. Cup-CX will likely be the riders who are the most skilled in all conditions — not just suited for dry, hot days.
Young Riders Stepping Up
The elite men's young guns are coming for the old guys. Nineteen-year-old Spencer Petrov took fifth on day one and second on day two in Charm City. Curtis White, 23, and Cooper Willsey, 20, both placed comfortably in the top 10. Petrov and White currently sit fourth and fifth in the U.S. Cup-CX standings, within range of winning.
These guys are proving they're not just fast for their age — they're fast in general.
---
By Molly Hurford