Sanne Cant and Mathieu Van Der Poel Scorch Trek CX Cup
Sanne Cant and Mathieu Van Der Poel Scorch Trek CX Cup
Sanne Cant and Mathieu van der Poel win Trek CX Cup.
Sep 24, 2017
by Ian Dille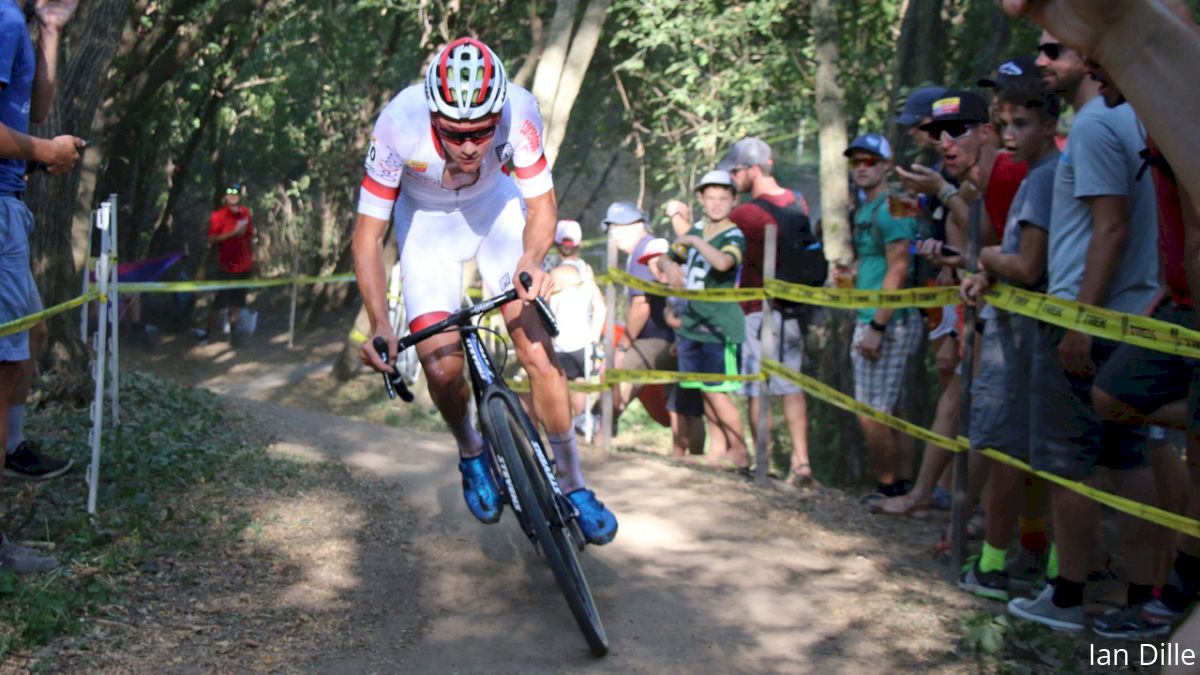 The racers collapsed and stared blankly after they crossed the finish line — dozens of them, with ice-cold towels draped over their heads and team managers spraying water into their faces.
No doubt, the main story line of the Trek CX World Cup — held in an expansive field behind the bike company's headquarters in Waterloo, Wisconsin — was the unseasonable heat. Temperatures topped 90 degrees, but few competitors wilted on the demanding course.
Elite Women
As they sat on the ground in the scrum of racers and photographers just past the finish line, Kaitie Keough and Ellen Noble, who waged a hard-fought battle for the podium in the elite women's race at the Trek CX World Cup, hugged and clasped hands.
Keough had led the race's early laps before Belguim world champion Sanne Cant hit the accelerator at roughly the halfway point and separated herself from the field. Behind Cant, Katerina Nash fell in the woods of the course's "Little Zolder" area, and Keogh toppled over her.
The soft, dry dirt and off-camber corners made holding traction "feel like a bit of luck," according to Emma White, who finished eighth and had the best finish of any under-23 racer.
With Cant holding a comfortable 10-second lead, Keogh, Ellen Noble, French champion Carline Mani, and the Netherland's Sophie de Boer coalesced behind. Keogh forced a gap on the steep run-up of Factory Hill and held on for second, while Noble won the sprint behind for third.
In the scrum past the finish line, the race announcer reminded the crowd that Trek would be providing equal payouts for both the men and the women. Fourth-place women's finisher Mani transformed her expression from a pained grimace to a wide smile. A competitor, who'd been laying in repose along the course barricades, suddenly sat up — and the two women high-fived.
Elite Men
The Netherland's Mathieu van der Poel won the hole shot in the elite men's race off the start line. He turned the course's first corner with a slight gap over the field, and simply kept extending his lead, at one point holding as much as a 55-second gap over his chasers.
Behind, Trek-sponsored racers Telenet-Fidea, Corne Van Kesse, and Daan Soete led in a four-man chase group, finishing second and third. Soete said he and his teammates had lounged in the air-conditioning of the Trek headquarters until 30 minutes before the race.
"I think that was an advantage, compared to other riders," he said.
The top-placed American, Stephen Hyde, competed with his national champion's jersey fully unzipped and finished in 18th place. Hyde had been sick most of the week headed into the race, leaving him unsure of his form.
"I think I rode consistently, and the way I wanted to ride, and I was happy with that," he said. "But it's still not quite where I want to be."