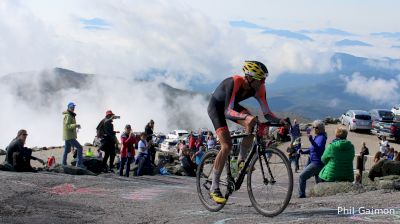 Phil Gaimon On Writing, Dreaming, And Cancellara
Dec 1, 2017
Before Phil Gaimon became the subject of tabloid cycling media fodder — which cast the former pro racer's book as a tell-all takedown of Fabian Cancellara for motor doping — he believed he'd simply written a memoir about his experiences at the sport's highest level.
He never expected what he wrote about Fabian Cancellara to create such a stir.
During his time as a racer, Gaimon leveraged his candid persona to cultivate a large fanbase, resulting in thousands of followers on Twitter, Instagram, and YouTube. In his new book, "Draft Animals: Living the Pro Cycling Dream (Once in a While)", published in October by Penguin, Gaimon aimed to give those fans (and he hoped, an audience beyond those fans) an inside glimpse of his career arch as a professional cyclist.
Gaimon hoped to tell how he'd gone from a promising collegiate racer to a successful domestic pro, and then finally how he made it to the WorldTour, racing with Garmin-Sharp in Europe.
In telling that story, Gaimon succeeded.
Draft Animals is written for anyone who's ever wondered "what if?" If you went all in — giving second priority to personal relationships, finances, and family, and focusing solely on being a fast bike racer — how far could you go? And when is the right time to give up?
In the book, Gaimon chronicles his triumphs in route to the WorldTour, the toll that chasing his dream took on him personally, and his realization of racers who possessed "real talent."
Gaimon gives his personal take on the pro cycling sphere he had to navigate, a time following the fall of Lance Armstrong that he refers to as the post-dopepocalypse.
He rehashes private conversations with fellow pros, characterizes team directors, and lets readers in on the hearsay and rumors swirling around the world of top level bike racing. The saga is a thrilling (if at times squeamish) ride, and one Gaimon knew might result in fallout with members of the tight-knit pro cycling community.
When asked if he understood that "telling his truth" about the book's real-life characters — such as racers Chris Horner and George Hincapie, team owner Jonathan Vaughters, or agent Andrew McQuaid — might mean an abrupt end to those relationships, Gaimon responded, "Yeah, I'm not an idiot."
But he never expected what he wrote about Fabian Cancellara to create such a stir. In his book, Gaimon states that he believes Cancellara probably used a motor to win the 2010 Tour of Flanders, and cites insider hearsay to back up his belief. Gaimon included the section as an example of the various conspiracy theories surrounding the sport during his time in the World Tour — who was a cheater, and who wasn't — and his efforts to navigate those waters. But when the UCI said it may actually investigate Cancellara based on what Gaimon wrote, he became the center of a cycling media storm.
Cancellara's lawyers demanded an apology, and an abrupt end to book sales. Fans of Cancellara berated Gaimon on social media, and, Gaimon says, even sent him death threats.
It was publicity, but not the publicity Gaimon wanted.
In this exclusive interview, I chat with Gaimon about the publication of Draft Animals. He's dressed in his trademark cookie jersey, because he planned on doing a Zwift ride following our conversation. Recording from my home office, Gaimon and I talked about his process in writing the book, what he hoped to accomplish, and whether the cycling media's use of doping stories to drive website clicks is an overall hindrance to the sport.
"It's all you want to talk about," Gaimon chided me during our conversation.
That, and more. You can watch the conversation above, or listen on Soundcloud below.