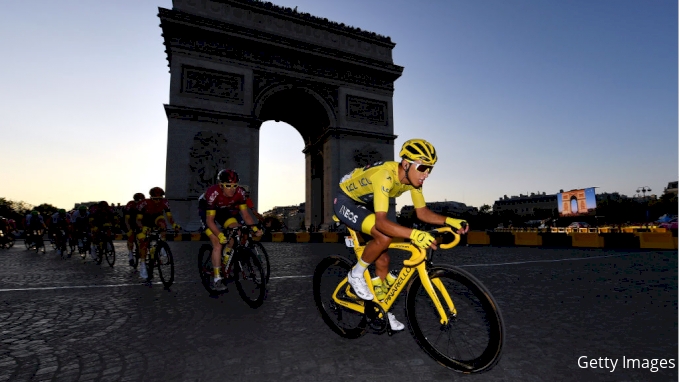 FloBikes' comprehensive coverage of the 2020 Tour de France will feature on-location reporting, daily highlights and replays, and commentary and analysis by some of Canada's most respected cycling experts. In addition, fans will enjoy a dedicated studio show hosted by FloBikes editors featuring special guests, a concurrent French-language broadcast, and in-app watch parties hosted by prominent cycling journalists and athletes such as Mike Woods and Svein Tuft.
Sign up now so you don't miss any of the live and highlight coverage of the 2020 Tour de France.
Available Live Broadcast & Replay Territories
Canada
Available Highlights & Additional Video Coverage Territories
Worldwide
Commentary
English commentary provided by Anthony McCrossan and Simon Gerrans.
French Canadian commentary provided by Audrey Lemieux and Randy Ferguson
Get The FloSports Apps
Live Stream Start Times (CDT)
| | | | | | |
| --- | --- | --- | --- | --- | --- |
| Date | Stage | Start > End | Distance (KM) | Start Time (CDT) | End Time (CDT) |
| 8/29/2020 | 1 | Nice > Nice | 156 | 6:50AM | 11:20AM |
| 8/30/2020 | 2 | Nice > Nice | 187 | 5:50AM | 11:30AM |
| 8/31/2020 | 3 | Nice > Sisteron | 198 | 5:00AM | 10:35AM |
| 9/1/2020 | 4 | Sisteron > Orcieres-Merlette | 157 | 6:15AM | 10:50AM |
| 9/2/2020 | 5 | Gap > Privas | 183 | 6:00AM | 10:50AM |
| 9/3/2020 | 6 | Le Teil > Mont Aigoual | 191 | 4:50AM | 10:20AM |
| 9/4/2020 | 7 | Millau > Lavaur | 168 | 6:15AM | 10:20AM |
| 9/5/2020 | 8 | Cazeres > Loudenvielle | 140 | 6:20AM | 10:35AM |
| 9/6/2020 | 9 | Pau > Laruns | 154 | 5:05AM | 9:50AM |
| 9/7/2020 | Rest Day | | | | |
| 9/8/2020 | 10 | Île D'Oleron > Île de Ré | 170 | 6:20AM | 10:50AM |
| 9/9/2020 | 11 | Châtelaillon-Plage > Poitiers | 167 | 6:15AM | 10:50AM |
| 9/10/2020 | 12 | Chauvigny > Sarran | 218 | 4:40AM | 10:30AM |
| 9/11/2020 | 13 | Châtel-Guyon > Pas de Peyrol (Le Puy Mary) | 191 | 4:40AM | 10:20AM |
| 9/12/2020 | 14 | Clemont Ferrand > Lyon | 197 | 5:55AM | 11:20AM |
| 9/13/2020 | 15 | Lyon > Grand Colombier | 175 | 5:15AM | 10:50AM |
| 9/14/2020 | Rest Day | | | | |
| 9/15/2020 | 16 | La Tour-du-Pin > Villard-de-la-Lans | 164 | 5:55AM | 10:55AM |
| 9/16/2020 | 17 | Grenoble > Merible | 168 | 5:05AM | 10:40AM |
| 9/17/2020 | 18 | Méribel > La Roche-sur-Foron | 168 | 4:55AM | 10:50AM |
| 9/18/2020 | 19 | Bourg-en-Bressse > Champagnole | 160 | 6:20AM | 11:00AM |
| 9/19/2020 | 20 | Lure > La Planche des Belles Filles | 36 | 5:50AM | 11:30AM |
| 9/20/2020 | 21 | Mantes-la-Lolie > Paris | 122 | 8:35AM | 12:45AM |