Watch 2019 UCI Track World Cup: Milton live on FloBikes!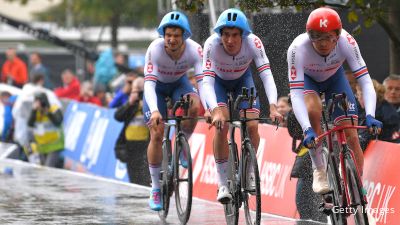 Ugliest Helmet Ever, Or Just Ahead Of Its Time?
Nov 12, 2019
The Swedish company POC, which was previously known for their safety oriented products in snowboarding and mountainbiking, entered the road market in 2012 with the Tempor aero helmet. There has perhaps never been another helmet met with such bemusement and criticism from the public.
The Tempor has long since been discontinued, but seven years after its initial release, one team believes it is the fastest helmet out there.
HUUB-Wattbike, the track cycling trade team known for their uncompromising approach to shave milliseconds off their Team Pursuit time has identified the Tempor as the fastest option available.
HUUB-Wattbike is led by Dan Bigham, a former Formula 1 engineer and expert in aerodynamics. Bigham employs an exhaustive approach to ensuring that no stone is left unturned when it comes to improving aerodynamics and reducing drag and resistance. HUUB-Wattbike has achieved unprecedented success through these methods, most notably by winning the team pursuit at the 2018 London World Cup, beating the establishment of track cycling nations.
Michael Sheehan spoke with Bigham to find out how a pioneering track team found themselves wearing such a misfit helmet.
You can watch the full interview here to hear Bigham speak about the controversy surrounding the UCI's reforms to the Track World Cup.