2019 Tour of Flanders Men Rebroadcast
How To Watch Bike Racing During Coronavirus This Week (3/30-4/5)
How To Watch Bike Racing During Coronavirus This Week (3/30-4/5)
Sick of Coronavirus cancellations? Well you're in luck, because FloBikes will be rebroadcasting the best classics races of years past live and on demand.
Mar 30, 2020
by Preston Glace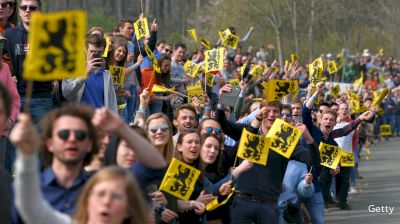 If you're as sick of COVID-19 cancellations as we are, you're in luck, because FloBikes has a plan.
We will be hard at work resurfacing archived races and rebroadcasting them live, along with mouth watering highlights from the very best moments of the last few years.
We will be on video calls with WorldTour pros to learn how they're weathering this strange time in sport. But more importantly, to talk about bike racing. FloBikes subscribers will hear and see cycling's best classics riders, mountain climbers, time trialists and sprinters, breaking down the races we watched them win on FloBikes.
Our hometown hero, Lawson Craddock, will provide weekly updates, and the current kings of gravel, Colin Strickland and Payson McElveen, will offer training, technique and inspiration.
Intrigued by bikepacking? We will escape to the woods for a multi-part video series with the world's foremost luxury cyclo-tourist and Instagram celebrity UltraRomance.
And of course, FloBikes' weekly show, Ian & Friends, will continue as planned—airing every Wednesday afternoon. We'll explore a different theme each week, from the cobblestone races for the hard-men of cycling, to the most iconic climbs of the grand tours and classics.
FloBikes subscribers have access to all of the upcoming coverage, as well as access to all 25 sites in the FloSports network. Check out the full schedule of FloBikes' upcoming event rebroadcasts.
Upcoming Content Themes:
4/6-4/12: An Ode To Italia — In solidarity with Italy, we recall the races, athletes, terrain and culture that makes the country so great
4/13-4/19: Mathieu Van Der Poel In All His Glory — MVDP amazed in his WorldTour debut, we revel in the Dutchman's 2019 dominance
4/20-4/26: ESCAPE! – Everything you ever wanted to know about disappearing into the woods, by bike
4/27-5/3: HILLS! – From Willunga Hill to the Mur de Huy, bike racing's most famous hills always deliver big dramatics.
This week's exclusive content schedule for FloSports subscribers.
Theme of the week: The Best of Belgium – The cradle of cobblestones, the crux of cyclocross, Flanders is a terrible place to race bikes, which is why it's so great for fans.
Get The FloSports Apps