Tire sealant manufacturer Orange Seal announced it will sponsor a four rider off-road team in 2018.
Reigning marathon mountain bike national champion Payson McElveen will serve as the team's captain. McElveen will be joined by team members Amy Beisel, who finished second overall in the Epic Rides series in 2017; Levi Kurlander, a top-five finisher at the under-23 XC nationals in 2015 and 2016; and Emily Schaldach, the 2017 XC and short track collegiate national champion.
The team will compete domestically and abroad in off-road events ranging from the Epic Rides Off-Road Series to the 206-mile Dirty Kanza gravel grinder. The mountain bike national championships will also serve as a core focus of Team Orange Seal Off-Road Team, and McElveen will aim to defend his marathon mountain bike national title in 2018.
"We have patiently waited for the right moment to bring a multi-discipline off road team to the riding community. We feel the time is right," said Orange Seal president John Vargus.
The Central Texas-based company began sponsoring Austin-area native McElveen five years ago, and in 2017 served as the primary sponsor of McElveen's privateer program.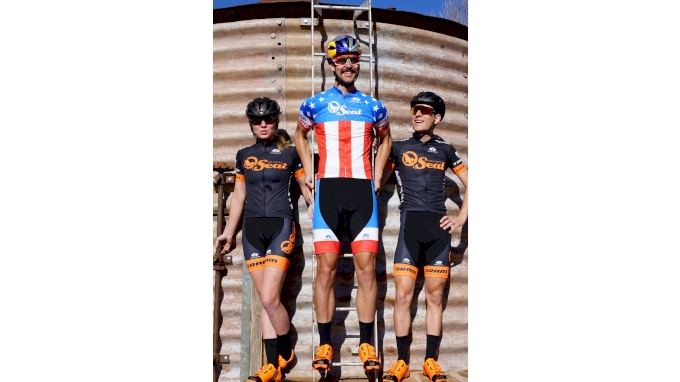 Vargus said the 2018 roster is comprised of riders who represent the core values of the Orange Seal brand, "both on and off the bike." Fans and supporters will be encouraged to interact with team members at the Orange Seal expo area before and after events.
"It is our goal to create an environment where the riding community can hang out with our riders, share a story, make new friends and learn about our sponsors," Vargus said.
Additional team sponsors include Trek, Kenda, Voler, SRAM, GU, Osprey, SRM, and Enduro Bites.
"Kenda is very excited about our partnership with the Orange Seal Off-Road Team, the combination of Kenda tires and Orange Seal sealant is a proven success in any discipline — MTB, gravel, cyclocross, or road," said Roger Hernandez, Kenda MTB marketing manager.
"Trek is thrilled to be partnered with the Orange Seal off-road program in 2018. This team of riders represents some of the brightest talent in North America, tackling some of the hardest races on the circuit," said Ryan Bodge, Trek Sports marketing manager.
In addition to leading the Orange Seal Off-Road Team in 2018, McElveen will also compete as a Redbull sponsored athlete.
You can follow the Orange Seal Off-Road Team via the following social media accounts:
Instagram: @orangesealoffroadteam and @orangesealed
Facebook: Orange Seal Cycling
Payson McElveen: @paysonmcelveen
Amy Beisel: @amybeisel
Levi Kurlander: @levilander
Emily Schaldach: @emily.schaldach