2019 US CX Nationals Rankings, Photos & More
Gone To Belgium: Why Kaitie Keough Left The US Cross Scene
Gone To Belgium: Why Kaitie Keough Left The US Cross Scene
Keough is all in on Belgian cyclocross this season, with a schedule packed with DVV and World Cup racing and a studio apartment in Sittard.
Nov 15, 2019
by Molly Hurford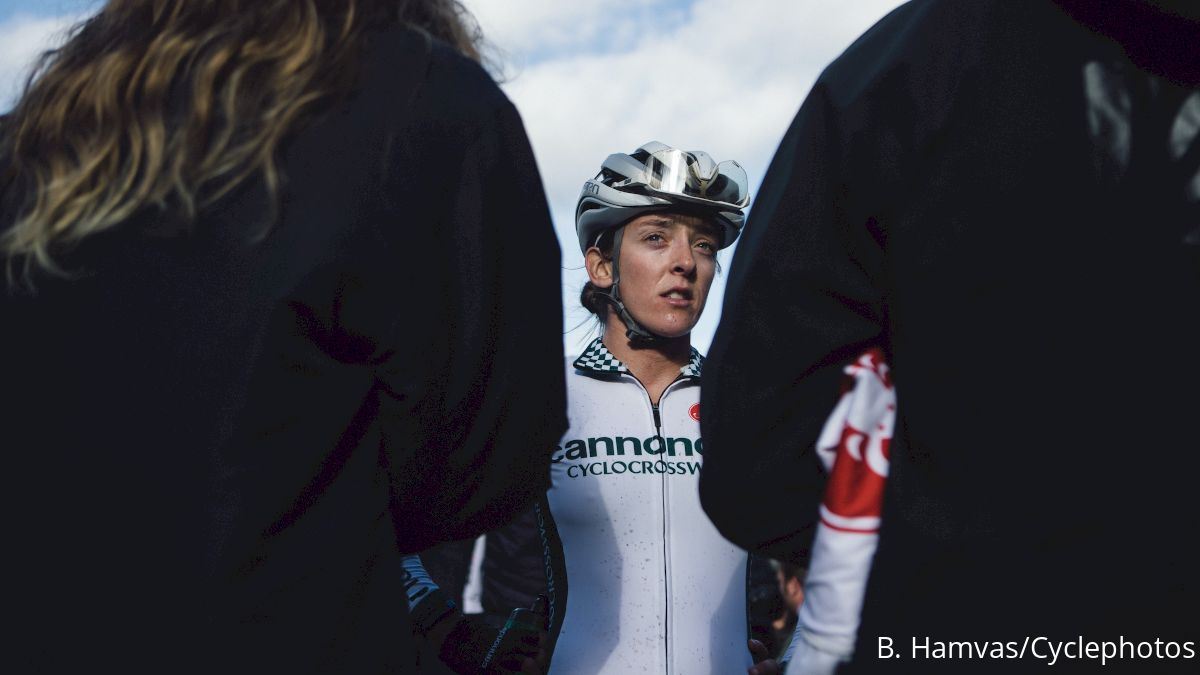 Unlock this article, live events, and more with a subscription!
Get Started
Already a subscriber? Log In
Kaitie Keough is all in on Belgian cyclocross this season, with a schedule packed with DVV and World Cup racing and a studio apartment in Sittard, The Netherlands.
But the 27-year-old racer isn't on a solo mission: Her husband, former cyclocrosser and road racer Luke Keough, as well as their labradoodle Lucy, are along for the ride.
Keough has been racing for Cannondale-Cyclocross World for a full decade, and has several World Cup podiums—plus a win at the Jingle Cross World Cup in 2018—to her credit. She's been ranked second in the world, but she's never fully committed to the European racing circuit, despite being one of the most talented US riders on the more technical courses in Belgium.
For some, racing in Europe can feel out of place: The fields are denser, the crowd is wilder, the stakes feel higher than they do stateside. But that's where Keough excels.
We talked to Keough about her decision to move to Europe for the season, how she's handling the change, and what she's learning about herself along the way.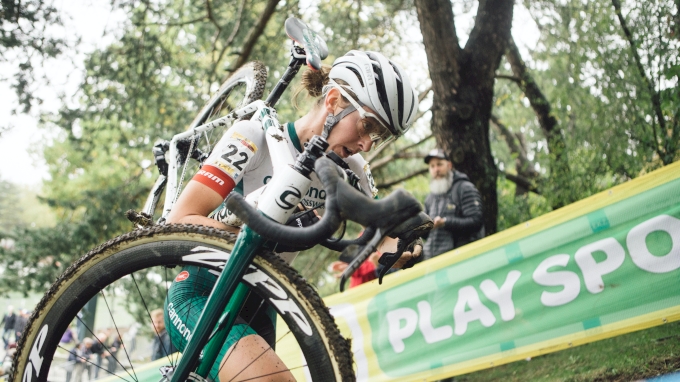 What prompted the decision to move to Europe for the season?
I didn't feel like I had much motivation anymore, just racing in the US. Also, mentally, I was over going back and forth four times every season. It's exhausting to do that and to still expect to perform well.
It worked for a while, but I realized that I had the means and support to try staying over here for the season and wanted to try it.
When I'm done racing, I don't want to have any regrets on missing out on racing here.
And you're staying over there with Luke, right?
Yes—Luke coming over with me was a gamechanger for sure. To be honest, I couldn't do it by myself. If he wasn't able to be here, it would be a different story, so we're lucky we can make it work. He's my hero, being here and being willing to sit and do nothing with me after training!
I have a great program and great support crew with Cannondale-CyclocrossWorld, but I can't imagine being here without having Luke around. I need some separation from work.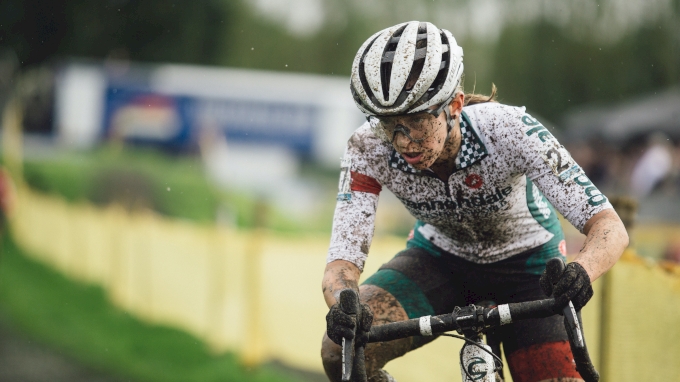 Where are you basing?
We're in Sittard, The Netherlands, which is where USA Cycling has their team houses. There's a set of studio apartments near the USA Cycling complex, and there are a lot of Dutch triathletes in the same complex. I wanted to be separate from the USA Cycling complex and have our own space, but I wanted to be in Sittard because I know the area and the resources are there.
It's the best of both worlds. The USA Cycling housing can get crowded for Christmas week, and there's always the risk of catching colds and dealing with a crowded kitchen and fridge!
Our place has worked out great so far, much better than I expected. It's been really relaxed, no major meltdowns or anything.
Out of all the US racers, you make the most sense to me to be racing in Europe full time. You've had great results there, like a silver medal at the Valkenburg World Cup.
Yes! I don't know why it is, but I like racing over here. The courses are harder, the competition is harder, and it varies so much week to week.
The environment is different, and it motivates me more. The last couple years, it's been more motivating to be at bigger events with a lot of people watching and a lot of women to race against. For me, it feels like I have a greater sense of purpose with racing over here.
I feel like sometimes, when I have good results here, I thrive on those more.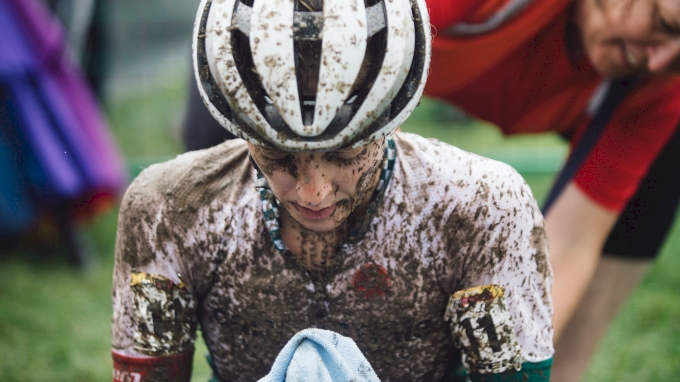 You've been racing a long time, so the timing seems right to go to Europe.
For sure. You get to a point where it's like, 'I've done these races for nine years.' I know I can go around the US and get first, second or third at most races at home and that's cool—you get more podiums—but I realized it wasn't making me grow.
I've been doing that for almost a decade, and I wanted to grow. I think I'm getting better whether results here show it or not. It feels like I've taken the right step.
Has your racing style changed?
Definitely. I've already had to change the way I'm used to racing, and I spent most of October trying to adapt to that. That's been a challenge: The racing is so hard and the level is so high.
At home, I tend to not go out as hard and still have a good ride, but here, I have to go out way harder than I want to and go from there.
If I'm not in contact from the beginning, I'm not catching them. So that's been a huge learning curve. But I'm just taking it day by day and having fun with it. I love the style!
You'll be back for Nationals, right?
Oh yeah—I can't miss that one! I could skip Pan-Ams, but not that.
What's the rest of the schedule look like in Europe?
The World Cup series is one of my big goals—I'd like to try to win that series, I've been second and fourth in it. It's a hard goal, but I feel like it's realistic.
And then, the rest of the races are based on start money, so I'm racing a lot of the DVV Series with the exception of the ones that overlap with Nationals, and a few of the Superprestige races.
How much of the season-in-Belgiun idea was based on Katie Compton being your former coach and mentor?
Katie is one of the women who really paved the way for us racing in Europe and spending more time here, and I absolutely look up to her for that. She's the one we can look to for where you can go in the sport, she's a great role model.
It's her 12th season in Europe right now so she's the reason I knew what it was going to look like, and that it was possible. It's funny, I definitely realize how much easier my first season was compared to hers, since I could ask her for tips.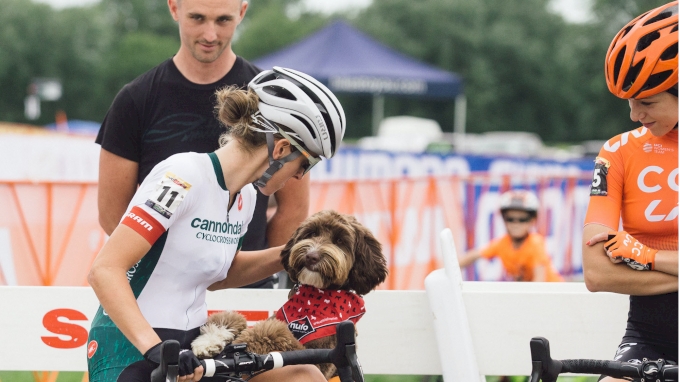 Were there any big challenges moving over for the full season?
Luckily we were able to rent a furnished apartment! But yes, bringing everything over was a lot of stuff, especially since we brought Lucy, our dog, with us.
That was a logistical nightmare but it was worth it. There were a lot of last minute things with vaccinations and dog passports and stuff, but we made it happen.
I know you've been very focused on a meditation and yoga practice, how are you keeping up with it while you're over there?
I broke down and bought the Headspace app before we came over, so I use that every day for meditation. Yoga-wise, I just do post-ride stretching in front of the TV, I haven't done much full-on yoga classes. But for me, meditation is the biggest thing and I love that I can do it anywhere.
What race are you most excited for?
I would say Namur World Cup, I love that course. And Baal, and we're going back to Nomay for the World Cup—I really enjoy that one.
---
Images by Balint Hamvas/Cyclephotos