2018 Cyclocross World Championship
Why Do The Country's Top Racers Want This Man As Their Coach?
Why Do The Country's Top Racers Want This Man As Their Coach?
Of the 31 members of the U.S. cyclocross team at the 2018 World Championships in Valkenburg, five are current or former athletes coached by Al Donahue.
Feb 1, 2018
by Ian Dille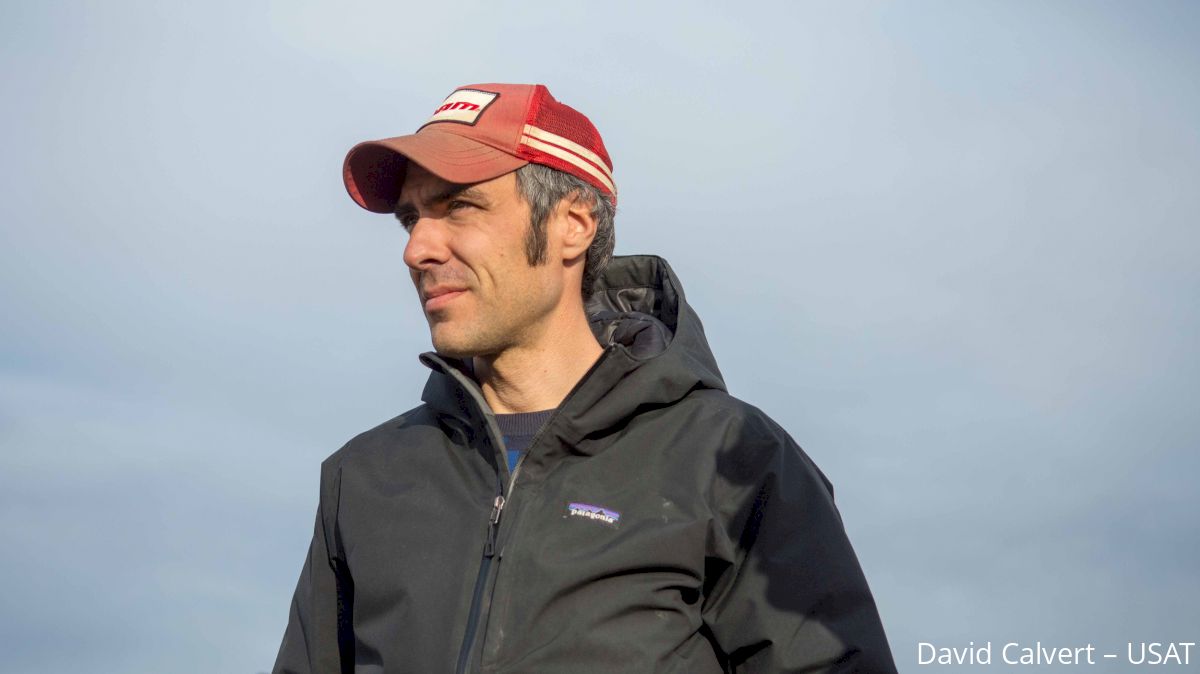 You can't see them, but you can hear them hollering in the woods.
On a frozen December afternoon, two days before the Resolution Cross Cup UCI races, a few members of the JAM Fund team are shredding the single track at Erwin Park in McKinney, Texas.
They slither through rooted forests and pop out into windswept fields, where they soft-pedal and allow the group to coalesce. Leading the pack are Scott Smith and Jack Kisseberth, among the top elite male cross riders in the country, followed closely by development team member Ian Gielar and JAM Fund coach Al Donahue.
Chasing that quartet are two amateur racers who Donahue also coaches, Carrie Seipp and Tyler Cloutier, as well as a couple heavily breathing and bare-knuckled employees of FloBikes.
Kisseberth and Smith lead the group back into the woods, and then quickly disappear again. Instead of running knobby tires on the trails, both JAM Fund riders are rolling 32c slicks on their cyclocross bikes.
"When you hear us shouting, that's me and Jack ripping a corner and getting loose on the leaves," Smith says.
Donahue explains that, while riding 32c slicks on singletrack might seem like madness, there's also logic behind the common JAM Fund practice.
"In cyclocross, you're on the edge, over the edge," he says. "It's critical in this sport to do that. Riders who never find that edge, or get over it and then explode. Those are two things were really trying to avoid.
"To ride trails fast with round tires, you have to execute mentally on a very different level. You're fixing the smoothest possible arc into every corner, and understanding the maximum speed your tires can take before they break free," Donahue says. "It teaches you finesse. Then you add knobs in a race, and you have so much more confidence"
For groups of mixed fitness and ability levels, like ours, Donahue says there's another added benefit: "They have to take really good lines that are very smooth, and you can follow their lines."
Also, he says, "It helps keep groups together."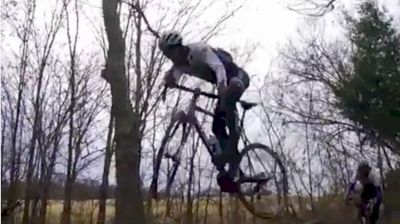 Kisseberth and Smith stopped to stunt some of the features in Erwin Park.
Cross Coach To The Stars
In the world of elite level cross racing, Al Donahue has become a go-to coach.
Of the 31-members of the U.S. cyclocross team at the 2018 World Championships in Valkenburg, five are current or former athletes coached by Donahue.
In addition to JAM Fund rider Kisseberth, Donahue's roster of U.S. racers at the world championships includes the current national champion Stephen Hyde, and the 2017 under-23 worlds silver medalist Ellen Noble.
Donahue helped coach Jeremy Powers in the 2000s during Powers' rise to domestic cross dominance, and the two men remain good friends — as well as neighbors in Easthampton, Massachusetts.
As a member of JAM Fund in 2014, worlds team member Rebecca Fahringer was coached by Donahue.
A sixth potential Donahue client on the U.S. worlds roster, Curtis White, declined a spot on the team due to a school conflict.
Additionally, Donahue coaches Michael Van Den Ham, who will line up in Valkenburg as the Canadian national champ.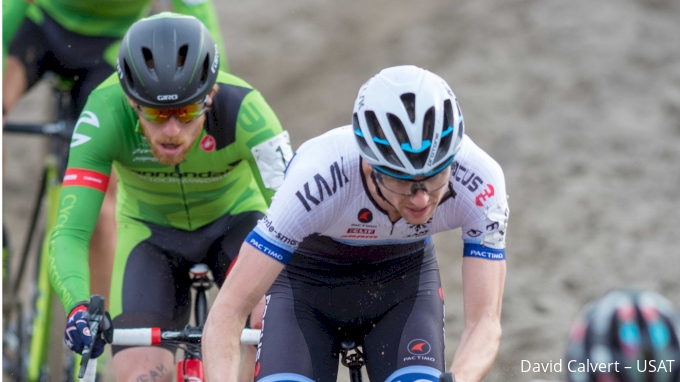 In Reno, Kisseberth rode in the front with Hyde until a flat took him out of contention.
The success of Donahue, who is a Senior Coach at Cycle-Smart, will be plainly visible on the start grid in the Netherlands. Yet, he's not thumping his chest.
"Cyclocross, especially in the U.S., remains a relatively small community," he says. So, to be considered one of the top cross coaches in America? Donahue shrugs: it's not something he's touting quite yet.
Donahue's larger ambition as a coach — as someone who's dedicated their adult life to cycling — is the expansion of the sport as a whole, and the long-term progression of cyclocross and cyclocross racers in the U.S.
It's a goal he shares with Jeremy Powers. (Jeremy is the "J" in JAM Fund, and Al is the "A." Another friend in Easthampton, Makunda Feldman, is the "M.") That big-picture mentality helps guide Donahue's philosophy as a coach. He hopes to build a foundation of cyclocross expertise that future generations can build from.
"Historical knowledge" is a term Donahue uses frequently.
Cracking The Code
Donahue grew up in New England and studied biology at Bates College in Maine. He'd been a competitive distance runner, and then got into cycling during his 20s. In 1999, Donahue moved to Easthampton, in the Pioneer Valley of Western Massachusetts, because he had a close friend who was attending graduate school there.
It didn't hurt that the Pioneer Valley also happens to be a great place to ride bikes. Situated at the foot of the Berkshires mountain range, the Easthampton area is blessed with a plethora of quiet roads and public lands with trails.
Donahue became one of the top road and cross racers in the region, and with his background in biology, he began to develop a greater interest in physiology and training.
A few years after Donahue settled in Easthampton, Powers arrived in the Pioneer Valley to attend Westfield State College, and moved into a house with both Donahue and Feldman.
"I was like, oh my gosh, I can't wait to tell my mom that I'm not gonna live on campus, I'm gonna go live with these guys that race bikes," Powers recalls. "Al and Makunda are older than I am, and they taught me so much. They became very brotherly to me, and they gave me a lot of life skills that I didn't have otherwise."
At the time, Powers was a rising star in mountain bike and cyclocross. In 2000, he won a Junior Mountain Bike World Cup race in Napa Valley, California, and in 2001 he placed 17th at the 2001 Junior World Championships.
Powers really, really wanted to be trained by Rick Crawford, who was then one of the country's most recognized coaches. Powers had grown up in Connecticut with Tom Danielson, whom Crawford coached, and idolized Todd Wells, another Crawford client.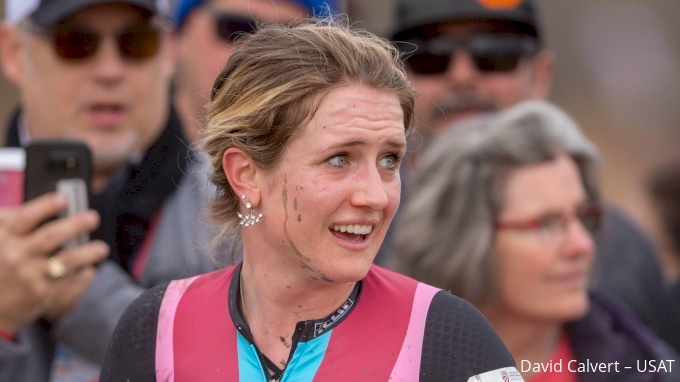 Donahue helped Noble break down the course in Reno and take a close second to Compton.
Today, both Powers and Donahue know that the mere mention of Crawford's name makes many cringe. In 2012, Crawford admitted to helping both Levi Leipheimer and Kirk O'Bee use performance enhancing drugs.
Powers and Donahue don't condone those actions. And Powers has always been an outspoken anti-doping advocate. Yet, they both remain open about their relationship with Crawford, and his positive influence.
In the early 2000s, Powers says, "Rick was like this mythical creature." He'd coached the Fort Lewis College cycling team to 10 national titles over an eight year period, and boasted some of the country's top pros as clients. During that period, Donahue says, "We knew things were going on, but we were very naive."
"One of the beautiful things about being a junior in the late 90s was that we never talked about drugs," Powers says. "My entire upbringing was all about being a cyclist, and having fun and exploring. Now, I don't think any kid doesn't know about drugs in sport. But at that time, it was fun to be part of the sport, without the context of drugs."
Eventually, Powers began to develop a relationship with Crawford, and Powers says that his desire to compete as a clean athlete was implicit in that relationship.
Donahue concurs, saying, "With Jeremy, Crawford was always like, 'If you do drugs, you're going to get good fast. But, if you do this program and you do it clean, it will take longer, but you'll get there.'"
Powers recalls Crawford laying out two knives at intersecting angles to illustrate his point. One knife, the knife that represented doping, reached the apex of the intersection faster. But the other knife, the knife that represented training and racing without cheating, went further and higher.
"Jeremy never would have anyway, but with Jeremy, Rick was such a strong advocate of never doing drugs," Donahue says.
Donahue says Crawford didn't have room to coach Powers — and that Powers wasn't quite good enough yet to come on as one of his clients — but Crawford said he would coach Donahue to coach Powers.
"Rick came out to the Valley, and I was just taking notes for a week," Donahue says. Crawford gave Donahue his playbook.
During the early 2000s, Donahue says little published information existed about how to properly train cyclists.
"You would see from USA Cycling, 'here's the training plan for the national team.' And it was all Eastern Bloc," Donahue says. "The thing missing from that program was, 'Do drugs!' If you don't do drugs this program will kill you."
As Powers progressed in the sport, he became exposed to some of the top minds in bike racing. In addition to Crawford, Powers worked with legendary coaches like Dr. Iñigo San Millán and Max Testa.
"We tried to crack the code of every coach he worked with," Donahue says. "Some of my biggest education has come from Jeremy and working with those top coaches."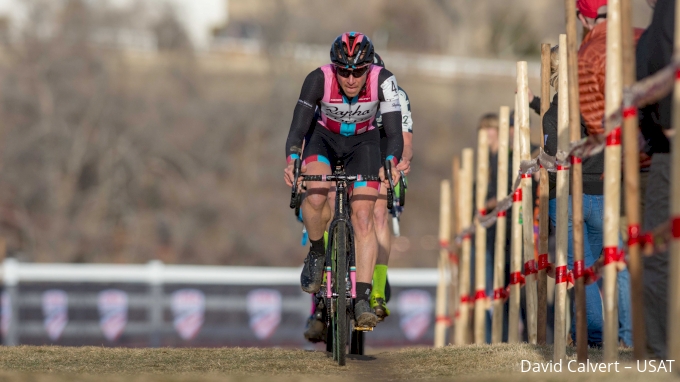 Powers trained with the JAM Fund team in Albuquerque, New Mexico, prior to nationals.
Coaching The Person
"The big thing from Rick is the role of the central nervous system, and base," Donahue says. "Those two things were massive."
As Powers increased his volume with base training, he saw a seemingly exponential increase in his performance.
"His form was so much more stable," Donahue says. "He could do so much more work."
Crawford's coaching philosophy also took into account external stresses on the athlete, something that he referred to as the health of the central nervous system. Were there issues at home or at work that were impacting an athlete's training, sleep, or diet? Was the athlete motivated? Was the athlete happy? If not, why not?
"When the central nervous system is stimulated and firing, you're at your best," Powers says.
In working with Powers, Donahue began to understand that coaching relies as much on the science of psychology and sociology as it does on physiology.
"You're managing a person, and you're managing a personality," he says.
In coaching his current roster of elite cross clients, Donahue incorporates elements of yoga, meditation, mindfulness, and stretching in addition to their structured workouts on the bike.
"That meditative state teaches people to get in more of zone, in a flow state," Donahue says. "There's a huge mental component to the higher level competitions, and your brain — most people's brains — will try to sabotage them. Riders who have a meditative practice can handle the stress of bigger races better."
Donahue's athletes also note his emphasis on cyclocross-specific coaching, everything from incorporating regular skills practice into their training plans — for example, riding single track trails on slick tires — to assessing the fastest and most efficient way to race specific courses.
"We do a lot more of breaking down courses, and having the skills to actually execute and ride courses fast," Donahue says. "It's not that complicated, but very few people actually do it.
"There's way you can distribute your power over a course to have pretty radically different times around it. Where you go hard, and where you rest, is just as important as how fast you can go around a corner."
Not Neglecting Fun
After they finish their ride in Erwin Park, the JAM Fund crew and Donahue head to historic downtown McKinney for lunch. They pass on ordering pie at a boutique bakery and end up at a trendy burger joint, where the elite racers forego ordering one of the many local craft beers on tap.
They're obviously focused on the weekend's UCI races. But, after their shred sesh, the mood is jovial and upbeat.
A day prior, Donahue had subjected Kisseberth and Smith to lactate threshold testing. He wanted to get accurate power numbers before their final training block leading into nationals.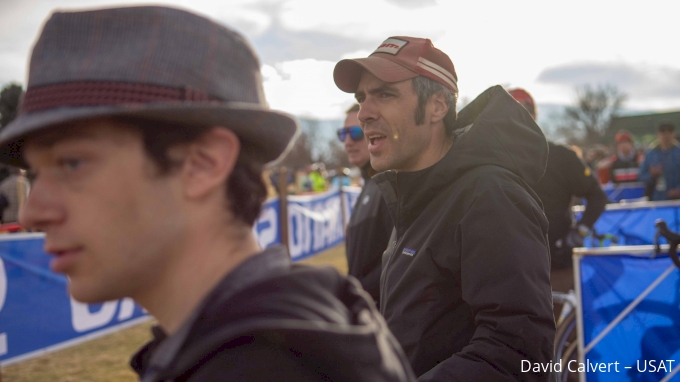 Donahue and Gielar work the pits for JAM Fund at the national championships.
"Yesterday we had straight up testing, go hard for five minutes, I'm going to prick your ear. So, you have to balance that out," says Donahue, who conducted the tests on a cold, flat stretch of North Texas concrete.
"Today is just about fun," he says. "They're having fun. There weren't necessarily any physiological gains made during the day's ride. But that doesn't mean the ride didn't have value.
As a pro, or an aspiring pro, Donahue says, "You do have to endure a lot of things that are not fun. But, you can't have it all not fun. Letting these guys have fun is really important.
"Today is about hanging out with your friends, going, 'Oh my god, we didn't have to go to work today.'"
That holistic philosophy of mind and body is perhaps why former JAM Fund riders like Hyde and Noble have retained Donahue as a coach. And why potential rivals like Kisseberth, Hyde, White, and Van Den Ham all use the same coach. Everyone is pushing everyone to get better, and even sharing the knowledge of how to do so.
"In another sport with more money, it might not exist because we'd all be competing for big jobs," Donahue says. "But if you exist in a vacuum, especially with the lack of historical knowledge on how to do it, you're not going to see the same result for an athlete."
Now, as the go-to coach in American cross, it's Donahue who's passing on the playbook.