The Dietary Issues That Nearly Wrecked Ellen Noble's Season
The Dietary Issues That Nearly Wrecked Ellen Noble's Season
In the run-up to the cyclocross season, she had been struggled with something professional nutritionists clinically refer to as disordered eating.
Jan 5, 2018
by Ian Dille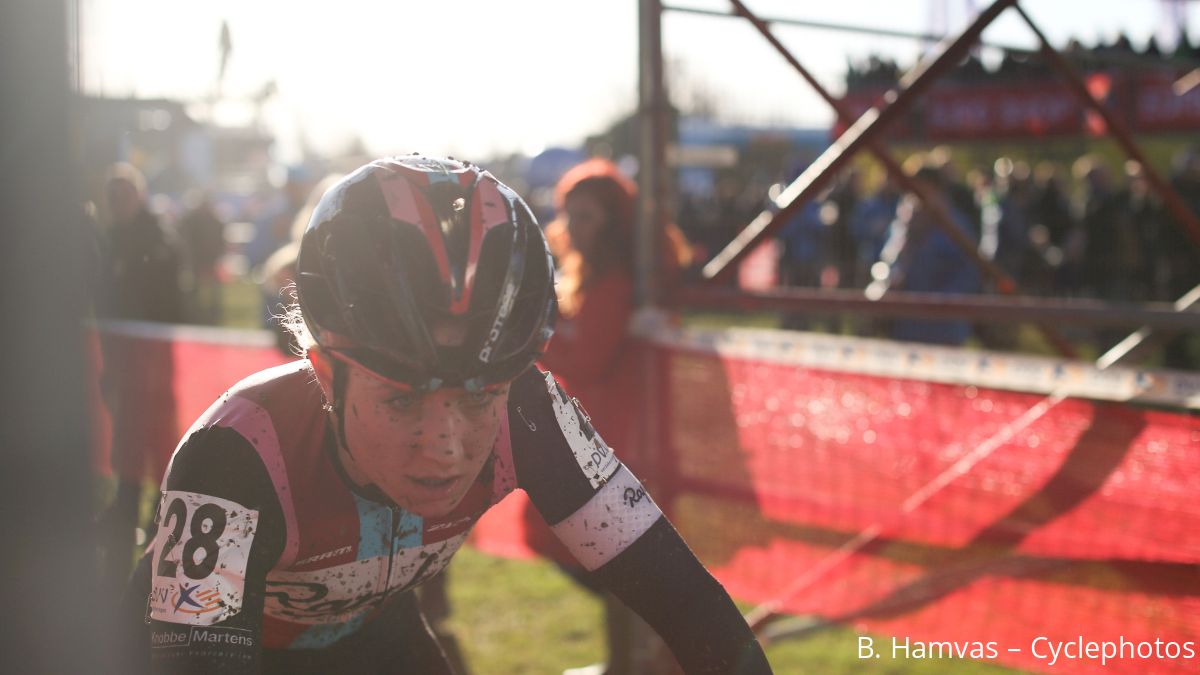 Ellen Noble is having one of the best seasons of her young cyclocross career.
At the season opener in Rochester, New York, she won her first UCI C1 race. At the Trek CX Cup in Madison, Wisconsin, she fulfilled a longtime personal goal, standing on the podium at a World Cup race.
During her recent European campaign, Noble enjoyed newfound confidence against top international fields, taking the early lead at races in Hamme and Overijse, Belgium, and making stars like Sanne Cant, Katie Compton, and Pauline Ferrand-Prevot chase her.
But despite her success this year, in the months preceding the cyclocross season Noble didn't know if she'd get a single good result.
In the run-up to the cyclocross season, the 22-year-old racer says she had been struggling with "crazy diets" — something professional nutritionists clinically refer to as disordered eating.
For non-athletes, disordered eating can cause serious emotional, social, and physical challenges. For someone like Noble, it can ruin a budding pro cycling career.
"I think it's important to talk about," Noble says. "I've always felt like being open about what I've been through, if it can help someone else, then it's worth it to talk about."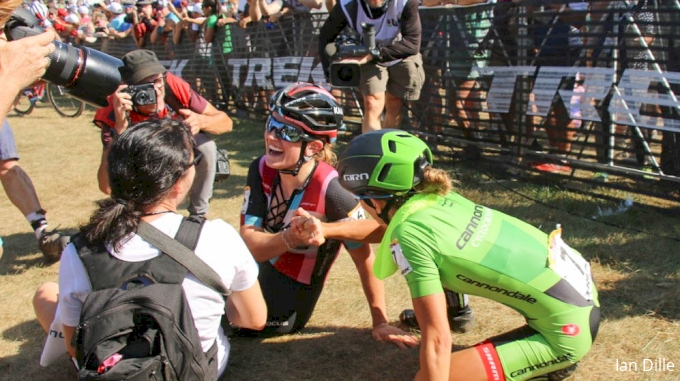 The trouble for her started in the spring.
Noble, who'd just placed second at the 2017 under-23 World Championships, was an emotional wreck.
"I was going through pretty major life changes," she says. "A breakup, and a move."
She was living on her own — away from her close-knit family — and preparing for the 2017 road season, racing professionally with Team Colavita-Bianchi.
"I was super stressed, and I'd gotten sick," she says. "So I was like, 'Well, the only thing I can control right now is my diet.'"
It was supposed to be a quick-crash diet, an effort to shed a few pounds in advance of her first road races.
"But I just tanked my metabolism," Noble says. "It was such an undereducated thing. I was like, 'Oh, if I just stop eating, I'll be able to lose a bunch of weight really quickly.'"
The weight didn't come off, her dieting efforts dragged on and on, and her performance — as well as her confidence — spiraled further and further downward.
Finding Rock Bottom
On endurance group rides, Noble would hit a climb and get dropped immediately. At the Winston-Salem road race, she went out the back of the peloton on lap one of eight.
"The only races I was able to do well at, at all, were criteriums," she says. "Because we were all just hanging in the peloton. My teammates were doing work, and then I sprinted at the end."
She knew something was wrong — she'd struggled with body image issues, and food anxieties in the past — but didn't quite know how to ask for help, or who to ask.
"When I'm uncomfortable about something, I tend to joke about it. I'd be like, 'Oh, this is the only thing I'm going to eat today.' But, the unfortunate part was that I wasn't kidding."
The pattern Noble fell into isn't uncommon, says Carly Pollack, a certified clinical nutritionist and founder of Nutritional Wisdom.
"When faced with emotional stress, very often, if not always, we will create a secondary problem to focus on when the first problem is too overwhelming to deal with," Pollack says.
In Noble's case, she'd convinced herself that decreasing her food intake would increase her performance.
Eventually, Noble's coach, Al Donahue, began to question her performance.
"I just don't know what happened to your power output," he told her.
Donahue asked Noble if she was feeling okay — was she getting in enough carbohydrates before her rides, races, and workouts?
Noble responded: "Um, I'm eating a slice of toast? That's like my carb intake every day."
"We realized I wasn't just a little under fueled, I was a lot under fueled," she says.
So she hired a nutritionist.
"I got real about what was going on with me."
Climbing Out
Noble consulted with Kyle Pfaffenbach, a Portland, Oregon-based nutritionist who has experience working with athletes and is an athlete himself. That changed everything for her.
Pfaffenbach, a Ph.D. in nutrition, helped educate Noble on proper and appropriate fueling and put her food anxieties at ease.
"I really trusted what he had to say," says Noble, who's studying public health at the University of Massachusetts-Amherst.
Noble started eating more carbs: "Waffles drizzled with maple syrup," she says, smiling — and immediately ("instantaneously") she started riding better.
As she ate more and more of the right macronutrients (carbs, protein, and fat) at the right time, her body began to get back on track, and a funny thing happened — Noble began to get leaner.
"My body's just now like, 'Oh my god, we have a consistent food source. We have proteins, and fat. Carbohydrates!'" she says. "Your body leans out when it has all the nutrients it needs.
"It's funny, now, I eat so much now. It's insane how much food I eat. And I'm way healthier. I'm far leaner than I was this summer."
Avoiding Past Mistakes
Noble knows she's not the only bike racer to ever struggle with disordered eating, and she hopes her story will help others from making similarly poor decisions.
"I wish I'd known sooner, but it's an important thing to learn," she says.
For Noble, it all started with calorie counting. She figured she could run a couple hundred calorie a day deficit and lose a little bit of weight.
But, she says, "I'm totally an extreme person in every aspect of my life, so I figured, why not just run a huge deficit, and then I'll just lose even more weight?"
Now, she knows, "That's not how it works."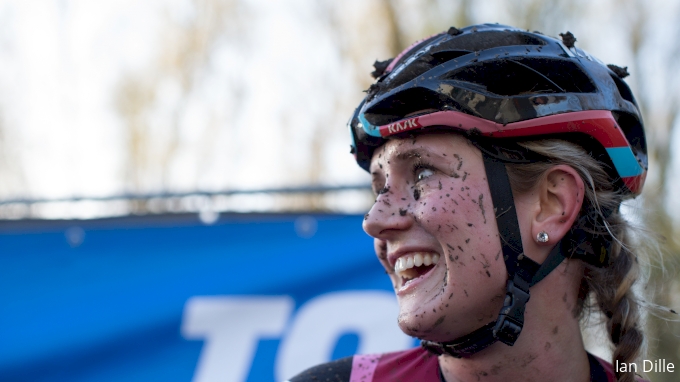 "Applied knowledge is very powerful," Pollack says. "We know better, but we don't always do better."
In Noble's case, her nutritionist's guidance confirmed why she wasn't getting the outcome she desired from dieting, and broke her cycle of disordered eating.
During the cyclocross season, she has come to terms with the natural shape of her body.
"There's really no body type that's right for bike racing," Noble says. "And it's funny because I was trying to force it. But once I stopped caring, then my body found the weight that it wants to be."
She admits that sometimes there's still a little devil on her shoulder, whispering into her ear, telling her she's eating too much, encouraging her to avoid the fats, carbohydrates, and proteins her body is craving.
Now, though, there's an angel, too, telling her, "Stop, stop, it doesn't matter. You're doing fine, and pedaling really hard. You're doing well in races, so it doesn't matter. You only eat healthy food, so how can this be bad?"
She knows she'll always struggle — as many athletes do — with the cognitive dissonance of eating a lot, while also trying to stay lean.
After the success of her cyclocross season so far, she's confident in her ability to make rational dietary decisions with peak performance in mind.
"Everyone always asks, 'What's the best advice you could give to an aspiring racer?'" she says.
And her response?
"Eat carbohydrates. That's the best advice that I could give an aspiring racer."