2017 Cyclocross Essen
Weekend Roundup: PFP Returns And Van Der Poel Does A Tailwhip
Weekend Roundup: PFP Returns And Van Der Poel Does A Tailwhip
Sanne Cant took her fourth consecutive victory in Essen on Saturday.
Dec 11, 2017
by Ian Dille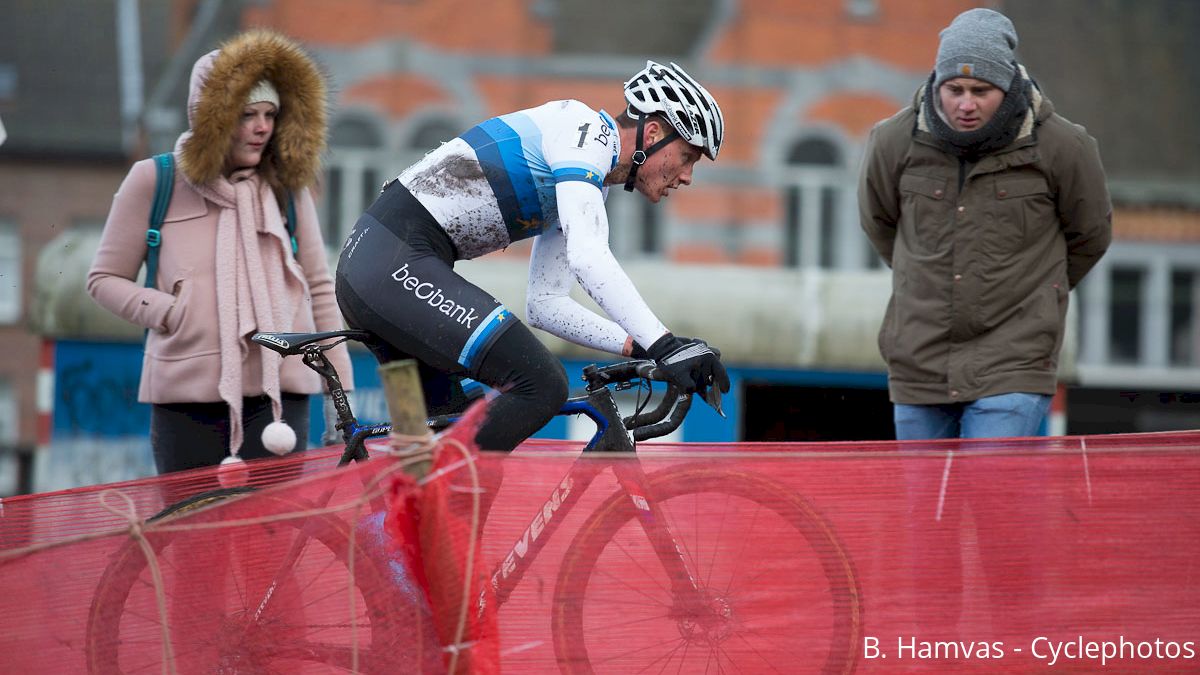 Van der Poel Tailwhips To Victory In Essen, Cant Still On Top
Sanne Cant took her fourth consecutive victory in Essen on Saturday, displaying not only her power, but her ability to make the right tactical decisions under pressure. The decisive moment in the women's race came when Cant dismounted and ran through a deep mud section which Nikki Brammeier rode.
Running proved to be the faster option, and gave Cant enough of a gap to distance Brammeier for the remainder of the race. Cant is one of the strongest riders in the field, but key tactical decisions like picking the right times to run and when to skip pit stops has been crucial in her ability to distance her rivals.
Mathieu Van der Poel continued his dominance in Essen, once again showing off his ability to simply ride a bike better than everyone else. Laurens Sweeck made a hard bridge up to Van der Poel on the third lap, forming a lead duo.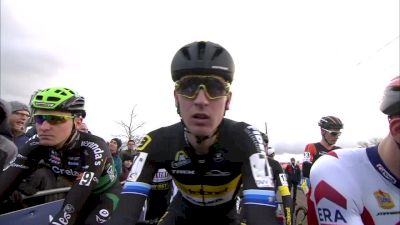 Unlock this video, live events, and more with a subscription!
Get Started
Already a subscriber? Log In
However, Van der Poel's blistering pace combined with his ability to tackle every course obstacle nearly flawlessly leaves his competitors with very little room for error.
The slight advantage on lap five that Van der Poel gained by bunny hopping the barriers — which Sweeck ran — was all the Dutchman needed to solo away to victory. Sweeck was able to hold off Toon Aerts and Corne Van Kessell to secure second, while Van der Poel gave the fans some hang time on the last lap.
Can @mathieuvdpoel whip his way into payday with a third Overijse victory? ?
Only time will tell | 12/10/17 | 6:30 AM CST

?: https://t.co/toomlRmemP pic.twitter.com/HoQKBEYnOV

— FloBikes (@flobikes) December 10, 2017
Compton Extends DVV Lead And Ferrand-Prevot Returns To Cyclocross
Katie Compton, like many riders returning from a mid-season training block, was a bit slow off the line on Saturday. Regardless of her slow start, Compton made contact throughout the race with the leaders of Cant and Brammeier. However, she was constantly playing catch-up and eventually settled for third place, further extending her series lead over Helen Wyman.
2015 world champion Pauline Ferrand-Prevot finished behind Compton in fourth. Prevot announced via social media last week that she would return to cyclocross racing leading up to the French national championships, following a two-year absence from the discipline.
The Women's Field Is "Only Going To Get Faster And Harder"
Prevot's return to cyclocross adds even more firepower to an already hyper-competitive women's field. It has also been reported that seven-time world champion Marianne Vos will begin her cyclocross season at DVV Sheldecross this coming weekend. In a post-race interview, Katie Compton smiled and said the field is "only going to get faster and harder."


In Overijse Prevot Prevails, Van der Poel Untouchable
In conditions that can only be described as "epic," Pauline Ferrand-Prevot overcame her last-row start to secure victory in her second cyclocross race in as many years. Mathieu Van der Poel then put on a master class in the men's field, leaving a thrilling fight between Corne Van Kessel and Tom Meeusen for the remaining podium places in his wake.
Ellen Noble Goes Full Send, Not Crashing Proves Difficult For Most
Hot out of the gates in Overijse was the 22-year-old American, Ellen Noble. She secured the hole shot and built up a five-second advantage over the field on the opening climb. While she was eventually reeled back in, it was one of the most explosive starts of the season.
The thick "slushy" mud — as described by Stephen Hyde — resulted in one of the most challenging cyclocross courses of the season thus far. With no shortage of get downs in the men and women's fields alike, not crashing proved to be perhaps the deciding factor in the outcome of the day.
Ferrand-Prevot and Lucinda Brand led the women's race in the final laps, but it was Prevot's ability to remain upright that propelled her to the win, while Brand's more heavy-handed application of power saw her hit the ground twice in the closing lap.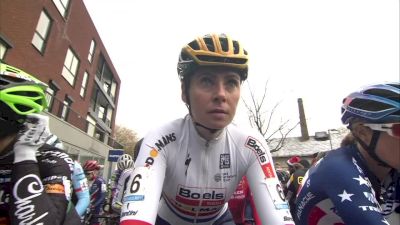 Unlock this video, live events, and more with a subscription!
Get Started
Already a subscriber? Log In
No Shortage Of Contenders For The Women
The men's elite cyclocross field is composed mostly of cyclocross specialists, racers who prepare all year for the cyclocross season. However, women specialists like Sanne Cant are faced with the challenge of multi-discipline athletes like Prevot and Brand showing up late to the party.
This creates an interesting dynamic for the women, as riders like Cant have the technical proficiency that comes only from racing cyclocross on a weekly basis, while Prevot and Brand have an undeniable amount of power to draw from, likely as a result of their professional road seasons.
While Brand looked to be the strongest at Overijse, Prevot's well-rounded background (an understatement) as a world champion road, cyclocross, and mountain biker, gave her the winning edge.
---
Words by Michael Sheehan; Images by Balint Hamvas - Cyclephotos