Cannondale p/b Cyclocrossworld.com
Can America's Best Male Bike Racer Hack It In Europe?
Can America's Best Male Bike Racer Hack It In Europe?
Before he arrived in Belgium a few weeks ago, Stephen Hyde was a winner.
Dec 8, 2017
by Ian Dille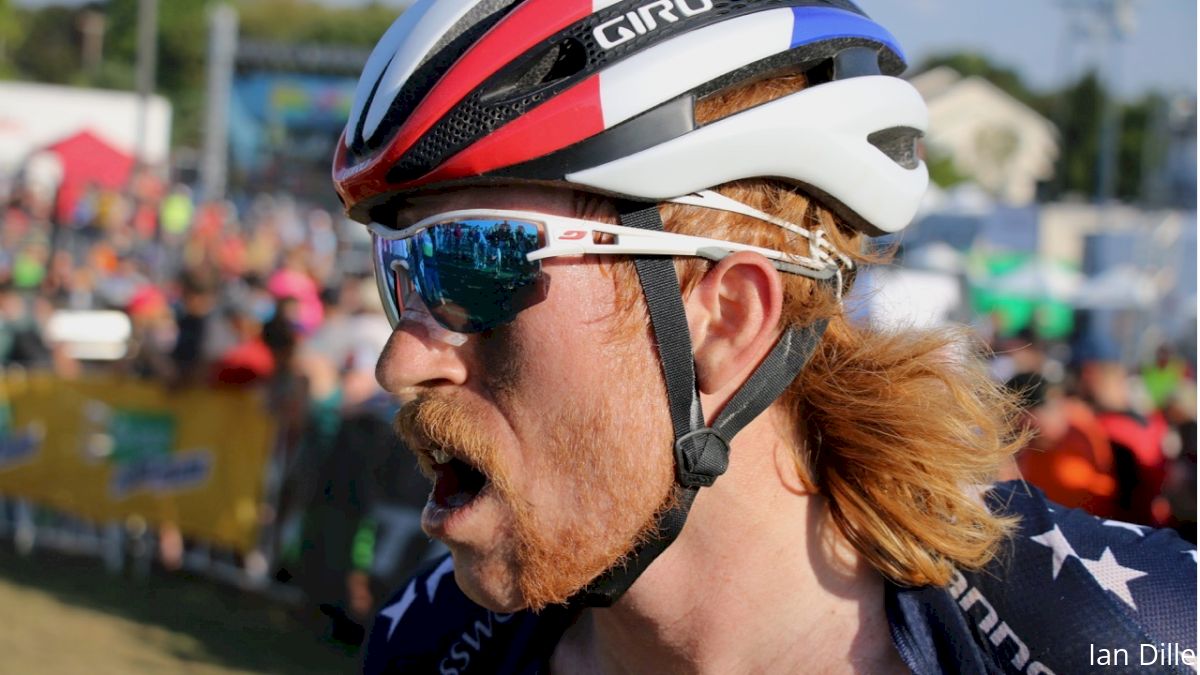 Before he arrived in Belgium a few weeks ago, Stephen Hyde was a winner.
At the Derby City Cup, the final round of the U.S. Cup-CX, he'd gone toe-to-toe with the best racers in North America — Ortenblad, Hecht, Powers, Petrov, Werner, and Van den Ham — and dominated.
On the steep and slick course at Joe Creason Park, Hyde secured the U.S. overall series title and its $12,500 payout.
Hyde called that amount of money for a domestic cyclocross racer potentially life-changing — "It's a down payment on a house" — but in his quirky way, he also joked about blowing the entire amount on expensive cat furniture — "the Japanese kind."
On Sunday, at the Pan Am championships, he won again, putting his competitors on the limit on a paved, uphill drag, then gapping them on the circuitous descent.
Over the last season and a half of cyclocross racing, no rider in the U.S. or Canada has been able to consistently hold Hyde's wheel when the 30-year-old national champion is on form.
He's too strong, too technically proficient. Though Hyde is gregarious and outgoing with fans and competitors off the bike, in domestic racing he's often too damn determined to beat.
In the U.S., Hyde says matter-of-factly, "I expect out of myself to show up, and to win the race."
Belgium, however, is a different beast.
When American cyclocross fans wake up early, make a batch of coffee, and tune in to a world class Belgian cyclocross race — Vlaamse Druivencross, live on FloBikes this Sunday, December 10, for example — they're hoping to see Hyde race well.
Yet, in his first few weeks of European racing, that hasn't been case.
Hyde broke his chain at the UCI World Cup race in Bogense. In Zeven, he crashed twice and ultimately abandoned. At Hamme, Hyde flatted and finished 18th, over four minutes down. It wasn't his worst result against an international field, but one he likely didn't find satisfactory.
In Louisville, just before departing on his European racing block, FloBikes sat down with Hyde at his team's rental home, situated in the city's leafy Highlands neighborhood. He relaxed on a couch, calm and confident, and answered the question so many U.S. fans want to know.
Can Stephen Hyde succeed in Europe?
A U.S. Versus Euro Conflict
All of Stephen Hyde's sponsors, and the majority of his fanbase, reside in the U.S. Two U.S.-based UCI World Cup races kick off the international cyclocross season. And the new U.S. Cup-CX series of UCI C1 races offers a multi-thousand dollar overall payout.
These are all important reasons for Stephen Hyde to race in the U.S. for a large part of the cyclocross season. The issue — the struggle that Hyde faces (as well as top U.S. cross racers before him) — is that the best cyclocross racers in the world live and race in Belgium.
His coach, Al Donahue, acknowledges that it's hard, maybe impossible, for Hyde to challenge the Belgian hierarchy while living in the U.S.
"Unfortunately, it's simple," Donahue says. "You just have to be there. You can't train for European racing here. The speed difference of the men's field, it's like a different sport. The amount of running, the ability to carry speed through ruts, there's just a very different physiological demand."
The only U.S. cross racer to consistently place in the top 10 and even podium at a world championship is Jonathan Page, who says he will ride his last race as a professional at this year's national championships. Page moved his entire family to Belgium. He raced for Belgium teams with Belgium sponsors. His kids spoke Dutch as their first language.
Hyde, while committed to succeeding in Europe, isn't willing to make that level of commitment — not right now at least.
"Jonathan was able to get in there because he moved there," Hyde says. "But when you say 'make it over there,' yeah, he made it, but I think it was also a really big struggle for him. He has a personality, he's a good ole New Englander, he's in for the struggle. But if he did it without his family, I don't think he would have stayed over there."
Even for top-level Belgian pros, the sport is family-based. Laurens Sweeck's father works the pit for him. His mom takes his jacket at the start line.
"No matter how tough you are, you still need help," Hyde says. "And if you don't have your family there to fill all those cracks, along with your mechanic, and your support crew and everything else. You're alone. You're all alone."
The Learning Curve
Hyde's first trip to Europe was in November and December of 2014, preceding the cyclocross national championships in Austin, Texas, in January of 2015.
Hyde knew he likely wasn't going to beat Jeremy Powers at nationals, but he wanted to make the worlds team.
So, he says, "I was like, well, I'll go to Europe on my own. Tell USA Cycling that I'm doing it. Not ask for anything. Let them know how I'm doing. And let them know that I'm willing to work hard, and that I have a long-term plan of going back and doing it."
That plan worked, but it wasn't easy. In his first race, at the Superprestige in Spa, he got pulled with three laps to go.
"It was unreal," he recalls. But, gradually, he got better.
He learned the ins and outs of Belgium. Things as simple as getting to and signing up for a race.
"Literally," Hyde says, "they were like, 'Did you sign up for the races?' I was like, 'No.' They were like, 'Are you going to?' I was like, 'I actually don't know how.'"
Hyde's goals for that first trip were to finish on the lead lap, and finish inside the top 30.
By Hasselt, in early December, Hyde placed 21st.
Today, Hyde says, "I love going over there. For me, it's an adventure. It's not just going over to do the races, it's also a learning experience."
He has friends in Belgium and the Netherlands. He's become comfortable with the roads and terrain near the USA Cycling European headquarters in Sittard, where Hyde bases for his Euro cross campaigns.
"I don't focus on, okay I got to go over there and get 15th, or I got to go over there and get 10th," Hyde says. "It's like, can I do this trip smoother for myself? And in doing that, I think I make the training easier. And with that I make the recovery easier, and with that I make my head space better going into the races. And I think I get results out of that."
Redefining Success
"When I'm there, the expectation is different," Hyde says. "Top 10, top 15. I don't always get those. In fact, I rarely get them. But I'm striving for those things."
Though Hyde can often hang with the leaders for a lap or two based on his strong starts, he knows better than to try and go head-to-head with the world's best just yet.
"You have to figure out where to hang on, and where to give up a little bit," he says. "For me, it's like okay, these guys are going to tow me out of the scrub zone. Then, it's like, okay, they're going to keep going at this pace, and you can't. I have to think, I need to let this group go, otherwise I'm going to finish like 30th."
To get the best result possible for himself — he finished 10th at Flandriencross in 2016 and 12th at Spa, then 18th at worlds — Hyde knows he has to shelve his pride.
"It's a big ego check for yourself, to go, I can't do that."
Assimilating Into The Group
If you follow Stephen Hyde on Instagram, you may have noticed he was recently in Calp, Spain, logging sunny training miles with the world champion, Wout van Aert.
Hyde had planned on racing at the Soudal Classics stop in Hasselt, but changed his plans to join Van Aert in Spain.
"When the person who has executed at the highest possible level of the sport wants to train with you, no matter what you had on your plan, you drop what you're doing," says Hyde's coach Donahue.
Donahue says the block in Spain also allowed Hyde to get in some aerobic volume.
"Racing isn't always the best training," Donahue says. And in years past, Hyde's lamented that the form he brought to Belgium was the best form he had during the whole trip.
"The racing is so hard, you're just recovering between events," he says.
But how did Hyde befriend Van Aert? The American is friendly by nature, but in Belgium he makes a point of getting to know the other racers. Gestures as simple as shaking a riders hand after the race, and complimenting them on their finish.
"A lot of U.S. racers go over there and they don't really talk to anyone," Hyde says. "They don't have conversations with other riders. That makes them a very separate entity. You can't talk to someone in a race, civilly, that you don't know off the course."
"They're very, very protective riders over there," Hyde says. If the Belgian racers don't know you, he says, "They're going to smash you." It's a roll reversal from Hyde's events in the U.S., where he says, "If I don't know someone, I'm not going to let them in front of me."
"Gianni Vermeersch used to smash me all the time, but now I can have coffee with him in the hotel," Hyde says. When vying for the same line in a race, he can say, "Hey buddy I'm here."
Because Hyde accumulates ample UCI points competing against weaker fields in the U.S., he's often given second or even first row start positions in Belgium.
"I know that I don't deserve to be on the front row of those races," Hyde says. "That's a reality. I don't have an ego about it, it doesn't bother me. Every time I've lined up over there I've looked behind me and, like, Van der Haar's behind me. I literally want to say, 'Hey man, why don't you...why don't we swap.' I want to do that every time. Because I know how hard these guys work, and I know what they're thinking when they see me in front of them."
It's that humble nature that has endeared Hyde to his competitors, helped him make friends, and ultimately assisted him in finishing with results in Europe relative to his abilities.
"There's nothing I can do with other people's expectations"
Hyde receives no shortage of support from U.S. fans while racing in Europe.
"I love it," he says. "I love seeing people checking in Twitter, commenting and posting pictures on Facebook and Instagram. It's really, really cool. But I can only do as well as I can."
"That's a mental barrier that I had to get over very quickly. I've come to the realization that I don't think anyone can put the amount of pressure on me that I put on myself."
When Hyde lines up at a race, the expectations of fans and sponsors won't make him go any faster.
"There's nothing I can do with other people's expectations," he says.
He's 30. Near his physiological peak, now.
"The best thing I can do is race smarter, and be a little bit harder mentality," Hyde says. "I might be able to get like five percent more fit, but that's not going to land me on a podium. There would need to be a lot of people falling down for me to get on a podium."
"A great race for me is top 10; a crappy race for me is top 30. I'm okay with that," Hyde says.
But will that appease his fan base, tuning in, and rooting for him to crush like in the U.S?
Hyde laughs.
"Hopefully they're just like, 'Hey, that's good for him!'" he says.