Completed

,

Dec 10-12, 2021
Watch the 2021 USA Cycling Cyclocross National championships live on FloBikes! Nationals will be held in Wheaton, Illinois just outside of Chicago. Racing will begin on December 7th and conclude with the UCI category races on Sunday December 12, 2021. FloBikes will provide live and on demand streaming of the event beginning in the afternoon of December 9th through the conclusion of the event.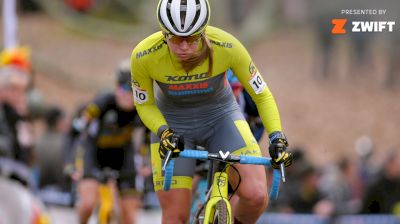 Overcoming Obstacles: Rebecca Fahringer's 'Go Fahr' Mentality Is Unstoppable
Nov 30, 2021
Jessica Alexander of FloBikes sits down with Rebecca Fahringer at the start of the 2021-22 Cyclocross Season. Fahringer was able to do a training block in Europe in 2020, which she believes gave her the best cyclocross preparation for this season.
Despite an early season injury, Fahringer is hopeful to make a push to race the complete 2021-22 season.
NOTE: As of December 1, 2021, Fahringer has announced via her Instagram handle (Instagram.com/gofahr) that she will not be racing further for the 2021-22 season due to her injury.