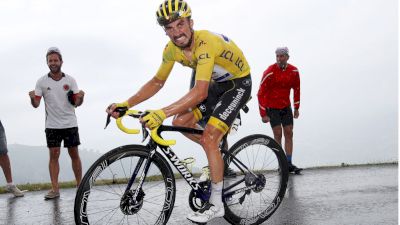 The 2019 Tour de France Is Coming To FloBikes
Jun 4, 2020
Prepare for the 2020 Tour de France with a complete refresher of the 2019 race–one of the best Tours in the last 20 plus years.
Beginning June 6th, 2020 the 2019 Tour de France will be streamed in its entirety to subscribers in Canada, with exclusive daily content and highlights available worldwide.
Join PRO To Watch The 2019 Tour de France Live and On Demand!
Each stage will be streamed live beginning at 5:00 PM CDT. Full replays will also be available on demand. Streams will be available in both French and English Commentary.
Tune in daily for full coverage including exclusive content throughout the Tour.
The 2020 Tour de France will also be streamed live and on demand on FloBikes. The 2020 Tour de France is scheduled to be held from August 29 to September 20, 2020.
| | | |
| --- | --- | --- |
| Date | Stage | Start Time (CDT) |
| 6/6/2020 | Stage 1 - Brussels › Brussels | 5:00 PM |
| 6/7/2020 | Stage 2 (TTT) - Brussels › Brussels | 5:00 PM |
| 6/8/2020 | Stage 3 - Binche › Épernay | 5:00 PM |
| 6/9/2020 | Stage 4 - Reims › Nancy | 5:00 PM |
| 6/10/2020 | Stage 5 - Saint-Dié-des-Vosges › Colmar | 5:00 PM |
| 6/11/2020 | Stage 6 - Mulhouse › La Planche des Belles Filles | 5:00 PM |
| 6/12/2020 | Stage 7 - Belfort › Chalon-sur-Saône | 5:00 PM |
| 6/13/2020 | Stage 8 - Mâcon › Saint-Étienne | 5:00 PM |
| 6/14/2020 | Stage 9 - Saint-Étienne › Brioude | 5:00 PM |
| 6/15/2020 | Stage 10 - Saint-Flour › Albi | 5:00 PM |
| 6/16/2020 | Stage 11 - Albi › Toulouse | 5:00 PM |
| 6/17/2020 | Stage 12 - Toulouse › Bagnères-de-Bigorre | 5:00 PM |
| 6/18/2020 | Stage 13 (ITT) - Pau › Pau | 5:00 PM |
| 6/19/2020 | Stage 14 - Tarbes › Col du Tourmalet | 5:00 PM |
| 6/20/2020 | Stage 15 - Limoux › Foix | 5:00 PM |
| 6/21/2020 | Stage 16 - Nîmes › Nîmes | 5:00 PM |
| 6/22/2020 | Stage 17 - Pont du Gard › Gap | 5:00 PM |
| 6/23/2020 | Stage 18 - Embrun › Valloire | 5:00 PM |
| 6/24/2020 | Stage 19 - Saint-Jean-de-Maurienne › Tignes | 5:00 PM |
| 6/25/2020 | Stage 20 - Albertville › Val Thorens | 5:00 PM |
| 6/26/2020 | Stage 21 - Rambouillet › Paris | 5:00 PM |