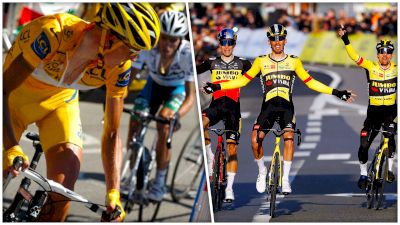 Scandal To Sensation: The Fall Of Rabobank And The Rise Of Jumbo-Visma
Jun 29, 2022
In this two-part documentary, FloBikes examines the doping scandals that led to the fall of one of cycling's iconic teams, and how a modern super team was born from its ashes.
The Rabobank team collapsed in 2012 in the wake of doping scandals that ripped through the professional peloton and ensnared seven-time Tour de France winner Lance Armstrong, amongst others.
Despite losing its title sponsor, the team limped along until Dutch supermarket chain Jumbo offered the once illustrious team a lifeline. In the years that has followed, the program has resurrected itself for the modern era by nurturing young talent. Ten years since the near collapse of Rabobank, the program finds itself on the precipice of winning the Tour de France.