2022 UCI Cyclocross World Cup: Maasmechelen
Marianne Vos Will Put The Youth To The Test In Maasmechelen
Marianne Vos Will Put The Youth To The Test In Maasmechelen
The women's cyclocross field looks to be in the midst of a generational shift, but a reality check in the form of Marianne Vos is coming this weekend.
Oct 28, 2022
by Michael Sheehan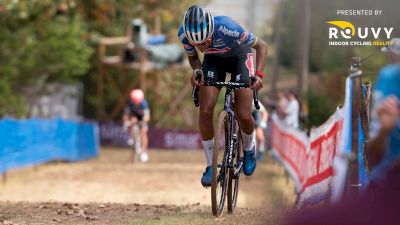 Marianne Vos, eight-time UCI Cyclocross World Champion is set to enter the World Cup fray this weekend in Maasmechelen, where she will have to contend with a new wave of cyclocross talent.
The first three rounds of this season's World Cup have all been won by 20 year old Fem Van Empel, while Tabor was animated by a bunnyhopping Puck Pieterse.
The arrival of these U23 riders at the front of the elite women's field has drawn comparisons to Mathieu van der Poel and Wout van Aert making easy work of the men's elite cyclocross ranks some eight years ago.
Vos' arrival in the World Cups will put the dominance of this new generation of women to the test.
Puck Pieterse and Fem van Empel, like Van der Poel and Van Aert, have a history of racing against each other. They are both 20 year old off-road stars in the making who have battled for national and world titles in both cyclocross and mountain bike disciplines.
Van Empel won the U23 cyclocross world title in 2021 while Pieterse claimed it in 2022. Van Empel struck back over the summer by winning the Dutch U23 mountain bike national championships ahead of Pieterse.
As the cyclocross season revs up, Van Empel seems to have the upper hand against her rival, and indeed the rest of the elite field. Pieterse was the primary animator of the women's race in Tabor. Lap after lap, Pieterse would attack into the barriers, which she and she alone could bunnyhop. Her technical skills and tenacity however were not enough to break free of her competition.
Van Empel for her part, coolly positioned herself near, but not at the front of the field in Tabor, often letting others dictate the pace. Van Empel appeared well in control of her efforts the entire race, ultimately saving her energy for one massive race winning attack on the final lap.
Van Empel's tactical awareness combined with her raw ability on a cyclocross bike is a rare combination for a 20 year old to possess, which makes her upcoming faceoff against Marianne Vos all the more interesting.
Vos, 15 years Van Empel's senior, is no slouch when it comes to race tactics, and she will not play into the hands of Van Empel, as Pieterse perhaps did in Tabor.
This season has already demonstrated that a younger generation of women are ready to take over the elite cyclocross field, but Maasmechelen will put the ambitions of these young riders into perspective.
Maasmechelen will be but an indication of the emerging hierarchy in the elite women's World Cup field. That hierarchy will by no means be settled after this weekend. Pauline Ferrand Prevot has yet to begin her cyclocross season, and ultimately, no elite world championship contender should be judged by their October form. Going into the fourth round of the World Cup though, the youth are in the driver's seat.