2022 USA Cycling Pro Road, TT & Criterium National Championships
Everything You Need To Know About 2022 US Pro Road National Championships
Everything You Need To Know About 2022 US Pro Road National Championships
USA Cycling's Professional Road and Criterium National Championships will be streamed live and on demand on FloBikes. This is your guide to the racing.
Jun 20, 2022
by Rebecca Reza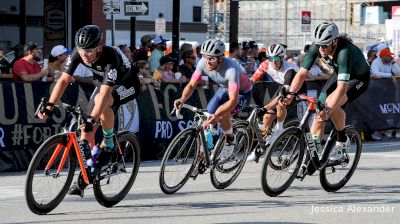 The 2022 USA Cycling Pro Nationals returns to Knoxville, Tennessee this week for a showdown of America's top road talent. FloBikes will stream the criteriums on Friday, June 24th, and the road races the following Sunday.
The pro women will start the festivities on Friday beginning at 6 PM EDT, for a 70-minute crit on the same 1.7km circuit as 2021. The men will follow for 80-minutes at 7:40 PM local time.
2021 National Crit Champion, Kendall Ryan, is returning hoping to defend her title after a historic win a few weeks ago, dominating the Armed Forces Classics. Ryan was hospitalized after the third day of Tulsa Tough due to severe heat exhaustion, but she has already returned to competition and is highly motivated to defend her title in Knoxville. Other favorites include Ryan's L39ion of Los Angeles teammate Skylar Schneider, Mia Manganello-Kilberg, and Megan Jastrab.
The men's defending champion Luke Lamperti became the youngest crit champion last season at 19 years of age. Lamperti skillfully avoided a crash in the final corner of last year's championship race, to handily upset juggernaut crit squads L39ion and Best Buddies. This year, Lamperti is prioritizing the road race, but he will still contest the crit on Friday. Other favorites to watch are Noah Granigan, Brendan Rhim, Ty Magner, and Stephen Vogel , after impressive showings throughout the first half of the season.
Following the rest day on Saturday, it's all hands on deck for Sunday's finale. The road circuit differs slightly from the 2021 edition. Each lap has been reduced to 11km from the 12.73km circuit they raced last season. Rather than heading out on Hill Ave., the riders will instead remain on Historic Preservation Dr. before heading up Church to Clinch Ave, to reconnect with the previous route as they sprint to the finish. The women will race 10 laps, while the men will complete 17.
2021 Champion Lauren Stephens will arrive having suffered some injuries at Unbound Gravel which left her with stitches in both her forearm and hip. Despite the setback, she hopes to defend her title. Other WorldTour riders have yet to confirm, although Coryn Labecki with 72 national titles to her name, is expected to race.
Men's defending champion, Joey Rosskoph, is expected to line up, along eleven other Human Powered Health teammates. Kyle Murphy and Robin Carpenter are two strong supporting options for the team. Unfortunately, Stephen Bassett, a local favorite and former podium finisher, suffered a training accident and will be forced to skip nationals.
Defending time trial champion Lawson Craddock returned stateside following the Giro d'Italia and is expected to contest the road and TT titles in Knoxville. Magnus Sheffield of INEOS Grenadiers is also on the startlist. WorldTour riders will be at a disadvantage, as they are thoroughly outgunned by domestic teams.
Alex Howes, the last WorldTour rider to win the national road title is not currently registered to contest this year's event. Howes suffered through the 200 miles of UNBOUND with an illness, and has been attempting to recover since. If his legs come back to him, one would expect to see him on the start line.