2022 UNBOUND Gravel
Letter From The Editor: Remembering Moriah "Mo" Wilson
Letter From The Editor: Remembering Moriah "Mo" Wilson
Myself and everybody at FloBikes offers our deepest and most heartfelt condolences to those grappling with the death of Anne Moriah "Mo" Wilson.
May 16, 2022
by Michael Sheehan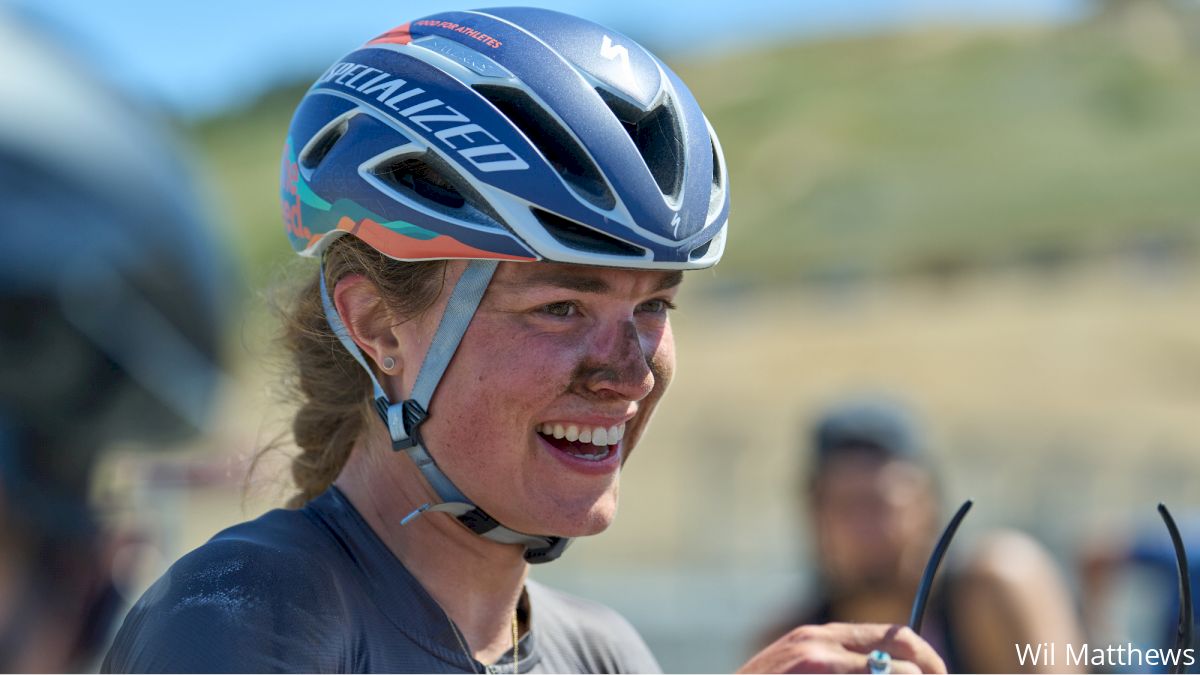 Every year, there are one or two riders in the vast world of competitive cycling that capture my attention and imagination, not just as a cycling journalist, but as a fan of the sport. Recent examples include Remco Evenepoel's debut WorldTour season on the heels of his annihilation of the junior men's 2018 world championships, Christopher Blevins and Kate Courtney en route to their Olympic debut, and basically everything Mathieu van der Poel does.
In 2022, Moriah Wilson was at the top of my must-watch list.
Wilson did not enter the year as a household name in international cycling, but she made a big impact in the American off-road scene, in a remarkably short amount of time. A former alpine skier at Dartmouth, the Vermont native moved to northern California after graduating in 2019. She began making a name for herself in local races, and as larger events came back to life following the 2020 shutdown, Wilson burst onto the national scene swinging.
Wilson finished in ninth place in her first attempt at the 200-mile UNBOUND Gravel in 2021. She went on to secure second place at the high-altitude Leadville 100 mountain bike race. She ended her season with a major victory at Big Sugar Gravel in Arkansas.
In 2022, Wilson picked up where she left off by winning the 80-kilometer Sea Otter Classic XC race, the first event of the inaugural Life Time Grand Prix. The six-race series is set to challenge many of the best cyclists in America with extreme endurance tests, often paired with high-altitude mountainous terrain. Wilson, who recently won the climbing-heavy Belgian Waffle Ride in San Diego, has proved herself to be a master of technical terrain, endurance efforts and climbing.
On Friday afternoon, I was sitting at a coffee shop writing about Moriah, and why I believed she was the runaway favorite to win the Life Time Grand Prix. I have only had two conversations with Moriah, or Mo as the cycling community affectionately knew her, but those conversations delivered more than enough insight to make my case. Mo was smart and engaging, she was confident, she had a winning combination of talent and work ethic, and her results spoke for themselves.
While drafting my argument outside that coffee shop, I received a call from a colleague informing me that Mo had been shot and killed in Austin, Texas.
Mo Wilson was not a household name in international cycling, but she could have been. Mo Wilson in fact could have been anything she wanted to be. She was 25 years old, and like so many people, I believed in her.
I did not know Mo well, but as I stood next to her after Sea Otter, I learned something about her. I watched as just about every competitor (all of whom she handily rode away from throughout the race), rolled across the finish line and b-lined to Mo. Time after time, what followed were huge grins, bear hugs and lots of exclamations to the effect of "I told you that you were going to win!".
Mo was not only a force to be reckoned with in a bike race, she was cherished by seemingly everyone around her.
The Austin Police Department has since revealed that Mo was shot multiple times inside a home in Austin. She was staying in Austin en route to Hico, Texas, for a 150-mile gravel race. The police have ruled her death a homicide.
In the days since, I have felt the same confusion, grief and pain shared by so many members of our community.
Myself and everybody at FloBikes offers our deepest and most heartfelt condolences to those grappling with the death of Anne Moriah "Mo" Wilson.