2022 Sea Otter Classic - MTB XC
Track World Champion Ashton Lambie Joins Jukebox Cycling
Track World Champion Ashton Lambie Joins Jukebox Cycling
In an interesting development for the Life Time Grand Prix, Ashton Lambie, the American track powerhouse, has joined forces with Jukebox Cycling.
Mar 24, 2022
by FloBikes Staff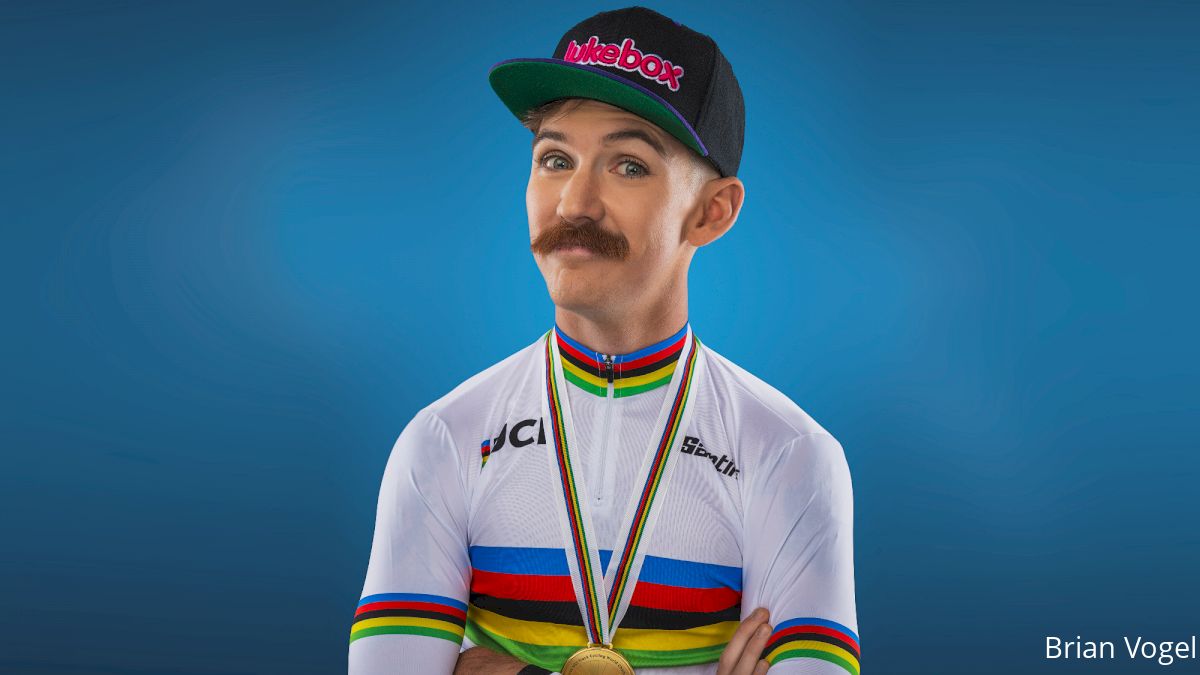 Jukebox Cycling was founded to help multidisciplinary cyclists do extraordinary things on the bike, so it makes perfect sense that track World Champion, gravel grinder and international mustachioed sensation Ashton Lambie would join the roster of world-class athletes.
At 31 years old, Lambie recently became the first American in over a decade to win Men's Individual Pursuit World Championships on the track—after being the first to ride the 4,000 meters in sub-four minutes for the World Record earlier in the season—and now, he's ready for a new challenge. This season, he plans to focus more on gravel racing, one of his first loves in cycling, while giving his track bike a break.
The enormous range of cycling endeavors Lambie has tackled in his cycling career, from his sub 24hr cross-Kansas record to the first sub-four minute World Record on the track, set him apart from other racers. "Our goal on Jukebox Cycling is to empower our athletes to pursue their goals—no matter what cycling discipline they're in—and to help them explore what's possible on the bike," says Jukebox CEO Loredo Rucchin. "Ashton is the perfect rider to complete our roster: What he does in cycling is so inspiring, and it works so well with what our other athletes are trying to achieve. We're thrilled to bring him on board."
Normally, you wouldn't resort to Wikipedia to describe an athlete, but Lambie's page is hard to beat. It reads: "The American track cyclist is known for breaking the individual pursuit world record three times, and also the Trans-kansas record, and for his moustache." In addition to that most recent win, he won the 100-mile edition of Unbound in 2019, and finished on the podium at Track World Championships in 2020. He also has an impressive collection of Pan American, UCI World Cup, and National track titles.
This season, Lambie's gravel focus will include Gravel Worlds and the Life Time Grand Prix Series as well as brevet-style exploration of his new hometown of Houston, TX with his partner, Christina Birch. Lambie will be the fourth Jukebox Cycling rider to take part in the Grand Prix, along with mountain biker Dylan Johnson and former road pros Alexey Vermeulen and Adam Roberge.
Lambie's track and gravel palmares helped him get selected as one of the riders in the Series, and Life Time's president of media and events Kimo Seymour told VeloNews, "It will be so incredible to see the guy that just set the world record in the individual pursuit on the track show up and do Leadville."
Lambie also hasn't ruled out any other type of racing, though at the moment, his main focus is on mountain bike skills, which will be critical for the Grand Prix Series. And of course, he's still jumping on the trainer to lead some Zwift rides and races to keep his legs sharp!
"I think the structure that Jukebox Cycling has, where it's a team and the riders can feel connected, but at the same time, have their own sponsors and set their own calendars, is a great model for the cycling world today," he says. "It's bringing the standard up. And as disciplines like gravel are growing, the team structure for cycling in general is going to change—the traditional models just don't work anymore. I love that maybe we won't get everything right the first time, but that we're on the forefront of this change, and I just love being a part of that."
Jukebox Cycling is excited to welcome Ashton to the squad, which includes seven other riders from three countries, with a huge range of cycling backgrounds, experiences and goals in the sport. From Xander Graham, the 12-year-old phenom who lit up the Tour of Britain this season; to Phil Gaimon, the poorly-retired former Pro Tour racer; to Ruby West, a cyclocross champion turned track racer. Dylan Johnson, Alexey Vermeulen and Adam Roberge round out the team with a primary focus on gravel, and the most recent member, Rachel Pageau, has her attention focused on Downhill World Cup racing.
For more on the team, check out JukeboxCycling.com and follow @JukeboxCycling on Instagram and Strava.