2021 UCI Cyclocross World Cup: Koksijde
Six Top Favorites For Koksijde Cyclocross World Cup
Six Top Favorites For Koksijde Cyclocross World Cup
Sand riding requires a unique balance of power and finesse, and in Koksijde, there is a lot of sand. This plays to the advantage of one rider in particular.
Nov 17, 2021
by Michael Sheehan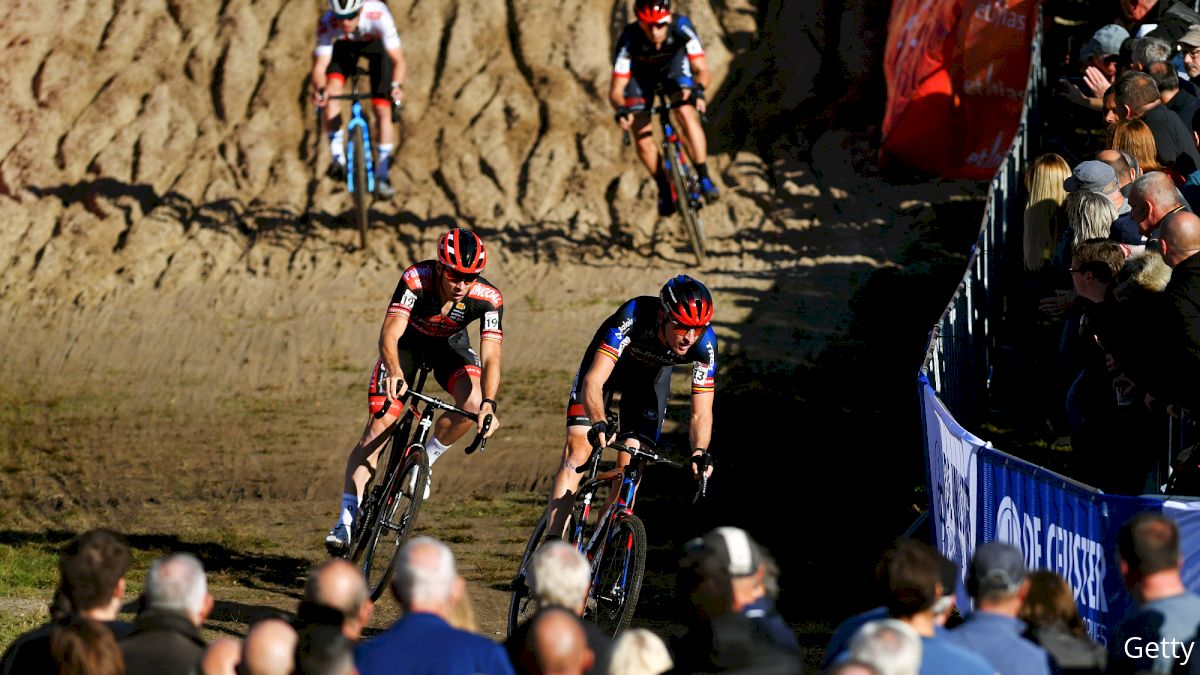 The infamous Duinencross of Koksijde, Belgium returns this Sunday, November 21. The seaside cyclocross World Cup, known for its the vast sand dunes, has the potential to disrupt the current WorldCup standings. Koksijde will be streamed live and on demand to viewers in the U.S. and Canada on FloBikes.
Read on for FloBikes' list of favorites for the 2021 Duinencross Koksijde.
Denise Betsema
Sand riding requires a unique balance of power and finesse, and in Koksijde, there is a lot of sand. This fact plays to the advantage of one rider in particular; Denise Betsema. Betsema is a masterful sand rider, a point she proved one month ago in Zonhoven. Betsema sits second in the World Cup rankings behind Lucinda Brand by 19 points. It is unlikely that Betsema will be able to amass enough of a lead over Brand to take over the standings, but Betsema could well make inroads on Sunday.
Lars van der Haar
Lars Van Der Haar is enjoying a resurgent cyclocross season. The Dutch rider won his first World Cup in four years last weekend in Tabor and was crowned European Champion just prior. Three weeks ago, Van der Haar likely would not have been on this list, but he is a strong sand rider, and is on a real hot streak. The men's field is a closely contested battle between the top five riders, but Van der Haar has distinguished himself from the pack now that the European cyclocross season is well underway.
Ceylin del Carmen Alvarado
The former world champion has not yet managed better than a third place this World Cup season. It should be noted, that podium was earned at Zonhoven, another sand course. Ceylin Del Carmen Alvarado is indeed a fantastic sand rider. Alvarado opted to skip the first three rounds of the World Cup, so her season has started slower than her competitor's, but one might expect to see the Alvarado at the front this weekend.
Toon Aerts
Toon Aerts has been third in the past three editions of Koksijde. With Mathieu van der Poel and Wout van Aert opting out of competition for the time being, Aerts' path to success in the sand dunes appears clear. While he will have to contend with the flying Lars van der Haar, Aert's victory this season in Zonhoven should give him a boost of confidence.
Lucinda Brand
The world champion has more than lived up to her title this season. Lucinda Brand is not the most naturally skilled sand rider, but she clearly focused heavily on the skill set prior to Ostend Worlds. Any handling abilities that Brand might concede to the likes of Denise Betsema, she often makes up for in raw power. Brand has a strong lead in the World Cup standings, and is certainly capable of winning in Koksijde, but she will have to be on her A-game.
Corne van Kessel
Corne Van Kessel has not been a standout yet this season, he is however a great sand rider with a proven track record at Koksijde. Riders like Eli Iserbyt who excel in traditional heavy, muddy cyclocross can struggle in Koksijde. Similarly, adept riders like van Kessel who struggle to match the power of the Iserbyts and Van Aerts can find themselves at an advantage in the sand dunes.