2021 UCI Cyclocross World Cup: Zonhoven
Zonhoven Cyclocross World Cup Sandpit To Test Riders
Zonhoven Cyclocross World Cup Sandpit To Test Riders
This upcoming weekend is the start of the European block of 2021 UCI Cyclocross World Cup races on Sunday, October 24.
Oct 27, 2021
by Jessica Alexander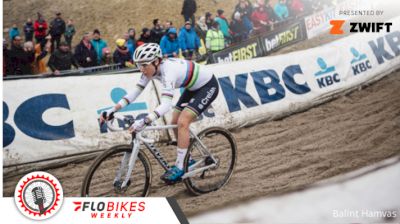 This upcoming weekend is the start of the European block of 2021 UCI Cyclocross World Cup races on Sunday, October 24. Zonhoven, Belgium hosted the famed sandpit race from 1958 to 1966 and then restarted the race as part of the Telnet Superprestige during the 2009-2010 season. Zonhoven CX was cancelled in 2020 due to COVID-19 but is back in 2021 to kick off a series of Belgian cyclocross World Cup races. The 2020 winners include Belgium's Toon Aerts and The Netherlands' Annemarie Worst.
The first three rounds of 2021 UCI World Cup cyclocross races in the United States proved that much like in 2020, the Belgian men and Dutch women dominated their respective fields. Eli Iserbyt and Quinten-Hermans shared wins at Waterloo, Fayetteville and Iowa City while The Netherlands' Marianne Vos and Lucinda Brand shared wins at the same races.
New Faces To Face The Sand
The first World Cup race in Europe will also bring new faces to the field that did not make the trip over to the United States for the first three World Cups. On the men's side, expect to see athletes joining from Ireland (Timothy O'Regan, Sean Nolan) and the Czech Republic's Matej Stransky. On the women's side, expect to see Dominican-Dutch cyclist Ceylin del Carmen Alvarado toe the sandy start line. Del Carmen Alvarado is the 2019-20 UCI World Cyclocross champion and the 2020-21 UEC European champion.
Who Is Not Racing?
Notably absent from the start list in Zonhoven are all-rounder powerhouses Mathieu van Der Poel, Wout Van Aert and Tom Pidcock. While Van Der Poel and Pidcock are recovering from injuries, it's likely Van Aert is resting and recovering from his very successful road race season earlier this year. This gives the opportunity to the likes of Hermans and Iserbyt to continue to dominate the men's field on a very technical and challenging course.
The Sandiest Course
Zonhoven Cyclocross race is known in the World Cup Circuit as one of the most challenging, if not most difficult, of all cyclocross races held in the world. The deep sandpits in Zonhoven are a frenzy of activity on race day: fans line up six-to-eight deep to watch riders attempt to find a safe line down the loose sand and then later in the course, run up a similar track of rutted and steep sand. Although there won't be any snow at this year's edition of Zonhoven CX due to the earlier time of the year, expect a temperate but cool and sunny 14 degrees (58F) to greet racers and fans on race day.