2021 UCI Mountain Bike World Championships
What You Need To Know About UCI's 2021 World Mountain Bike Championships
What You Need To Know About UCI's 2021 World Mountain Bike Championships
UCI's World Mountain Bike Championships takes place in Trentino, Italy from August 25-29. Watch it live on FloBikes!
Aug 11, 2021
by Jessica Alexander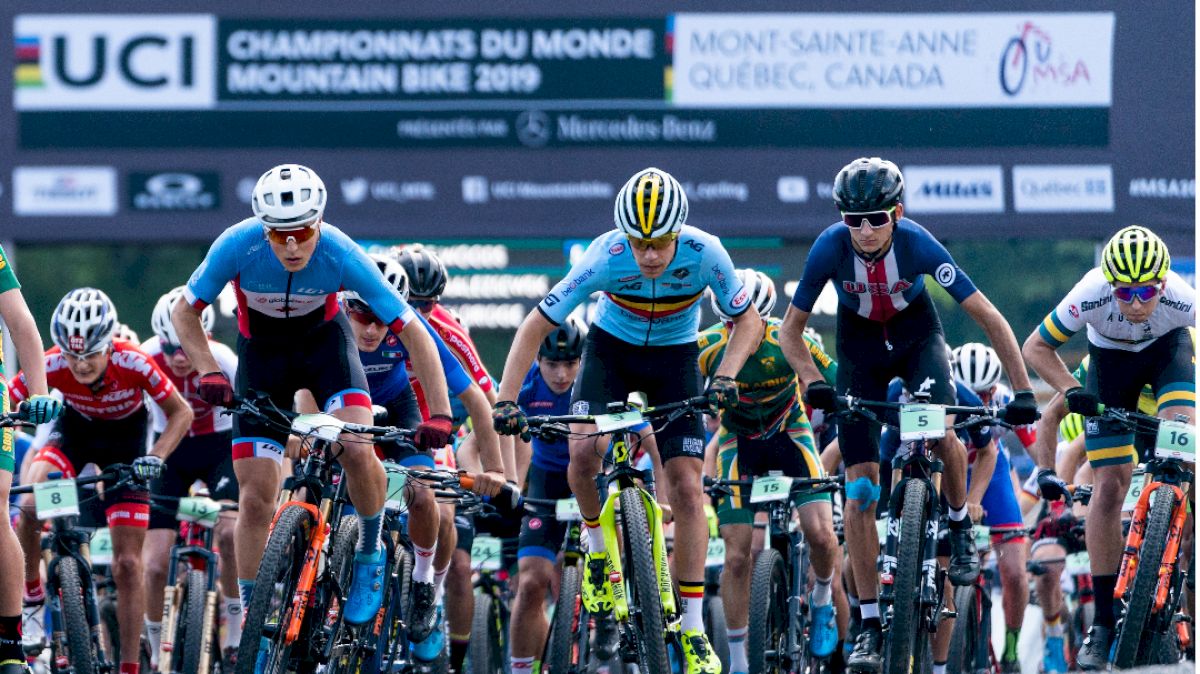 The top mountain bikers in the world are descending upon Val di Sole in Trentino, Italy, for the UCI Mountain Bike World Championships. FloBikes will provide live coverage from Aug. 25-29.
On Aug. 25, the Team Relay opens the World Championships program followed by the Junior Cross-Country races and the new Short Track specialty on Aug. 26. E-MTB and Four-Cross are scheduled on Aug. 27, one day before the Elite and U23 Cross Country competitions on Aug. 28. The grand finale will be staged with the Downhill races on the legendary Black Snake Trail on Aug. 29.
Join PRO to watch the 2021 UCI World Mountain Bike Championships live and on demand on FloBikes!
Six Disciplines to Battle Out for Rainbow Jerseys
The event in Daolasa di Commezzadura marks the first time that six mountain bike disciplines will compete for rainbow jerseys. In addition to Cross Country (XC), Team Relay, Downhill (DH), Four-Cross (4X) and E-MTB, the International Cycling Union (UCI) has introduced the Short Track (XCC) into the Mountain Bike World Championships program.
Course Previews
The XC course will feature a 4 km circuit with 190 meters of elevation gain around the Val di Sole Bike Park in Daolasa di Commezzadura.
Black Snake is known for being one of the most technically demanding DH tracks in the world with an average 22% slope gradient that reaches a 40% gradient in several sections. This 2.4km track also features 540 meters of elevation loss.
The 4X circuit runs alongside the famous Blake Snake Trail, and in addition to the Pro-Line, it is characterized by 3 long and challenging double jumps. It also features a very technical section in the middle part with several jumps, where the athletes will add in acrobatic maneuvers in an attempt to overtake each other.
The XCC race has a duration of about 20 minutes and is played out on an approximate 1.5 km loop course.
The E-MTB competition in Daolasa will feature a 1.5km loop that was designed for pedal-assisted competitions, including ramps that might not be possible without an e-bike.
Riders to Watch - Men
In the XC division, the reigning World Champion Jordan Sarrou will be challenged by Italians Luca Braidot and Gerhard Kerschbaumer. Kerschbaumer has mentioned that the World Championships on home soil matter to him more than the Olympic race in Tokyo.
Defending DH World Champion Laurie Greenland will take on Loic Bruni and Greg Minaard. In 4X, Frenchman Romain Mayet will be defending his rainbow jersey against British rider Elliot Heap. The XCC will feature a heated competition between cycling discipline all-rounder Mathieu Van Der Poel, winner of the World Cup Short Track in Val di Sole in 2019 and Brazilian Henrique Avancini, runner-up on that occasion. Finally, In the E-MTB competition, reigning world champion and cycling all-rounder Tom Pidcock takes on Italian Marco Aurelio Fontana.
Riders to Watch - Women
The XC competition will be heated with Jolanda Neff, rising star Loana Lecomte and 2018 World Champion American Kate Courtney taking on current World Champion Pauline Ferrand-Prévot . In the DH competition, Loris Vergier, Myriam Nicole and local Eleonora Farina will take on defending World Champion French rider Marine Cabirou. In the 4X competition, Czech rider Romana Labounkovà looks to defend her World Championship title against British rider Natasha Bradley. The women's XCC will see a battle of Swiss racer Jolanda Neff and French rider Pauline Ferrand-Prèvot.