2021 Tour de France
FloBikes 2021 Canada Live Broadcast Calendar
FloBikes 2021 Canada Live Broadcast Calendar
The Tour de France, Paris-Roubaix and the UCI World Championships headline FloBikes' 2021 Canadian broadcast calendar.
Feb 18, 2021
by FloBikes Staff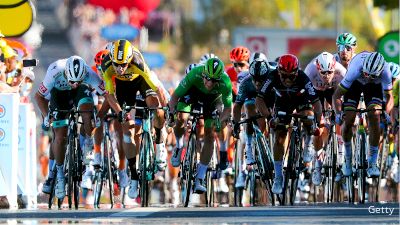 In 2021 FloBikes will provide live and on-demand coverage of cycling's most storied races.
Sign up to watch live bike racing on FloBikes, as well as exclusive features, shows, interviews and more.
Viewers in Canada will have access to events including Paris-Roubaix, the Tour de France and the Vuelta a España.
Subscribers will also be able to watch the UCI Cyclocross World Championships, the Road World Championships, and Spring classics such as Omloop Het Nieuwsblad, Gent-Wevelgem and the Tour of Flanders.
Also included is the newly expanded 16-round 2021-2022 UCI Cyclocross World Cup.
Join Pro to watch the best of professional cycling live and on-demand, along with exclusive documentaries, highlights, shows, interviews and more.
Check the events tab of FloBikes.com and the FloSports app to get the most up to date broadcast schedule.
| | | |
| --- | --- | --- |
| 1/30/21 | UCI Cyclocross World Championships | U.S. & Canada |
| 2/4/21 | Etoile de Bessèges | U.S., Canada & Australia |
| 2/11/21 | Tour de La Provence | Canada |
| 2/12/21 | American Cycling League DMCU Track Classic | Worldwide |
| 2/27/21 | Omloop Het Nieuwsblad | U.S., Canada & Australia |
| 2/27/21 | Faun-Ardèche Classic | U.S., Canada & Australia |
| 2/28/21 | Royal Bernard Drome Classic | U.S., Canada & Australia |
| 3/5/21 | American Cycling League | Worldwide |
| 3/7/21 | Paris-Nice | Canada |
| 3/12/21 | World Triathlon Abu Dhabi | U.S., Canada & Australia |
| 3/21/21 | Gent-Wevelgem | U.S., Canada & Australia |
| 3/22/21 | Volta Ciclista a Catalunya | Canada |
| 3/24/21 | Dwars door Vlaanderen | U.S., Canada & Australia |
| 3/26/21 | American Cycling League | Worldwide |
| 3/31/21 | Scheldeprijs | U.S., Canada & Australia |
| 4/4/21 | Tour of Flanders Men | U.S., Canada & Australia |
| 4/7/21 | De Brabantse Pijl | U.S., Canada & Australia |
| 4/11/21 | Paris-Roubaix | Canada |
| 4/11/21 | Amstel Gold | U.S., Canada & Australia |
| 4/13/21 | Tour of Turkey | Canada |
| 4/13/21 | Tour of Croatia | Canada |
| 4/16/21 | Classic Grand Besançon | U.S., Canada & Australia |
| 4/17/21 | Tour du Jura | U.S., Canada & Australia |
| 4/21/21 | Fleche Wallonne | Canada |
| 4/25/21 | Liege-Bastogne-Liege | Canada |
| 5/1/21 | Eschborn-Frankfurt | Canada |
| 5/1/21 | World Triathlon Chengdu | U.S., Canada & Australia |
| 5/4/21 | 4 Jours de Dunkerque | U.S., Canada & Australia |
| 5/12/21 | Tour of Hongrie | Canada |
| 5/15/21 | World Triathlon Yokohama | U.S., Canada & Australia |
| 5/25/21 | Tour of Norway | U.S. & Canada |
| 5/30/21 | Criterium du Dauphine | Canada |
| 6/6/21 | UCI BMX Supercross World Championships | U.S. & Canada |
| 6/6/21 | Tour de Suisse | U.S., Canada & Australia |
| 6/6/21 | World Triathlon Leeds | U.S., Canada & Australia |
| 6/8/21 | Mont Ventoux Dénivelé Challenge | U.S., Canada & Australia |
| 6/18/21 | U.S. Pro Road, TT & Crit National Championships | Worldwide |
| 6/20/21 | PROFFIX Swiss Bike Cup: GRÄNICHEN | U.S., Canada & Australia |
| 6/26/21 | La Course by Le Tour de France | Canada |
| 6/26/21 | Tour de France | Canada |
| 6/26/21 | World Triathlon Montreal | U.S., Canada & Australia |
| 6/27/21 | PROFFIX Swiss Bike Cup: Savognin | U.S., Canada & Australia |
| 7/10/21 | USA Cycling Mountain Bike Nationals & High School Festival | Worldwide |
| 7/10/21 | World Triathlon Hamburg | U.S., Canada & Australia |
| 8/3/21 | Vuelta a Burgos | U.S., Canada & Australia |
| 8/4/21 | Tour de Savoie Mont-Blanc | U.S., Canada & Australia |
| 8/5/21 | Arctic Race of Norway | Canada |
| 8/8/21 | Circuito de Getxo | U.S. & Canada |
| 8/9/21 | Tour of Poland | U.S., Canada & Australia |
| 8/14/21 | La Vuelta a Espana | Canada |
| 8/17/21 | Tour du Limousin | U.S., Canada & Australia |
| 8/17/21 | UCI BMX Supercross World Championships | U.S. & Canada |
| 8/21/21 | World Triathlon Edmonton | U.S., Canada & Australia |
| 8/22/21 | PROFFIX Swiss Bike Cup: Basel | U.S., Canada & Australia |
| 8/25/21 | UCI Mountain Bike World Championships | U.S. & Canada |
| 8/26/21 | Deutschland Tour | Canada |
| 8/28/21 | Brussels Cycling Classic | U.S., Canada & Australia |
| 9/3/21 | Ceratizit Challenge by La Vuelta | Canada |
| 9/11/21 | Tour of Oman | Canada |
| 9/18/21 | UCI Road World Championships | U.S. & Canada |
| 9/19/21 | Eschborn-Frankfurt | Canada |
| 9/25/21 | Saudi Tour | Canada |
| 9/28/21 | CRO Race | Canada |
| 10/2/21 | Paris-Roubaix Femmes | Canada |
| 10/3/21 | Paris-Roubaix | Canada |
| 10/9/21 | US Open of Cyclocross | Worldwide |
| 10/10/21 | UCI Cyclocross World Cup #1 - Waterloo | U.S. & Canada |
| 10/10/21 | Paris-Tours | Canada |
| 10/13/21 | UCI Cyclocross World Cup #2 - Fayetteville | U.S. & Canada |
| 10/13/21 | UCI Track World Championships | U.S. & Canada |
| 10/16/21 | World Triathlon Bermuda | U.S., Canada & Australia |
| 10/17/21 | UCI Cyclocross World Cup #3 - Iowa | U.S. & Canada |
| 10/23/21 | World Triathlon Cup: Miyazaki | U.S., Canada & Australia |
| 10/24/21 | Criterium Saitama | Canada |
| 10/24/21 | UCI Cyclocross World Cup #4 - Zonhoven | U.S. & Canada |
| 10/30/21 | World Triathlon Cup: Tongyeong | U.S., Canada & Australia |
| 10/31/21 | UCI Cyclocross World Cup #5 - Overijse | U.S. & Canada |
| 11/5/21 | World Triathlon Championship Series: Abu Dhabi | U.S., Canada & Australia |
| 11/7/21 | UCI Urban World Championships | U.S. & Canada |
| 11/14/21 | UCI Cyclocross World Cup #6 - Tabor | U.S. & Canada |
| 11/20/21 | Criterium Shanghai | Canada |
| 11/21/21 | UCI Cyclocross World Cup #7 - Koksijde | U.S. & Canada |
| 11/28/21 | UCI Cyclocross World Cup #8 - Besançon | U.S. & Canada |
| 12/5/21 | UCI Cyclocross World Cup #9 - TBC | U.S. & Canada |
| 12/9/21 | U.S. Cyclocross National Championships | Worldwide |
| 12/12/21 | UCI Cyclocross World Cup #10 - TBC | U.S. & Canada |
| 12/18/21 | UCI Cyclocross World Cup #11 - Antwerpen | U.S. & Canada |
| 12/19/21 | UCI Cyclocross World Cup #12 - Namur | U.S. & Canada |
| 12/26/21 | UCI Cyclocross World Cup #13 - Dendermonde | U.S. & Canada |
| 1/2/22 | UCI Cyclocross World Cup #14 - Hulst | U.S. & Canada |
| 1/16/22 | UCI Cyclocross World Cup #15 Flamanville | U.S. & Canada |
| 1/18/22 | Santos Tour Down Under (Date TBC) | Canada |
| 1/23/22 | UCI Cyclocross World Cup #16 Hoogerheide | U.S. & Canada |
| 1/29/22 | UCI Cyclocross World Championships | U.S. & Canada |
| 1/30/22 | Cadel Evans Great Ocean Road Race (Date TBC) | Canada |
| 2/26/22 | Omloop Het Nieuwsblad | U.S. & Canada |
| 3/6/22 | Paris-Nice | Canada |
| 4/10/22 | Paris-Roubaix | Canada |
| 7/1/22 | Tour de France | Canada |