UAE Team Emirates, First Team Affected By Coronavirus, First Vaccinated?
UAE Team Emirates, First Team Affected By Coronavirus, First Vaccinated?
COVID-19 has plagued UAE Team Emirates more than most. The team now hopes to administer vaccines to the riders during their January training camp.
Dec 23, 2020
by Michael Sheehan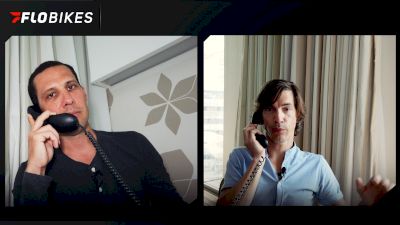 Cycling was one of the first sports to experience the Coronavirus firsthand. The 2020 UAE Tour was abruptly halted on February 27th, two stages shy of its scheduled finish, following staff members of a participating team testing positive for COVID-19.
In the days that followed, the 600-person race caravan underwent coronavirus tests while quarantined in the race's two Abu Dhabi hotels. Some members of the race caravan were able to leave the UAE and return home after a few long and uncertain days in quarantine. That was not the case for UAE Team Emirates.
UAE Team Emirates remained locked in their Abu Dhabi hotel rooms for three weeks after the cancellation of their home race. The team's star sprinter Fernando Gaviria was eventually confirmed to have contracted the virus while in the UAE. Gaviria would go on to reportedly get the coronavirus a second time at the Giro d'Italia in October.
UAE Team Emirates now appears to be one of the first sports teams in line to receive the coronavirus vaccine. Team manager Mauro Gianetti revealed to La Gazetta dello Sport that he intends to have vaccines available for his riders and staff at the team's January training camp.
Gianetti already has experience with the vaccine. He told the Italian newspaper "I was one of 30,000 volunteers in Abu Dhabi who tested the new Sinopharm vaccine."
Gianetti explained that his team's medical staff will be ready to administer vaccines to his entire organization, but that receiving a vaccine will "be a personal choice."
Whether or not athletes should receive priority coronavirus vaccines is a topic up for debate. Some have speculated that giving star athletes priority access could help efforts to win public support for the vaccine, but many sports organizations have opted to wait their turn.
Both the NBA and the NFL have stated that neither organization will attempt to skip ahead in line to receive the vaccine.
With UAE Team Emirates receiving priority doses, the team may find themselves with a competitive advantage over others as the 2021 road season attempts to get underway.
While questions of fairness might be raised by their early access to the Sinopharm vaccine, it will be very welcome news to a team that was hit hard by the virus from start to finish of the 2020 season.