2018 Giro d'Italia Rebroadcast
The Best Of The Giro Is Yet To Come
The Best Of The Giro Is Yet To Come
The mountains on stages 14 and 19 of the 2018 Giro played host to one of the greatest battles of all time, and you can watch them live on FloBikes.
May 6, 2020
by Preston Glace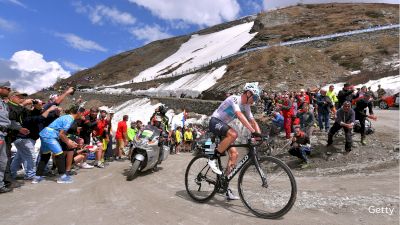 At the end of the day, the Giro d'Italia is a showcase of the most dramatic, epic and arduous mountains that Italy has to offer. The Giro's placement on the calendar at the end of spring adds an extra element of unpredictability to the race's high altitude challenges.
To make sure you don't miss out on any of the action, add a reminder to your calendar so you get notified when the stages are coming up live!
The Giro organizers throw practicality to the wind when planning the parcours, sending racers up mountain passes that are often still lined with snow banks.
The mountains of the 2018 Giro laid the foundation for one of the best general classification battles of all time, and the most exciting stages are coming up live on FloBikes.
Join PRO to watch the 2018 Giro d'Italia Rebroadcast live and on demand on FloBikes.
Stage 19 will go down as one of the greatest moments in cycling history. Midway through the stage, riders had to go over the Colle delle Finestre, the highest pass of the 2018 Giro, which features rugged unpaved roads on the mountain's upper slopes. Team Sky's plan was the cycling equivalent of a Hail Mary pass. They lined it up with 90 kilometers to go, and with 80 kilometers remaining Chris Froome launched himself out of the peloton, never to be seen again.
Froome overcame a 3 minute and 22 second deficit to take the maglia rosa in a comeback unlike anything the sport has seen in the modern day.
Upcoming Giro d'Italia Stages