2020 Digital Swiss 5
Everything You Need To Know About The Digital Swiss 5
Everything You Need To Know About The Digital Swiss 5
A five day stage race emulating the 2020 Tour de Suisse. Practically every WorldTour rider will be there. This is what you need to know.
Apr 16, 2020
by Michael Sheehan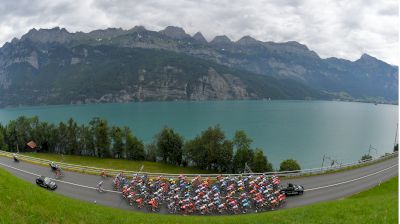 The Digital Swiss 5 is a five day stage race emulating the 2020 Tour de Suisse. It begins on Wednesday April 22nd and will be streamed live and on demand on FloBikes for viewers in North America.
Join PRO to watch the Digital Swiss 5 live and on demand on FloBikes.
The race will be hosted on Rouvy, in collaboration with Velon. Rouvy is an indoor training platform which uses real video footage of the routes for a realistic virtual riding experience.
Riders will compete using smart trainers, and will record their weight prior to the start of each race to ensure a fair competition. In addition to accurate weigh ins, the organizers require each rider to calibrate his approved smart trainer prior to each race.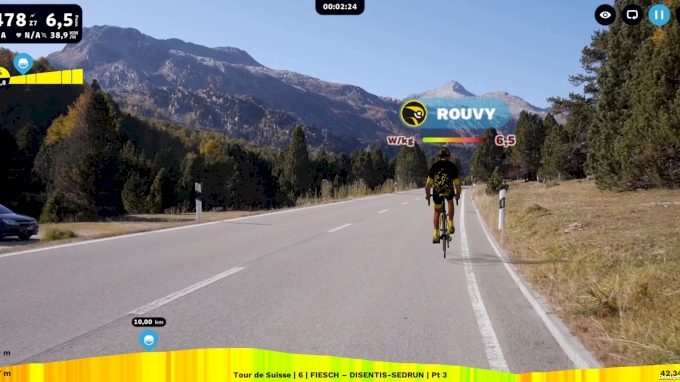 Not Your Average Virtual Stage Race
The Digital Swiss 5 is not structured like a typical stage race. Each team is allowed a roster of three riders per stage, but teams can substitute their riders in and out before each stage. With five stages on tap, that means there is an opportunity for teams to use 15 of their riders throughout the course of the race.
Teams are taking advantage of this format and many will be arriving with full numbers. Most teams intend to start between 10-15 riders throughout the course of the race. Lotto Soudal has committed a full roster of 15 riders while BORA-hansgrohe and professional continental outfit Rally Cycling will have more modest sized rosters.
In total 16 WorldTour teams will be in attendance. Astana and UAE Team Emirates are the two holdouts. In addition to the WorldTour firepower lined up for the Digital Swiss 5, Rally Cycling, Total Direct Energy and the Swiss National Team will be participating.
The Swiss National Team will be headlined by a host of WorldTour riders who did not make the selection for their trade team. View the full startlist here.
Schedule
| | | | | |
| --- | --- | --- | --- | --- |
| Day | Stage (Link to Map) | Start Time (CDT) | Distance (km) | Elevation (m) |
| Wednesday 4/22 | Stage 1 | 10:00 AM | 27 | 1192 |
| Thursday 4/23 | Stage 2 | 10:00 AM | 40-50 (TBD) | 180 |
| Friday 4/24 | Stage 3 | 10:00 AM | 33 | 1521 |
| Saturday 4/25 | Stage 4 | 10:00 AM | 37 | 444 |
| Sunday 4/26 | Stage 5 | 7:00 AM | 36 | 950 |
No General Classification
Because rosters will change every day, there will be no overall classification winner for the Digital Suisse 5. Instead, each stage will be scored as its own individual race.
What to Expect
The Tour of Flanders Lockdown Edition is the only previous professional virtual race the cycling world has seen. It was won by Belgian Greg van Avermaet.
The event had many elements one might expect from a race in the real world. Drafting and cooperation amongst riders determined the outcome of the race as it would any other. Van Avermaet was able to escape over the final climb and ride clear to the finish.
The Tour of Flanders event had only 13 starters and was very much a test of what professional virtual cycling could look like. The Digital Swiss 5 is ramping the concept up substantially with 57 starters expected each day.
Each day of the Digital Swiss 5 should offer something new. Stage two should be a day for the sprinters, while stage three will feature a summit finish on the above category Nufenenpass, which promises to be a WorldTour showdown of raw watts per kilogram. And yes, each racer's power data will be on display.
Fans will also get a look inside the pain caves of WorldTour riders as each participant is required to provide a webcam feed of their suffering during the race.
Join PRO to watch the Digital Swiss 5 live and on demand on FloBikes.
This also gives racers and teams a much needed opportunity to show off their sponsors. The rule book allows riders to wear helmets and sunglasses. We will see if any riders take advantage of that option.