Unlock this article, live events, and more with a subscription!
Get Started
Already a subscriber? Log In
The 2020 cycling season has been effectively postponed while global efforts are underway to curb the spread of the novel coronavirus.
However, amid all the uncertainty and worries shines a light from the heartland of cycling. The 104th edition of the Tour of Flanders was supposed to be held this Sunday. While the 267 kilometer race has been postponed, the organizers have employed modern cycling technology to ensure that the show goes on. Or at least the final 32 kilometers of the show.
Thirteen star riders will virtually line up on Sunday to take place in the first online edition of the Ronde van Vlaanderen. Racers will tackle the final 32 kilometers of the Tour of Flanders, including the climbs of the Kruisberg, Oude Kwaremont and Paterberg, before drag racing to the finish in Oudenaarde. Let's hope it rains.
Below are FloBikes' underdogs for the historic event.
Alberto Bettiol
Can he fool them twice? The favorites of the 2019 Ronde locked themselves in a piteous stalemate in the finale, while Alberto Bettiol surged away on the Oude Kwaremont never to be seen from again.
The Italian enters the 2020 Ronde as the defending champion. Will virtual tactics play similarly to his favor?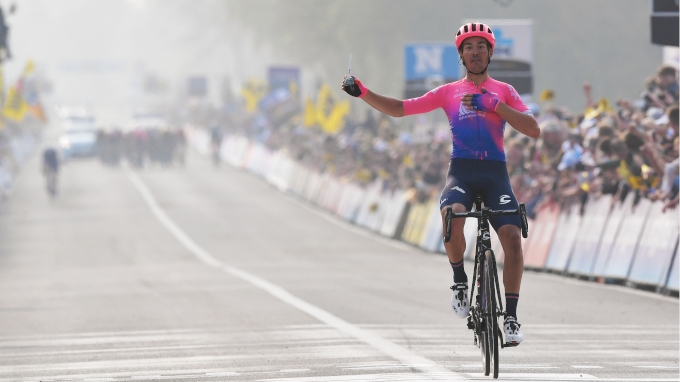 Thomas de Gendt
Thomas de Gendt is known for his long heroic breakaways. He is most at home alone, off the front of the race, minutes ahead of a bewildered peloton. We can think of no mentality better suited to the world of virtual racing.
With only 32 kilometers on tap, de Gendt will have to make quick work of escaping. Our money is on de Gendt being halfway up the Kwaremont by the time the virtual peloton organizes itself on Sunday.
Michael Matthews
Michael Matthews was showing promising form at the 2020 Paris Nice. In 2019 Matthew's got his first taste of the Ronde van Vlaanderen, and it went quite well with a sixth place finish. Sprinting on a trainer is not an easy feat, but should the group stay together to the finish, Matthews is the quickest of the group.