Unlock this article, live events, and more with a subscription!
Get Started
Already a subscriber? Log In
A New Look For Cyclocross
The DVV Trofee unveiled a brand new cyclocross course on Saturday in Kortrijk, Belgium. The course was aptly named "Urban Cross" as it jumped from bank to bank of the Leie River incorporating bridges, roundabouts, criterium-like paved sections and long straightaways, on top of a healthy mix of mud and sand.
The course looked rather different than a traditional European cyclocross race. Urban Cross did not provide a messy epic battle through a field of thick Belgian mud. Instead, it brought cyclocross to an urban environment filled with bars and other attractions from where onlookers could enjoy the spectacle.
While the look and feel of the race may have been different, watching racers fly across a suspended pedestrian bridge and tear through paved corners was a fresh change. It also provided spectators with tactical racing.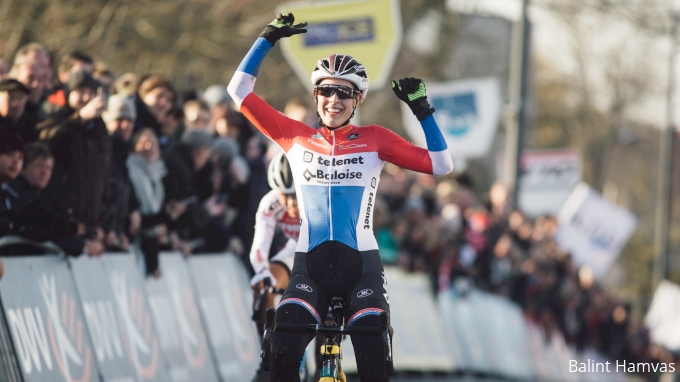 Brand Shows Her Strength
Lucinda Brand brings a lot of raw horsepower from her road racing career. Although she has made great strides in handling skills over the past few seasons, Brand is still hindered by her technical ability on the most demanding courses.
With it's long straightaways and paved sections, Urban Cross was a course that suited Brand particularly well. For most of the race, viewers watched Brand trading blows with Annemarie Worst, Yara Kastelijn, Sanne Cant and an extremely confident Ceylin del Carmen Alvarado. Unlike in Koksijde where last lap bobbles cost Brand a shot at victory, her skills were up to the test in Urban Cross, where she capitalized on the mistakes of others.
A touch of wheels caused Worst, Kastelijn and Cant to become entangled and fall out of the lead group on the penultimate lap, leaving Brand to battle with Alvarado for the win. Alvarado raced aggressively all day, never shying away from the front, but Brand's patience paid off as she unleashed a devastating sprint up the bridge to the finish line.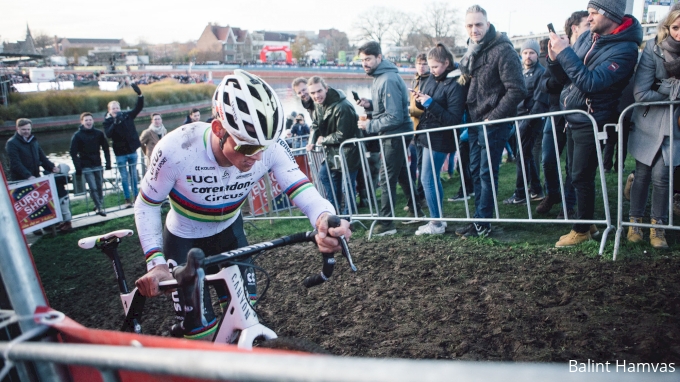 Mathieu van der Poel Shows His Savvy
There is no doubt that Mathieu van der Poel is the strongest cyclocross racer in the world. The World Champion added two more wins to his tally this week, marking 35 consecutive cyclocross victories in a row. (Yes the FloBikes #vanderbeard challenge is going well).
Van der Poel's raw strength and unrivaled bicycle driving abilities typically allow him to simply ride away from the rest of the field on a weekly basis. In Kortrijk however, van der Poel was up against a course that allowed for drafting and team tactics, and the Dutchman approached the race accordingly.
Van der Poel rode a patient race, hanging towards the back of the large lead group, allowing riders with more team support to drive the pace early on.
As the race progressed, van der Poel was seen taking fresh bikes from the pits on the opposite laps as his competitors, which set him up for a surgically timed attack. On the sixth lap, he made his move.
He kept his bike clean by demonstrating just how fast he can run, he then skipped the pits allowing him to rapidly move from the back of the group to the front. Once he reached the front of the field, he put in a familiar blistering attack while the field behind scrambled to react. As the competiton chased, they were forced to skip the pits in subsequent laps, which caused mud to build up on their bikes, while van der Poel was free to pit at will.
The relatively untechnical course was not one that allowed van der Poel to charge away for large time gains, as he so often does. Instead it provided an opportunity for van der Poel to show yet another dimension of his cyclocross mastery. On top of all his strength and skill lies a deep understanding of the dynamics of cyclocross.