On Saturday November 30th the DVV series will take to a brand new course in Kortrijk for its third installment of the 2019 - 2020 season. Eli Iserbyt has a comfortable lead of 1 minute and 54 seconds ahead of Michael Vanthourenhout in the time based series.
The women's standings are led by Yara Kastelijn who has a slender advantage of four seconds ahead of teammate Annemarie Worst. Italians Eva Lechner and Alice Maria Arzuffi are locked in a tight battle with Ceylin del Carmen Alvarado for third.
As with all DVV races, the first lap will conclude with an all important time bonus sprint.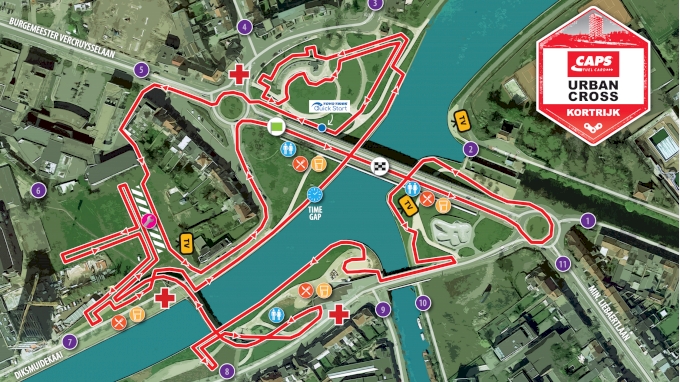 Urban Cross?
Cyclocross is a sport that does not see a lot of changes in Belgium. Series sponsors come and go, and races may get shuffled between the various series, but the courses themselves remain very traditional. Last year the DVV series added the Brussels Universities Cyclocross, which was so well received that they have decided to create yet another new course this season, and it is anything but traditional.
The new course is dubbed "Urban Cross" because it goes through the center of Kortrijk, featuring a much more urban environment that any other cyclocross race on the calendar. The course will feature three bridge crossings, two roundabouts, a sandy beach and long straight aways as the course bounces from bank to bank of the Leie river.
A Fast Race Expected
Kortrijk is a new and unproven course, so it is anyone's guess how the race will play out. The weather is expected to be clear this weekend. The predicted lack of mud combined with long straightaways and paved stretches should combine to create a rather fast course. This may give way to more tactical racing than what was seen in last weekend's sandy Koksijde World Cup. If drafting plays an important role in this weekend's race, technically masterful riders like Mathieu van der Poel may be be hard pressed to ride clear in search of large time gains.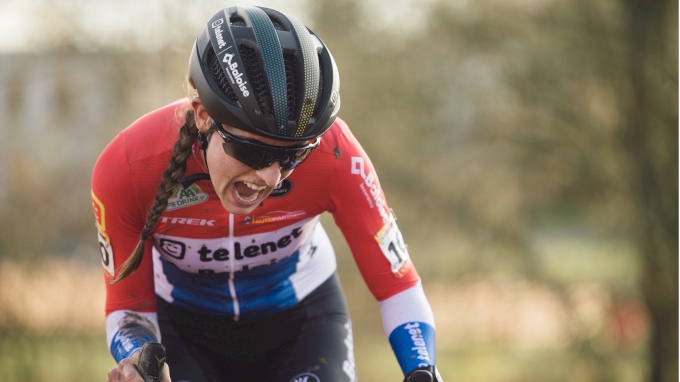 The Contenders
Mathieu van der Poel headlines the men's field in Kortrijk. The Dutchman stated that winning the DVV series overall is one of his season's primary goals. However, he missed the first round in Oudenaarde resulting in a five minute deficit which he must claw back. He wiped away over a minute of that deficit in Hamme, which puts him in seventh position, 3 minutes and 55 seconds behind series leader Eli Iserbyt.
The women's race is headlined by World Champion Sanne Cant who has yet to win a race in this season's hyper-competitive women's field. Lucinda Brand is expected to make her DVV debut this season in Kortrijk and must be considered an outright favorite on the course which appears to be roadie friendly.
The battle for the women's overall prize will evolve on Sunday. As it stands, all riders in the top five have a realistic shot at the series title. The dynamic amongst those women may grant Lucinda Brand a long leash as she starts the day with a ten minute time penalty for missing the first two races.
Suffice it to say, the standings in both fields are far from decided as the third round of the eight-part DVV Series approaches.
Images by Balint Hamvas