Join PRO to watch the DVV Series LIVE and on demand on FloBikes.
The 2019-2020 DVV Series kicks off with the first of eight rounds in Oudenaarde, Belgium at the famous Koppenbergcross. The DVV Series is available to FloBikes viewers live and on demand worldwide (except Belgium).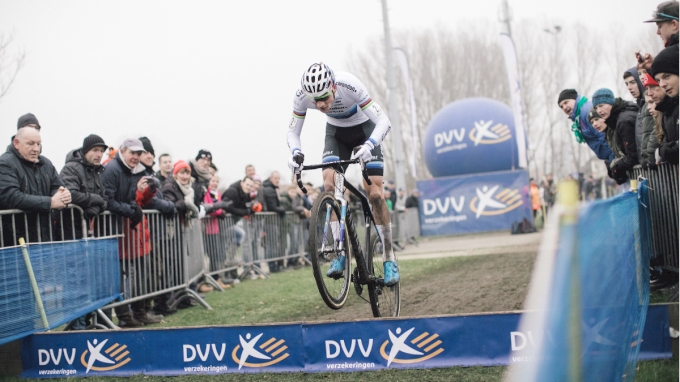 Here's what you need to know when you tune in on Friday morning:
1. The Clock Is All Powerful: Racers are ranked according to their finish time in each of the eight races in the series. The lowest cumulative time wins. If there's a tie on overall time, the racer's overall placing are taken into account. If the overall placing is tied, then the placing in the final race of the series decides the winner.
2. Every Race Matters: If a racer fails to start, fails to finish, or is pulled from a race, they're given a five-minute time penalty in the overall series.
3. Pay Attention To Time Bonuses: At a sprint point one lap into the men's and women's elite races, time bonuses are awarded to the first three riders. The time bonuses are worth 15 seconds, 10 seconds, and five seconds. These time bonuses can prove to be very decisive in the overall series.
4. It's A Team Event: There's a 5,000 Euro prize for the top team in the DVV series. The team with the top three racers in combined overall time — comprised of two men and one woman — is deemed the winner of the DVV team trophy.
Territories Available
Worldwide (except Belgium)
Commentary
English - Jonny Sundt
Live Stream Start Times (CDT)
| | | |
| --- | --- | --- |
| Date | Start Time | End Time |
| 11-1-2019 | 7:45am | TBD |
Join Pro to access over 100 world class events live and on-demand.