2018 UCI MTB World Championship (CAN Only)
Courtney Wins Gold At MTB World Championships, Canada's Batty Third
Courtney Wins Gold At MTB World Championships, Canada's Batty Third
Canada's Emily Batty finished in third, one minute and 58 seconds down on Courtney.
Sep 8, 2018
by FloBikes Staff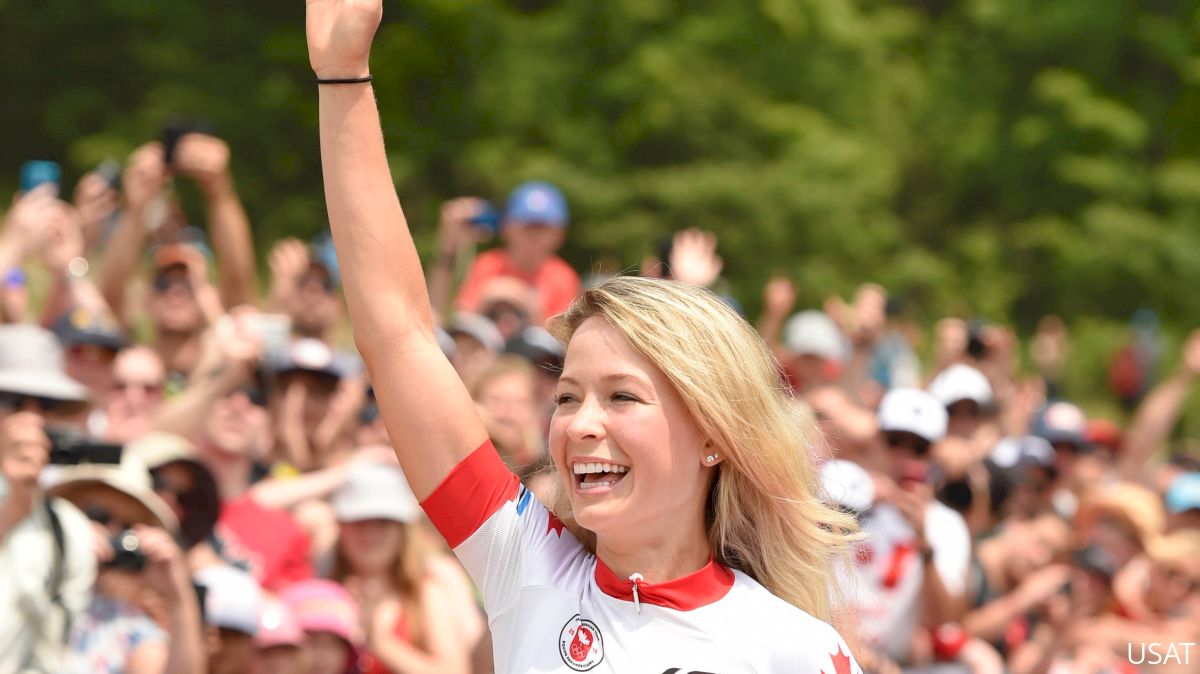 Lenzerheide, Switzerland (USA Cycling) – Kate Courtney (San Francisco, Calif.; Specialized Factory Racing Team) rode a perfect race to a gold medal at the 2018 UCI Mountain Bike World Championships in Lenzerheide, Switzerland, marking the first U.S. Mountain Bike World Champion since Alison Dunlap at the 2001 World Championships in Vail Colo.
"Today was an incredibly special day. Racing in the national team kit in front of a spectacular Swiss crowd, and most importantly in front of my friends and family, made this moment really magical. I knew I was coming into this race in good form and focused on just executing my plan. To come away with a gold medal and the rainbow stripes for Team USA and Specialized was beyond my wildest dreams," said Courtney.
"In particular the support from USA Cycling together with my professional team has allowed me to race consistently in Europe and build experience as an international racer. All of the lessons I have learned, from my very first World Cup in Nove Mesto to my first Elite season racing the World Cups with Specialized played a role in this moment.
After having a strong start and riding in the top three for the first half of the race, Courtney systematically began to shave off time lap-by-lap going into the final lap to battle for first with Danish rider Annika Langvad. By the half-way point of the lap, Courtney had opened an 18 second gap between herself and Langvad. Courtney crossed the finish line 48 seconds ahead of Langvad, securing the rainbow stripes.
"Kate is an incredible talent and a great ambassador for the sport. She works incredibly hard and has been building to a great performance," said Scott Schnitzspahn, Vice President of Elite Athletics for USA Cycling, "but a World Championship is very special. Kate has arrived and represents a new generation of American mountain bikers."
Courtney, the reigning U.S. National Champion, got her start in racing when she joined her high school mountain bike team. Not long afterwards, USA Cycling recognized her talent and she began racing with their development program attending World Cups as a junior rider. In 2012, she became the first American woman to win a UCI Mountain Bike World Cup in the Junior category. While Courtney attended Stanford University, she rode for their collegiate team for the first two years before signing a professional contract with Specialized.
Canada's Emily Batty finished in third, one minute and 58 seconds down on Courtney.
The 2018 UCI Mountain Bike World Championships continues through Sunday with the Downhill finals.