2018 Tour of Britain
Tour Winner Geraint Thomas And Chris Froome To Compete In Tour Of Britain
Tour Winner Geraint Thomas And Chris Froome To Compete In Tour Of Britain
Tour de France champion Geraint Thomas and Chris Froome will compete in next month's Tour of Britain.
Aug 16, 2018
by FloBikes Staff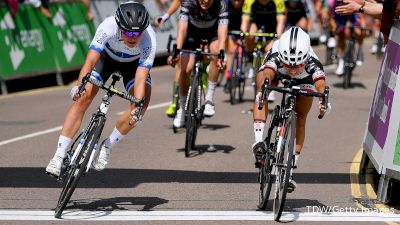 London (AFP) – Tour de France champion Geraint Thomas and the man whose crown he took in July, Chris Froome, will compete in next month's Tour of Britain rather than the final Grand Tour of the season, the Vuelta a Espana.
Both riders have rarely graced their home Tour in the past decade, Thomas finishing seventh last year in what was his first appearance since 2011 and Team Sky team-mate Froome last competing in 2009 when he finished 50th for his previous team Barloworld.
Join Pro to watch the Tour of Britain live and on-demand.
Thomas, 32, was only drawn to compete last year because the race finished in his home city of Cardiff and has been lured back for what will be his first major race since the Tour de France as this year's edition begins in Pembrey Country Park, Carmarthenshire, Wales, on September 2.
The Vuelta gets underway on August 25.
"As soon as I'd finished the Tour I knew I wanted to ride the Tour of Britain and race on home roads," Thomas told the Team Sky website.
"It starts in Wales which will be special, and then I get to go and race across the whole of the United Kingdom. I can't wait.
"I want to go to the race in the shape to compete and enjoy it. We'll have to see how the next few weeks go but I'm looking forward to it and I know we will have a strong team there."
Four-time Tour de France champion Froome, who finished third behind Thomas in this year's Tour, said he had focussed on the Vuelta in the past four years finally winning it in 2017.
"It's been a long time since I've raced the Tour of Britain," said Froome.
"The Vuelta a Espana has always been such a big goal and sadly coincided with the Tour of Britain, but not doing La Vuelta this year gives me the chance to come back to the UK and race on what looks like a great parcours.
"I'm really looking forward to riding. I always remember there being a great atmosphere at the Tour of Britain and the race has only got bigger over the years. I'm really looking forward to coming back," added the 33-year-old Kenyan-born star.
Surprisingly given their dominance especially of the Tour de France, Team Sky has only won the Tour of Britain once when Bradley Wiggins prevailed in 2013.
Following the start in Wales, this year's race will take riders into the West Country and up to Cumbria before returning to its regular finishing circuit in central London on September 9.