Quick Step Confident Of Taming Cycling's Cobbled 'Hell'
Quick Step Confident Of Taming Cycling's Cobbled 'Hell'
The powerful Quick Step team believes their collective power can tame Paris Roubaix this Sunday.
Apr 6, 2018
by Ian Dille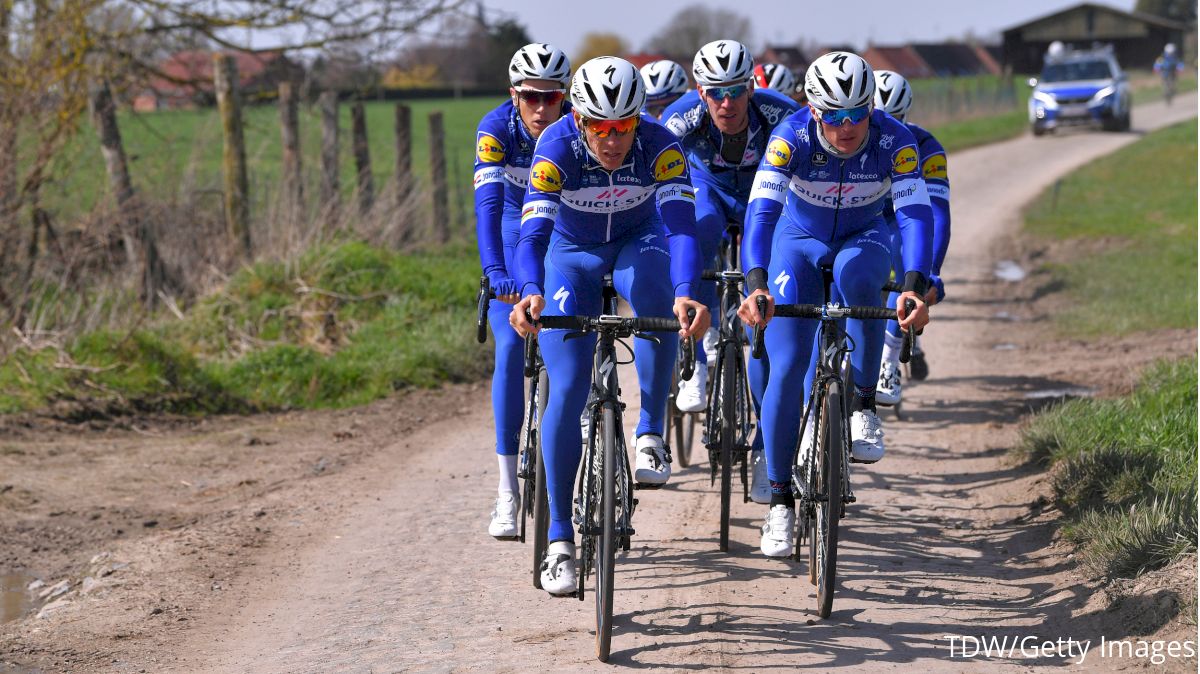 (AFP) – With over 50km of treacherous cobbled sections, cycling's epic one-day classic Paris-Roubaix deserves its deadly reputation, but the powerful Quick Step team believes their collective power can tame the race in fine weather this Sunday.
Known as the "Hell of the North" and evocative of exhausted, mud-splattered survivors collapsing at the finish line of the Roubaix velodrome, race mythology dictates the cobbles themselves select the winner.
But in Nicki Terpstra and Philippe Gilbert, the Belgian outfit have at least two contenders strong enough, on paper, to defy the many challenges thrown at the peloton during a 257 km race of attrition.
Despite participating only once previously, in 2007, Gilbert is ready to go full gas in his bid to secure a fourth one-day classic "Monument," having already won the Tour of Flanders, Liege-Bastogne-Liege, and the Tour of Lombardy.
"I think it's time," Gilbert told media on Thursday. "I'm in the latter part of my career now. I didn't want to risk it before, so I left it towards the end of my career, so I think it's logical to go for it now."
Dutch teammate Niki Terpstra could take up the baton should the cobbles kill off Gilbert's challenge. He will saddle up with ambitions, too, having soloed to victory in the Tour of Flanders last week.
"Paris-Roubaix suits me even better than the Tour of Flanders," said the slimmed-down 33-year-old Terpstra.
Last year's winner Greg Van Avermaet of BMC says he feels "capable of winning it again" after setting the highest average speed in Paris-Roubaix history at over 43km per hour in 2017.
While the race is 257 km long "the real race starts at Arenberg," Paris-Roubaix race director Thierry Gouvenou told AFP this week.
The notorious Arenberg Forest is one of three "five-star difficulty" sections. Coming at the 93 km mark, the shade leaves its often mishappen cobbles greasy and slick.
"Riding on these cobbles is a violent experience," former professional racer Gouvenou said.
"You need to be slightly mad to launch yourself into Arenberg at top speed. The slightest error and you can't maintain control."
World class bike-handling skills weren't enough for Bora's Peter Sagan last year. He suffered a puncture when brought down by another rider's fall as he was trying to follow Van Avermaet.
Marked out of contention for victory at Flanders last week, Slovakia's world champion will be hoping he doesn't suffer the same fate on Sunday.
For Govenou, Arenberg is strategically crucial.
"You don't win the race at Arenberg, but this is where the winning selection is made," he said.
The next five-star point is at Mons-en-Pevele (208.5 km), from where a long-range winning bid is possible, then finally at Carrefour de l'Arbre 17km from home.
"I have lost in the sprint twice," said another Quick Step contender Zdenek Stybar, the 32-year-old Czech who came second in 2015 and 2017.
"The penny has dropped now, I have to finish solo."
Stage nine of this year's Tour de France starts at nearby Arras and race director Christian Proudhomme said even the likes of French favorite Romain Bardet, whose physique is unsuited to winning this type of challenge, had expressed joy at discovering it on the route.
On Sunday, Bardet and other overall contenders for the yellow jersey in July will be testing the waters, on the cobbles.