Since its formation in December, the Cyclist's Alliance has become central to the dialogue surrounding women's racing.
The organization aims to tackle the need for change in the women's side of the sport from all angles — improving safety, creating gender equity, and providing better opportunity for professional female bike racers.
The Alliance is a membership-based organization (participating riders must pay a 50-Euro annual fee) and aims to act as the go-to union for female riders.
With the announcement of their launch, the Cyclist's Alliance released data from a survey of nearly 200 pro women representing more than 20 countries. The responses showed large disparities in women's racing.
According to the survey, nearly half of female racers earn 5,000 Euros or less per year, while 17.5 percent aren't paid at all.
Through a variety of objectives — from instituting collective bargaining to increasing exposure — the Alliance aims to improve the wages of pro female racers, a key component to helping women's cycling thrive.
In advance of the third race in the UCI Women's World Tour, the Trofeo Alfredo Binda (live on FloBikes, Sunday, March 18 at 8:30 AM CST) we chatted with former U.S. national champion Carmen Small.
Small serves as the Cyclist's Alliance vice director, and has long been a voice for change in women's cycling.
Fearless Leaders
Small answers the call while driving from Denmark to Nice, France, where she's helping run the Virtu Cycling team's training camp.
Forced into early retirement from pro racing after suffering a concussion, Small has recently transitioned into a role as directeur sportif of the UCI women's team.
"I guess I need to get used to driving rather than flying now," Small jokes, her words punctured by static as she crosses into Germany.
The role with the Alliance is a switch for Small, and now an even tougher balancing act. When she was still a racer, the Alliance would directly benefit her. Now she's serving as a leader on an entirely volunteer basis. She's balancing the needs she sees in her racers, and other racers. And, as a team director, she's keenly aware of the inner workings (and balance sheets) of the pro teams she's helping women navigate.
"Lots of women have already signed up, which is the first step," Small says. "More is better, obviously, because then we can be more united with one voice. It's a good starting point: we're already helping a few athletes with certain things. We really need to get the UCI on board recognizing us as the primary union for female cyclists and we have a meeting coming up for that.
"Step by step, we're trying to make sure that we can stand by what we want to do. It's a lot of talk and a lot of meetings talking about where we want women's cycling to go."
Coryn Rivera won the 2017 Trofeo Binda, part of the UCI Women's World Tour.
The Minimum Wage Issue
Things like creating a boilerplate for racers to take into contract negotiations tops Small's list of priorities for the Alliance, and she's found that for every female rider who signs up there are just as many non-cyclists offering to donate time and expertise to the cause.
Their survey found that 90 percent of riders said they signed a contract with a UCI-registered team without any legal assistance, leaving them open to contracts that may not have their best interests at heart.
Solutions aren't as simple as establishing an equal salary, or a UCI-mandated salary. To just do that would cause many teams to cease to exist.
"I don't think this year is the right time for it," Small says. "It needs to be looked at, what that means for everyone. You can't put a blanket on there. It's not that most teams don't want to pay riders more. Most directors say they want to. Many simply don't have the money to do so, but the support is there."
In addition to advocating for more money from teams to riders in the form of salaries, other changes to grow women's cycling need to happen as well. Small sees the UCI making a two-tiered program for women's cycling: an upper and lower echelon for teams; a mandatory salary isn't realistic. With the differentiation of programs, the higher tier teams could potentially add a minimum salary.
"But we need to be economically stable before we tackle that," Small concludes.
Safety First
In 2018, the Alliance's focus isn't on rider's contracts, particularly since most are already signed for the season. Rather, Small says they're tackling something arguably even more important: safety.
"First and foremost, we're looking at the safety of riders at the races," Small says.
This is a multifactorial issue. Take Tour of Gila, for example, where a rider died in 2017.
Making courses and events safer for riders is a key factor, but healthcare also plays a role. Most women's teams don't offer healthcare plans or benefits for their riders, so racers need to spend their marginal salaries paying for their own plans, or, for younger racers, taking advantage of the ability to stay on their parent's plans. Either way, that's not a sustainable solution for full-time professional racers.
For women's cycling to advance, the truth is that men need to come on board to advocate for the women as well.
Since the launch of the Alliance, Small says she has been pleasantly surprised to see plenty of pro men coming forward and supporting women's cycling.
"I think there's been some shift in their thinking, whether it's because of a sister, a wife, a girlfriend, or the riders, it seems like they're broadening their perspectives about what women are doing," she says. "More and more, the higher-profile men are beginning to understand our sport."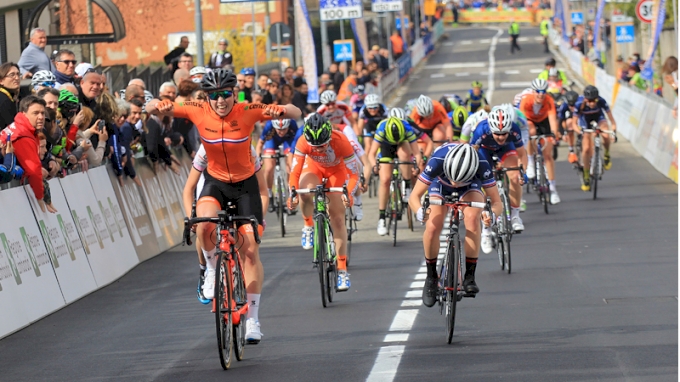 The Trofeo Binda includes a junior women's UCI Nations' Cup race.
Gaining Exposure
Media coverage is obviously a cog in the sponsorship machine; without decent media exposure, sponsors see very little bang-for-their-buck in terms of return on investment. Is the women's media landscape changing? Small believes that it is — albeit slowly.
"There's a big push for women in sport, which is key," she says. "Not just cycling, sport overall. It's very empowering being a woman athlete now, and it's changing the marketing towards sports. It's getting more female-oriented, and I think in the next few years, we'll see a huge change in women's cycling because of that, between the participants and the viewership.
"Hopefully races step up and put us in the media's attention. We need the race promoters to do a better job. Teams also need to step up and push race promoters and hold them accountable to what they promise."
Leah Luchetti, who works in communications at NBC Sports, says that while the Gold Pass cycling calendar for the 2018 season's live-streamed races will likely resemble 2017, with La Course by Le Tour, Prudential RideLondon Classique, and the Madrid Challenge by La Vuelta.
"We also have a good deal of women's UCI events across the BMX, mountain bike, cyclocross, track cycling, and road cycling disciplines," Luchetti adds.
[FloBikes 2018 road calendar currently includes live-streaming of the UCI Women's World Tour race, Trofeo Alfredo Binda, as well as daily replays of the Giro Rosa.]
Adding to the livestream issue is the timing: Women's events — especially in cyclocross season — traditionally take place earlier in the day, while the men start in the afternoon as the headlining event.
This may not seem inherently problematic, but when it's a live broadcast at 1 PM in the Netherlands that means it's shown at 3 AM on the West Coast in the U.S.
How To Help
Right now, Small says that the Cyclist's Alliance is in need of volunteer assistance and expertise, and that supporters can donate money here.
There's a long road ahead, but the fact that the Cyclist's Alliance is bringing in members and is approaching the promotion of cycling from a union and collective bargaining model is a good sign of the changing times.
"Women's cycling is changing, it's becoming more competitive, the level is increasing across the board," Small says. "Girls are really stepping up. They're doing everything right. It's more professional, every year it's getting more professional. Instead of 20 good riders, there's 50 good riders. The depth of the field is stronger. You can't just be fit, you need to eat right, you need to stretch, and get massage. All the pieces need to be in place to get a result now, and people are seeing how we're training."
With that, Small continues on her drive to France, where she'll be urging her team to greatness, while also working behind the scenes to give them the tools they'll need stay in the sport — and make a living doing so.
---
By Molly Hurford