Commentary: Can U.S. Racing Sustain Three New UCI Pro Continental Teams?
Commentary: Can U.S. Racing Sustain Three New UCI Pro Continental Teams?
In 2018, the U.S. is home to five UCI Professional Continental men's teams, more than any other country in the world.
Oct 31, 2019
by Michael Sheehan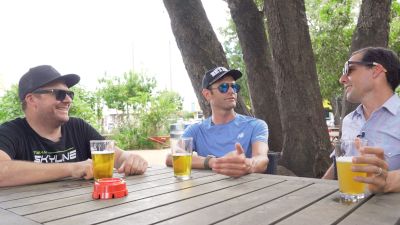 Unlock this video, live events, and more with a subscription!
Get Started
Already a subscriber? Log In
Unlock this article, live events, and more with a subscription!
Get Started
Already a subscriber? Log In
The Amgen Tour of California announced on October 29, 2019 that the race would go 'on hiatus' in 2020.
In light of this news, we look back on an article published in 2018, examining the implications of the Amgen Tour of California joining the WorldTour calendar and the wider affect on professional racing in the U.S.
---
The 2018 road season is well underway, by all accounts, in rather routine fashion.
Many American pro teams have wrapped their annual preseason training camps and sent squads to UCI races in the Middle East, southern Spain, and Latin America.
However, among U.S.-based pro cycling teams, there's one major difference: In 2018, the U.S. is home to five UCI Professional Continental men's teams.
The UCI designates professional teams at three levels: Continental, Professional Continental, and WorldTour. Pro Continental status is akin to the AAA baseball of bike racing, allowing teams to garner invites and get called up into the big leagues of WorldTour racing.
Since 2011, United Healthcare and Team Novo Nordisk have been the sole Pro Continental outfits registered in the U.S. This year, however, both teams will be joined by the under-23 program Hagens Berman Axeon, as well as Holowesko Citadel, and Rally Cycling.
The U.S. is now home to more UCI Pro Continental teams than any other country in the world. With minimum rider salaries and bolstered racing calendars, the increased professional status is undoubtedly a positive progression for American bike racing.
But how did we get here? And can American cycling maintain this trajectory?
One Race To Rule Them All
The sudden bolstering of the American domestic peloton came in the wake of the Amgen Tour of California upgrading its status to a UCI WorldTour event in 2017.
For more than a decade, the Tour of California has reigned as the most important race on the domestic calendar, drawing Tour de France stars like Peter Sagan, Tom Boonen, and Bradley Wiggins. The race is broadcast on major television networks around the world, and the resulting exposure eclipses that of any other American race for U.S.-based teams.
Prior to the Tour of California's inclusion in the UCI WorldTour, teams at the third and lowest tier of the professional hierarchy, UCI Continental teams, could race alongside WorldTour squads. In California, that meant rising under-23 racers and domestic stars on the cusp of a WorldTour contract (for example, Lawson Craddock, Chad Haga, and Neilson Powless) could prove themselves against WorldTour competitors.
Today, as part of the UCI WorldTour, the Tour of California is technically open only to WorldTour and Pro Continental teams — and not UCI Continental teams. However, in 2017 the UCI made an exception, allowing two Continental teams — Rally Cycling and Jelly Belly p/b Maxxis — to compete in America's biggest stage race.
Notably absent from the 2017 event were two top domestic teams: Holowesko-Citadel and Axeon Hagens Berman. The outrage from the management of those teams — and their fans — was palpable. The exclusion of Axeon led to the creation of a Change.org petition, while Holowesko-Citadel owner George Hincapie railed against the team's snub on social media.
Rally Cycling director Patrick McCarty acknowledged that domestic teams often "live and die by their participation [in Amgen Tour of California]."
McCarty explained that Rally Cycling has had designs to upgrade to Professional Continental following years of consistent success, but that the Amgen Tour of California upgrading to WorldTour did influence the team's timing.
Teams have indeed folded after missing invitations to America's biggest races in the past, a reality most recently illustrated by the 5-hour Energy team in 2014.
But fans of American cycling can take heart seeing three of the country's core Continental programs doubling down and investing in the future of their teams in 2018.
The Pro Continental Upgrade Package
Holding a Professional Continental license comes with significant costs to a team. In addition to increased administrative and licensing fees, the UCI enforces a minimum salary for riders (around $62,000 for a veteran racer under contract). Teams must also pay to enroll in the biological passport program, which can cost tens of thousands of dollars more.
The primary reason a team would stomach these costs is to vie for wildcard entries into WorldTour events (think classics and grand tours).
In recent years, United Healthcare has exercised its status to gain entry to Paris Roubaix and Milan San Remo among other high-profile international races. However, simply arriving at the start line of these European races is no small ask for an American team's budget.
With nearly all WorldTour races in Europe, there is little wonder why in 2017 a whopping 18 of the 22 Pro Continental teams were based in Europe. While on one side it is very encouraging to see so many American teams step up in 2018, the question remains: Can American cycling sustain the commitment these teams have made with only one WorldTour race in the country?
McCarty believes that fielding three to five Pro Continental teams is a reasonable ask for American cycling, but he acknowledges that the lack of a robust American UCI calendar poses a challenge for teams.
"Without enough UCI race days at the .2, .1, and .HC level in the U.S., Pro Conti teams are forced to race internationally", McCarty said. "Otherwise there is no incentive for the country's top riders to stay on U.S. teams."
Indeed, both Holowesko Citadel and Rally Cycling have made commitments to race a more international program in 2018, showing that the growth in their program is not simply a measure to race the Amgen Tour of California.
Exciting Times For American Cycling
The degree to which the Amgen Tour of California forced the hand of the domestic peloton is unclear, but it certainly catalyzed a major growth in American cycling. Both Rally Cycling and Holowesko Citadel have bolstered their rosters for 2018 and made a commitment to target European UCI races throughout the season. Hagens Berman Axeon has not yet released a 2018 calendar, but their international roster will surely be seen across the globe.
Despite the dramatic change in American team landscape in 2018, the season's calendar is rather similar to that of 2017. In addition to the Tour of California, the United States is slated to host four one-day UCI races and four UCI stage races in 2018.
While still paltry in comparison to the entirety of Europe, the number of UCI-sanctioned races in the U.S. points to a further professionalization of domestic racing. Over the past five years, historic national calendar stage races such as Tour of the Gila and Joe Martin have garnered UCI sanctioning in order to remain relevant in the shadow of the Tour of California.
However, both events remain classified as UCI 2.2, the lowest ranking on the UCI calendar. With U.S.-based Pro Continental teams now needing to maximize their UCI points in order to garner invitations to more prestigious races, U.S. stage races like Joe Martin and Tour of the Gila may need to up their UCI status in order to attract the top teams and riders.
With more support and bigger European races available to many domestic racers in 2018, this will be an exciting season to follow. Hopefully in 2019 the fans will see more UCI races appearing in North America, because we certainly have the peloton to support them.
In the meantime, these newly promoted teams will surely be out to prove their worth at the start of the season. With the Amgen Tour of California yet to make an official announcement on team selections for the 2018 race, participation is far from certain for the newly promoted American Teams. Securing a Professional Continental license in truth is the easy part.
All five American professional continental teams will be vying for an unknown number of entries. As with all WorldTour events, the Amgen Tour of California must first extend an invitation to all WorldTour teams. Only after the WorldTour teams respond can the Amgen Tour of California fill in the remaining spots with Professional Continental teams.
Additionally, the French organizers of the Tour of California, ASO, historically extend at least one wild card invitation to a French team, with both Direct Energie and Cofidis making appearances in recent years. Aqua Blue Sport, the Irish-based Pro Continental team of U.S. national champion Larry Warbasse, will likely be looking for an invite to the Tour of California. And the Israeli Cycling Academy often seeks invitations to major UCI races in the U.S.
A Tour of California invitation for U.S. Pro Continental Teams isn't guaranteed.
Will the financial commitment these teams made in 2018 pay off at the Tour of California? For the American peloton, the stakes have never been higher.