Remembering Andrew Tilin: The Rider, The Writer, & His Call For Road Safety
Remembering Andrew Tilin: The Rider, The Writer, & His Call For Road Safety
Ian Dille of FloBikes writes a remembrance of Andrew Tilin, who died tragically this week on his bike.
Feb 21, 2018
by Ian Dille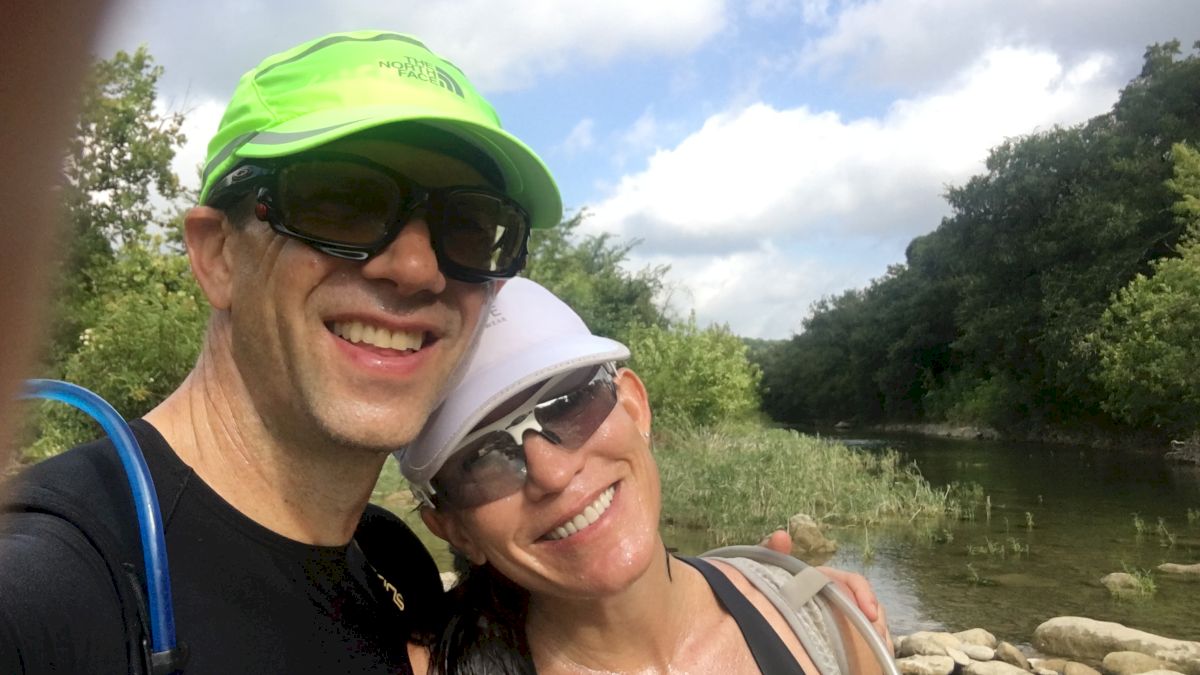 The four of us were at a mid-ride store stop in Lockhart, Texas, when we got the news.
On a Saturday morning, sitting on a cold, concrete curb, our snacks and drinks spread around us, Jordan looked up from his phone and said, "Oh my god, Andrew died."
It was February 17, 2018.
There's no right way to react, or perfect thing to say when you hear that your friend has been killed in a crash with a car, and so we all just kind of sat there, stunned.
We were 40 miles from home, and facing a stiff north wind. At that moment, we didn't know anything about the crash that had killed Andrew — what had happened, exactly, and who was at fault — but we knew that he'd been riding at the exact same time as us when he died.
Standing in front of that store in Lockhart, none of us really wanted to climb back on our bikes. But the opposite — not riding home — felt far worse.
---
I met Andrew Tilin seven years ago, when I was a freelance writer working on an article about doping in amateur cycling. He was a contributing editor to Outside magazine and had done some reporting on the same subject for that publication.
Over a phone call, he helped me make the story stronger. Then he asked me, "Hey, you live in Austin? I'm moving there this summer."
When he arrived in town, we went for a ride. I showed him my favorite route along Lake Austin — up Scenic Drive to Shoal Creek — and learned he was in the midst of publishing a book.
The book, titled "The Doper Next Door," was part memoir, part first-person investigation into the anti-aging industry, and the effects of performance-enhancing drugs. Andrew had put himself through a yearlong regimen of testosterone therapy to report on its effects.
In "Doper," as Andrew called it, he exposed the anti-aging industry's rampant abuse of the drug, and he questioned our society's misguided quest for the fountain of youth. When the book came out, he willfully served a two-year doping ban for racing on testosterone.
From that first ride in Austin, I was lucky enough to form a friendship with Andrew. We'd regularly meet up to discuss the craft of writing, and bounce ideas off one another.
It was a unique relationship built on trust. Ostensibly, we were competitors, seeking to place feature stories in similar publications. But it never felt that way. Instead, Andrew, who was 52 when he passed away, 14 years older than me and more experienced, became a mentor.
Though Andrew rarely touted his own successes, he was quick to congratulate others. He would tell me, "You're doing great, Ian!" And I would blush, because he was so damn sincere.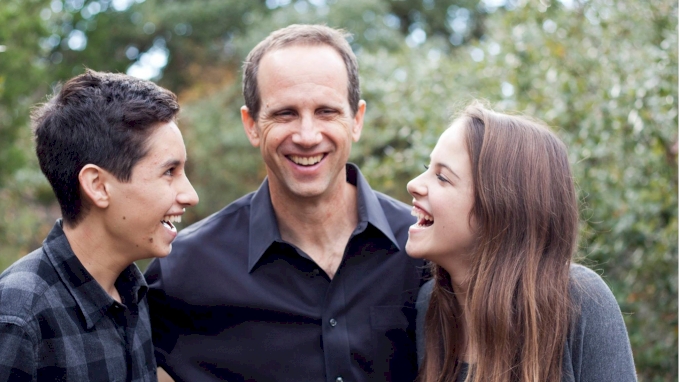 Andrew and his two teenage children.
It didn't take long for Andrew to ingratiate himself to other members of the Austin cycling community, and he soon formed tight-knit relationships inside the Gruppo VOP cycling club. The informal club of mostly middle-aged racers gathers for rides multiple times a week, sometimes spinning casually, other times hammering each other on Austin's unrelenting hills.
Andrew formed close bonds with the VOP riders on trips to the Hammerfest stage race in mountainous West Texas, and to the Enchanted Circle century ride in New Mexico. According to fellow VOP member Ken Hubacher, on those trips — cooking together and sleeping in tents — the conversations went far beyond a boy's club type hangout.
"We talked about everything," Ken said. "Andrew was very outspoken, and very passionate about any kind of topic, and didn't hesitate to talk his mind. That was one thing that was very endearing to the rest of us about him.
"Regardless of whether you agreed with a particular topic or not, he was very engaging and very interesting to listen to and understand, and his viewpoint was always appreciated."
Andrew had written about how the Gruppo VOP rides helped him through the emotional toll of a divorce. And, it was also through the group, in a roundabout way, that he met Shellie Thompson Oroshiba, who was his partner at the time of his passing.
Andrew had become friends with Jordan Oroshiba, Shellie's eldest son, on the VOP rides.
Eventually, Andrew and his two high school-aged children moved in with Shellie and her 15-year-old son. Andrew bought a minivan, and equipped it with multiple bike racks.
Jordan is also a friend and teammate of mine. We were together, at a mid-ride store stop in Lockhart, when Shellie called Jordan, and said that Andrew had been in a crash.
---
On that long ride home, we were about 20 miles from Austin when I suggested we start swapping pulls into the headwind, rather than ride side by side.
"That way we won't have to talk," I said.
My emotions were swirling between sadness and anger. I hoped that there had been a misunderstanding, that when I got home I would learn that Andrew was actually still alive.
The four of us — Jordan and me and our other two teammates and friends, Steven and Dan — put our heads down and pedaled into the wind. As we'd started the ride home, Dan said, "I just want to throw my bike in a ditch." Instead, he just rode as hard as he could.
It's on our bikes, among our friends, that we're happiest, laughing, and telling stories. But when a friend dies while riding, it's impossible not to question your passion for the sport. We all well know the inherent risks of riding, and we willingly choose to take them every time we swing a leg over the top tube. Yet, that risk becomes more profound when a friend dies.
How do you reconcile your desire to keep on riding?
Andrew, too, was cycling with his friends, on the VOP Saturday morning ride, when he was killed. Just before the long climb up from the Mansfield Dam on FM 620, he'd leapt off the front of the group with Rick Neptune and his son, who were piloting a tandem. When Andrew flatted, he told Rick and his son to keep going. The Dam climb is a well-known KOM among Austin riders.
When other VOP riders came up on Andrew and asked if he needed any help fixing his flat, he told them, "No, no," and instead encouraged them up the hill, yelling, "Go, go, go."
Ken Hubacher was just coming up on Andrew when the crash occurred. It was a misty day, and Ken could see Andrew's tail light blinking up ahead on the hill. Then he heard the sound of two cars colliding. He saw a red pickup truck spinning across the road and into the shoulder. And where he'd just seen Andrew, Andrew was no longer there.
---
Among the many things Andrew wrote about, he wrote about safety on our roadways. He'd penned an article for Outside magazine in 2015 titled "Bikes vs. Cars: The Deadly War Nobody's Winning." In the piece, Andrew chronicled the lack of accountability for people who operate vehicles on our roadways — both bikes and cars.
He highlighted a number of cases in which gross negligence by someone driving a car led to the death of someone riding a bike, and the person driving received little to no punishment. Yet, Andrew also included that bike riders may be responsible for nearly half of all crashes involving a motor vehicle. The piece advocated for safety, for everyone, not just cyclists.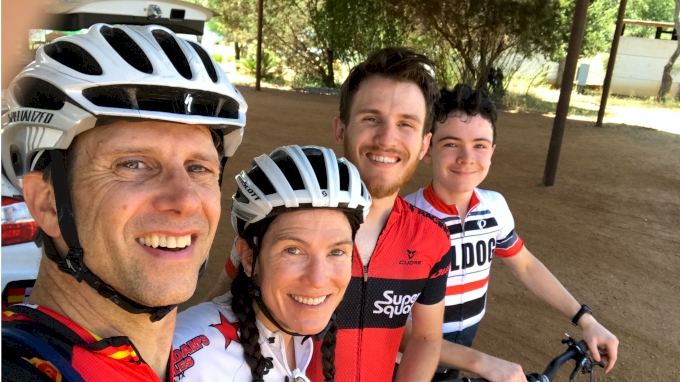 Andrew, his partner Shellie Thompson Oroshiba, and Shellie's two sons.
We don't know the exact chain of events that led to Andrew's death, but we do know that news reports claiming a driver hydroplaned, causing a multi-car collision, may not be entirely accurate. Based on his conversation with bystanders following the crash, Ken believes the driver of the red pickup that killed Andrew may have tried to make a left turn from Travis View Loop onto FM 620 — without a stop light, across two lanes of oncoming traffic.
We don't know for sure whether the driver of the red pickup that killed Andrew made an error in judging the speed of oncoming traffic, if the driver didn't account for the slick roads and poor visibility. A crash report takes seven to 10 days to complete and had not been issued at the time of this article's publication. We do know our roads are far too dangerous, for all users.
In 2015, the most recent year fatality data is available, 3,516 people died on Texas roadways, more than any other state in the U.S. Since 2000, at least one person has died every day traveling on a Texas roadway. And on average, someone dies on a Texas roadway every two and a half hours.
You'd think there would be billions of dollars invested into solving this astounding loss of life, just trying to get from point A to point B. Yet, the response from our Department of Transportation feels like nothing more than a shrug.
In a recent effort to bring awareness to the dangers of Texas roadways, the DOT launched a social media campaign called #endthestreak. But is a hashtag our best hope for safer roads?
After an ambulance took Andrew away, Ken spoke with a man who lives on FM 620, across the street from Travis View Loop, where the crash occurred. The man told Ken that there had been a number of crashes at that exact intersection, including one in which a car had been spun into his house.
Ken wonders, "How many crashes does it take before the Department of Public Safety steps in and does something? For instance, not allowing left turns from that intersection?"
---
Three days after Andrew died, I got on my bike and towed my son to school in a Burley trailer. We went over a series of curved road humps — up, down, up, down — kind of like a rollercoaster, and I looked back at my son in the trailer, worried the ride was too rough.
Beneath the lid of his helmet, I could see that he wasn't upset. Instead, he was smiling, enjoying the ride. And I smiled, too. "It's fun, right?" I said to him.
I'm still reconciling how you get back on the road, and keep riding after your friend dies. Especially someone as great as Andrew. I'll keep advocating for road safety, like Andrew did. And I'll keep supporting organizations like Bike Austin, which advocate for all of us.
I'll keep riding, too. I know I will. Because to me, that child-like smile that cycling instills is far more powerful than any fear the sport could present.