2019 Rectavit Waaslandcross
Jonathan Page On Belgium's Most Wonderful Week In Cross
Jonathan Page On Belgium's Most Wonderful Week In Cross
The Belgian cyclocross Christmas series is comprised of DVV Trofee, Superprestige, Sudal, and Brico Cross series races.
Dec 21, 2018
by FloBikes Staff
Unlock this article, live events, and more with a subscription!
Get Started
Already a subscriber? Log In
Jonathan Page is a four time national cyclocross champion and silver medalist at the cyclocross world championships. For the majority of his cyclocross career, Page lived and raced in Belgium. He retired from elite level racing at U.S. nationals in January of 2018.
The famous Christmas week series in Belgium is many things for racers and sponsors alike.
The series — which runs annually from roughly December 21 to January 1, and is comprised of DVV Trofee, Superprestige, Rectavit, and Ethias Cross series races — carries financial, contractual, and fitness implications. (Watch the entire Christmas series live on FloBikes.)
In Europe, contracts are ended, renewed, or made on January 1. So Christmas week is a potential money-maker, a chance to show off your good form and skills — if you have them.
It's also a fitness test in the last weeks leading up to nationals, a chance to gain fitness, or lose it if you don't do it right. For Americans, Christmas week is a chance to get in a lot of racing in in one short trip to Europe.
But the Christmas week has its downsides, too. At least, it always did for me, as an American abroad with a family.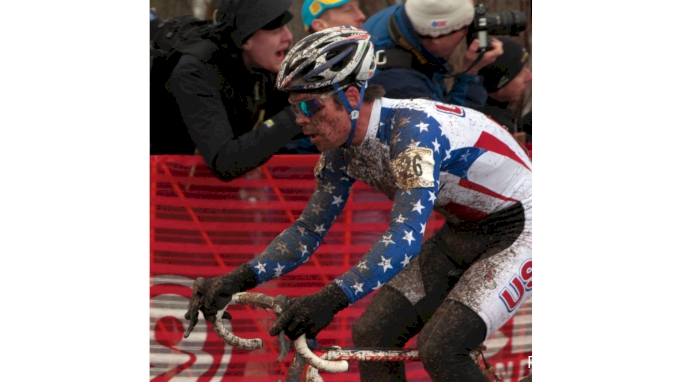 Most years, my wife flew home with my kids to have a real Christmas with family before heading back to spend Christmas day with me; this was after they moved the Superprestige race in Diegem from December 25 to 26.
For the Belgian racers and fans, the Christmas week of cyclocross racing works out great and truly becomes "the most wonderful time of the year."
Kids are done with the first big testing period at school and have a nice stress-free break. Most companies give their employees some time off in preparation for their big holiday — the New Year.
Christmas is celebrated in Belgium, but not like it in the States, and not like the Belgians celebrate the first of January.
The Christmas series is certainly a bright spot in the long dark winter for the millions of cross-loving Belgian fans. As a racer, it was always fun to be a part of the celebration.
However, as an American living and racing in Belgium full-time, it was always hard to both race my best and have a real Christmas celebration for the kids.
For racers, the week is definitely a difficult one mentally and physically.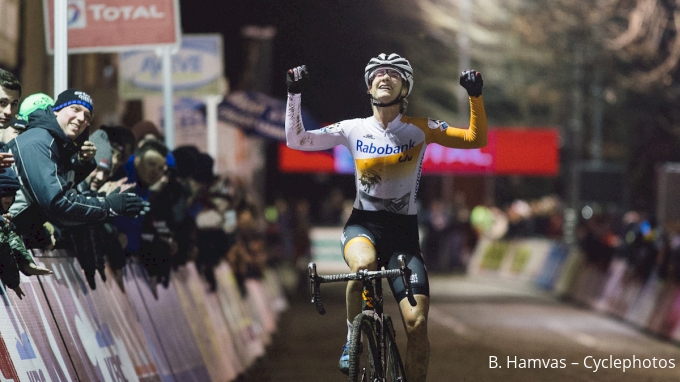 Superprestige Diegem
It's tough to duke it out day-after-day at the highest level. And then when you get home, you've still got hours of cleanup and bike work to do just to be ready for the next day. You're doing all this while the rest of Belgium is partying, eating, going out, and having a good time.
Most years, my family and American friends were busy celebrating together back in the U.S.
It's a sacrifice. It takes a big commitment from not just the racers, but their families, friends, and those that help in the pits and behind the scenes. I was lucky to have a supportive family and a lifelong friend as my mechanic, Franky Van Haesebroucke. He and I had a great time! It's tiring but rewarding and fun, too.
Different racers have different strategies when it comes to taking on so many races in such a short amount of time.
Some use it as a training block, a rehearsal for nationals and worlds. Others need results for UCI points or to get a contract, so they're hoping for good results. In that situation, the racer will either target certain races or, if they feel Supermanish, they'll go for the win or podium in all of the races in the series.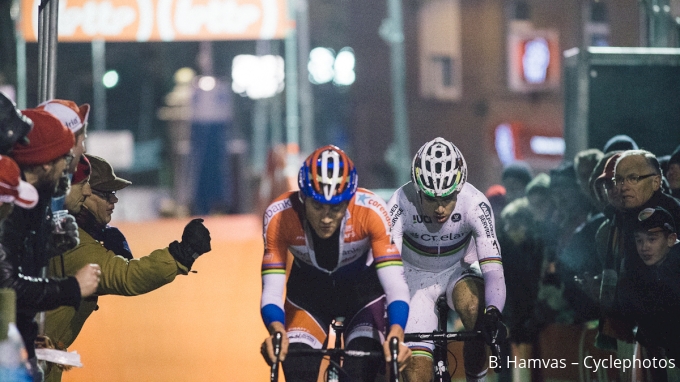 Superprestige Diegem
Every racer has a plan in place going into the week. The plan may need to change, but in theory they know what they are there to do. Some racers need a big break before the series begins and afterward. Others don't.
For me, it was about balance. I made sure I got to spend some time with my family when they got back from America and still had school holidays, stayed healthy, and tried to make money without killing myself with an overload of races. I would aim to get great results at as many races as I felt I could, while still being able to achieve decent results at the other races for which I had start contracts.
There's a fine line between too much and just enough. I did it the same each year and always had fairly good success both during the series and afterward at nationals and worlds. If I ever had to do the series again, I'd do it exactly the same way. I still have all my calendars, hand-written, in my folder.
But to be honest, I don't plan on ever doing it again. These days, I much prefer to enjoy the holiday season with friends and family and talk with my friend and mechanic about how much fun we had, and how the hell we ever pulled that series off year after year.
---
By Jonathan Page