11-Speed Electronic XTR Images Spotted
11-Speed Electronic XTR Images Spotted
Feb 17, 2014
by Kevin McRee
French website 26in.fr leaked several images of what looks like the 2015 Shimano XTR M9000 group. While it has looked like this stuff was coming down the pipeline for some time the images are still a surprise to see.
Instead of re-branding a completely separate 1x11 group, Shimano looks to be sticking with the XTR moniker across the board no matter how many chainrings you choose.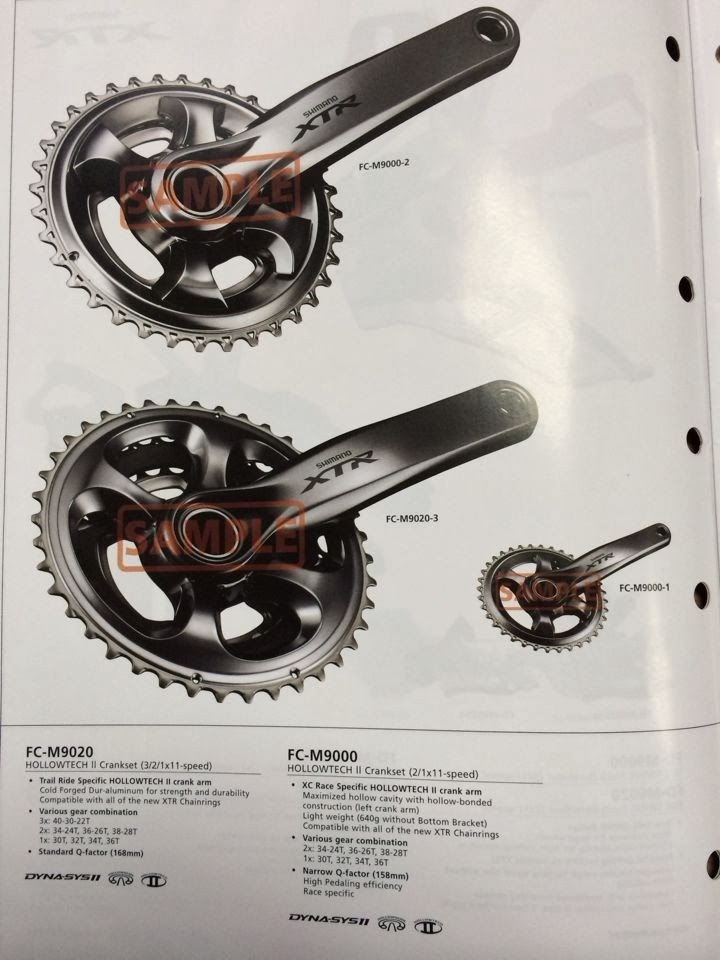 With Dyna-Sys11 If you choose to run a single chainring, it looks like you will have the option of a 30T, 32T, 34T, or 36T. Two options of cranksets also. The FC-M9000 looking to be the "race specific" model being lighter and having a narrower Q-factor.
Shimano may be taking their Di2 technology to the dirt now. These images of an electronic XTR front derailleur looks lean and clean.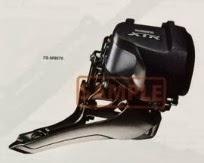 The rest of the electronic bits. The padel style shifters will keep the cockpit looking clean, especially if your running the 1x11 setup. It's hard to tell when compared to the mechanical version, but the rear derailleur looks surprisingly lean.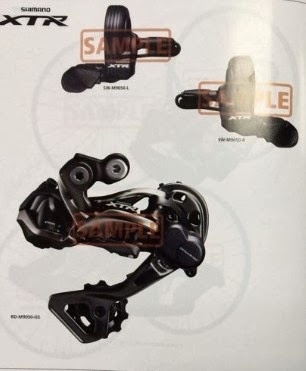 A closer look at the SW-M9050 electronic shifters. We assume these will be compatible with all other E-Tubes systems.
The mechanical group looks to be getting an update as well. A new RD-M9000 rear derailleur looks to get a cosmetic lift as well as accepting the 11th cog.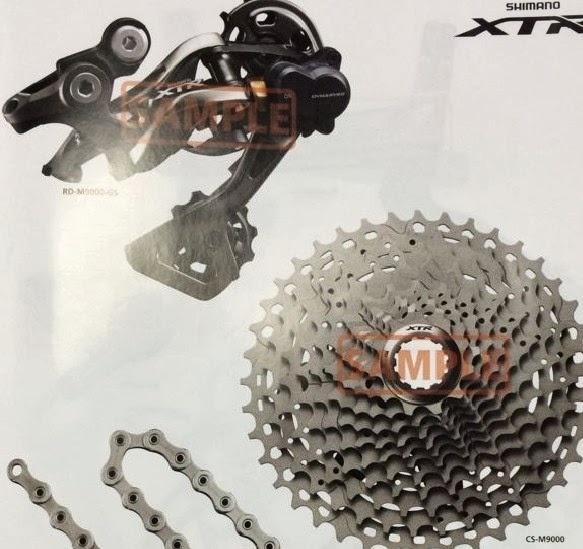 The 11-speed cassette has been much awaited by many Shimano fans. Although unlike SRAM XX1, the cassette in this image has an 11t cog. Which will make it compatible with 11-speed ready freehubs.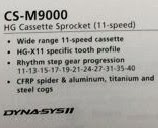 An image of the specs shows the 11-40 cassette range with Ti and aluminum cogs.
The images look official and it only makes sense that this would be the next step for XTR, but there is no offical word from Shimano if these are real or not. The source of the images has appeared to of disappeared soon after the images were leaked.
What do you think about using an electronic group on a mountain bike?