Create a free account to unlock this article!
Get Started
Already a subscriber? Log In
CHICAGO – With just a week remaining to the Cyclocross National Championships, Ryan Trebon has stirred the pot with back-to-back New Year's Resolution wins at Indian Lakes Country Club in Bloomingdale, Ill., a near-west suburb of Chicago. With intense wind and freezing, muddy course conditions, Sunday's UCI Men's Pro Race played out much differently than Saturday's event, but the end result was the same. Trebon (LTS/Felt) took the podium's top step, followed by Rahpa-Focus teammates Jeremy Powers and Chris Jones. In the women's race, Sue Butler (River City Bicycles/Ridley) fought snow and gusting winds to record her first victory of the 2011-12 season. Hosted by the Chicago Cyclocross Cup, the New Year's Resolution was the area's first-ever UCI cyclocross event. Many of the competitors will be traveling directly to Madison, Wis., prior to next weekend's USA Cycling National Cyclocross Championships.
The men's field was greeted by deteriorating conditions and a course buffeted by wind gusts of 20-30 mph. The race pits were chaotic as mechanics dealt with frozen components and parts breaking due to the heavy mud. Unlike Saturday, when Trebon attacked midway through the race and rode solo to the win, Powers and Trebon traded attacks until the final straightaway. "They should put up a sign that says 'Ryan Trebon Park'," said Powers. "This is a perfect event for him. He's got a lot of power and he can just throw it down."
Trebon had been away from competition for over six weeks prior to arriving in Chicagoland and picking up the dual victories. His reappearance in top form will add another dimension to the National Championship picture. Powers won the 2011 US Grand Prix of Cyclocross series, but Trebon is also enjoying one of the best seasons of his career.
"I'm just happy to be back racing. It's been a lot of training, traveling and trying to get ready, thinking about racing Nationals and getting ready for Europe," said Trebon. "I feel good for next weekend, but there are a lot of fast guys coming. Jeremy is going to get strong to get stronger next weekend as well."
In the women's pro event, Butler won the sprint off the line and settled into a lead group before pulling away in the last third of the race. Saturday winner Sally Annis (crossresults.com p/b JRA Cycles) was the early protagonist, with Crystal Anthony (Ladies First) and Nicole Thiemann (CF Elite) taking turns in the lead group. Butler's smooth riding style prevailed, however, as the Portland, Ore., rider carried more speed through the course's various sand traps and muddy portions.
"I was riding through things that people were running, and I would ride to things a little bit closer because every time I just rode a little bit more than someone else I would catch people," said Butler. "When I got around someone, I punched it."
Butler picked up her first win since 2010 and will head towards the National Championship on a high note. She was joined on the podium by Annis and Anthony.
The 2012 USA Cycling National Cyclocross Championships will be held at Badger Prairie Park in Verona, Wis. The Women's Elite/u23 Championship will be decided on Sunday, January 8 at Noon, CT, while the men's event will take place at 2:15 PM CT.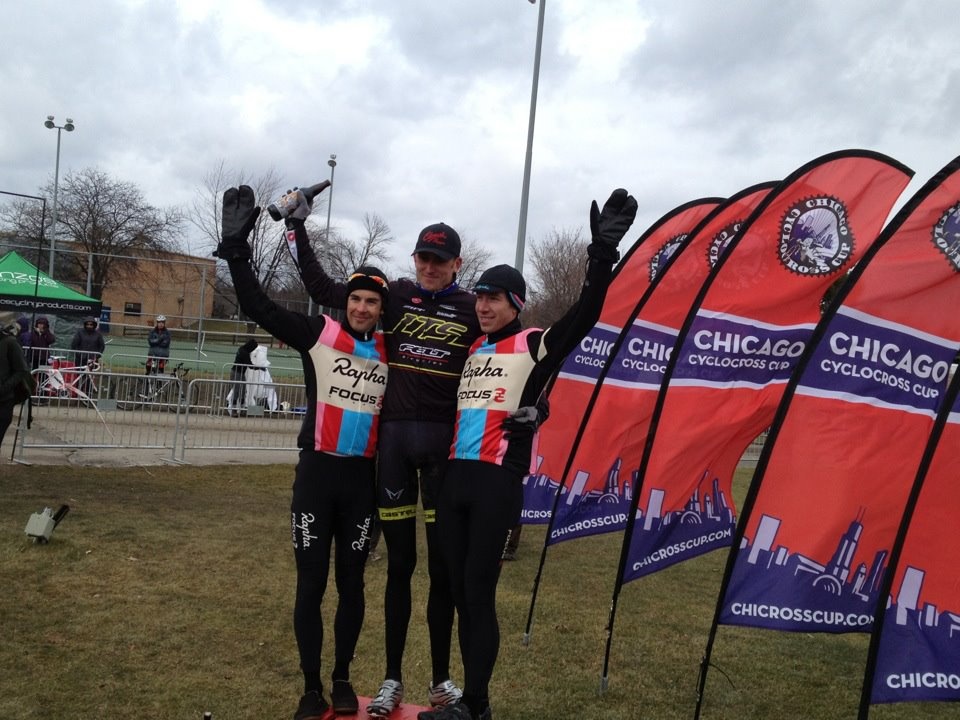 credit: Ed Bagley

ELITE MEN

| | | |
| --- | --- | --- |
| 1 | TREBON Ryan | LTS/Felt |
| 2 | POWERS Jeremy | Rapha-Focus |
| 3 | JONES Christopher | Rapha-FOCUS |
| 4 | MATTER Brian | Gear Grinder |
| 5 | WICKS Barry | Kona |
| 6 | LIVERMON Travis | Smart Stop-Mock Orange p/b Ridl |
| 7 | MYERSON Adam | SmartStop / Mock Orange Bikes p |
| 8 | LINDINE Justin | BikeReg.com / Joe's Garage / Sc |
| 9 | MARION Robert | Carpediem Racing |
| 10 | BAHNSON Jeffrey | Van Dessel Factory Team |
| 11 | CLARK Anthony | J.A.M. Fund / NCC |
| 12 | BABCOCK Sean | Kona |
| 13 | REARDON Andrew | Swiftwick Factory Racing p/b Cu |
| 14 | KLUG Kevin | The Pony Shop |
| 15 | MACKAY Thomas | Charm City Cycling LLC |
| 16 | HEMME Michael | CHICAGO.CX |
| 17 | MILLER Daniel | Walt's Bike Shop |
| 18 | WERNER Kerry | BMC Mountainbike Development Te |
| 19 | BARDWELL Richard | Cycle-Smart Inc. |
| 20 | SUTTON Andre | Hardcore Bikes |
| 21 | BLAIR Patrick | Adventures for the Cure |
| 22 | MCLAUGHLIN Scott | SRAM Factory |
| 23 | DAYTON Alex | SmartStop / Mock Orange Bikes p |
| DNF | TOWNSEND Jerome | Smart Stop-Mock Orange p/b Ridl |
| DNF | PROPPE John | Team Lake Effect |
| DNF | DRUMMER Eric | Alberto's Sport |
ELITE WOMEN
| | | |
| --- | --- | --- |
| 1 | BUTLER Susan | River City Bicycles/Ridley |
| 2 | ANNIS Sally | crossresults.com p/b JRA Cycles |
| 3 | ANTHONY Crystal | LadiesFirst Racing |
| 4 | THIEMANN Nicole | Team CF-Elite |
| 5 | KEMMERER Arley | Charm City Cycling LLC |
| 6 | VAN GILDER Laura | Mellow Mushroom Pizza Bakers |
| 7 | SMITH Andrea | Ladies First |
| 8 | ANDERSON Elle | Ladies First |
| 9 | FISHER-GOODWIN Kelly | KCCX Fuji Elite Cyclocross Team |
| 10 | SHIELDS Emily | SmartStop / Mock Orange Bikes p |
| 11 | SCHNEIDER Samantha | |
| 12 | COOGAN CISEK Corey | Team Plan C PB Stevens |
| 13 | SHIELDS Katherine | SmartStop / Mock Orange Bikes p |
| 14 | DINGMAN Anna | Cycleution |
| 15 | SMILEY Marne | Bobs Red Mill |
| 16 | BOREM Nicole | Men Of Steel Racing LLC |
| 17 | SO Elizabeth | Team TATI |
| 18 | SHERRILL Ellen | Bike Station Aptos |
| DNF | ZUCCO Lindsay | Team Bicycle Heaven |