2023 Tour de France
Rodriguez Wins Alpine Stage, Vingegaard Retains Slim Lead At Tour de France
Rodriguez Wins Alpine Stage, Vingegaard Retains Slim Lead At Tour de France
Defending champ Jonas Vingegaard fought off a ferocious attack from Tadej Pogacar on the first of four Alpine tests in the 2023 Tour de France on Saturday.
Jul 15, 2023
by AFP Report
Defending champion Jonas Vingegaard fought off a ferocious attack from Tadej Pogacar on the first of four Alpine tests in the 2023 Tour de France on Saturday, as Spain's Carlos Rodriguez won Stage 14.
Vingegaard now leads Pogacar by 10 seconds after winning a war of nerves in the battle for the title that had hillside fans in raptures.
Ineos rider Rodriguez climbed into third place overall, just one second ahead of Australian rider Jai Hindley, with a great climb and a daredevil downhill finish he later put down to his days in BMX.
"Its incredible, something I always dreamed of," said 22-year-old Rodriguez, as Ineos won again following Michal Kwiatkowski's triumph Friday.
Vingegaard took the King of the Mountains climb points jersey, but his mind was firmly fixed on the yellow overall leader's jersey he will wear for a ninth day Sunday.
"It was a very hard fight once again today, and I was happy to gain that second in the end," the Dane said with a broad smile that belied the vinegary atmosphere developing between him and Pogacar.
On the last of the day's ascents, Jumbo's Sepp Kuss took Vingegaard as far as he could, before Pogacar's own lieutenant, Adam Yates, attacked with the Dane isolated.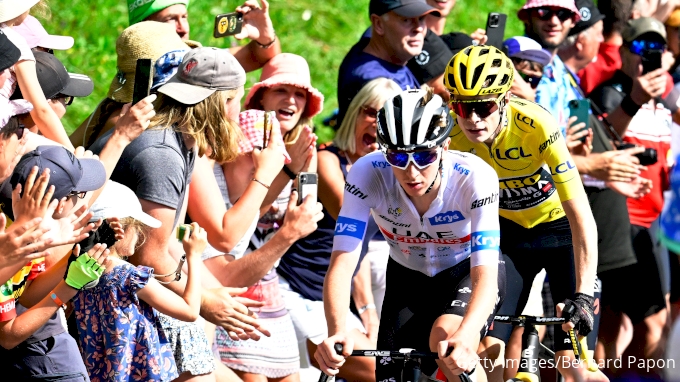 Pogacar then launched his blistering turn of pace and opened a five-second gap, only for the Dane to doggedly track and then reel in the exasperated Slovenian with two kilometers still to climb.
Vingegaard drew level with his younger rival and eyed him, but the latter refused to look back.
Pogacar tried again atop the 17-kilomter climb to burst past last year's winner but was blocked in the narrow passage of fans by a motorbike carrying a photographer.
Instead, Vingegaard then burst ahead and took three bonus seconds at the top of that last climb.
An infuriated Pogacar wasted precious energy racing past his rival in a show of anger, but later refused to be drawn on the episode.
"If I have to draw a balance here, it was a good, positive day, and we can go into the coming days with confidence," he said. "As for the motorbike, it couldn't move, it is what it is."
Vingegaard said the motorbikes had been close but "to talk about what might have been is useless."
While all this was going on, Rodriguez pulled back and drew level just after the hilltop, before dashing off downhill to win the stage itself.
The favorites end another stage still standing and holding their nerve in this tightly matched war of attrition.
A high altitude summit finish, a day off, a daredevil downhill dash and an individual race against the clock over the next three stages, however, could decide the winner.
Vingegaard disagreed when asked if he thought downhill finishes were dangerous.
"I don't think I would call it dangerous, it's as dangerous as you make it," he said in his rational tone. "If you go too hard, it's dangerous. If you don't, it's not."
Rodriguez took the day's honors, thanks to his downhill dash.
"My BMX past gave me the win today, my descending skills are one of my strong points," said the 22-year-old winner.
Fear And Falls
France lost one of their home hopes when Romain Bardet suffered a race-ending crash as rain-slicked roads made for treacherous racing.
Bardet and English rider James Shaw fell at speed on a downhill stretch after the day's first climb.
A runner-up at the 2016 Tour de France and world championships in 2018, Bardet had been in 12th overnight and was targeting a top-5 finish.
Ahead of the stage, the series of Alpine descents had put Gino Maeder's recent fatal crash in the Tour of Switzerland firmly in the minds of many in the peloton.
Earlier, after a sudden shower, there was a mass fall on a corner just five kilometers after the start that forced organizers to halt the race for 25 minutes.
South African rider Louis Meintjes, 13th overall, suffered a broken collarbone and did not rejoin the race. Spaniard Antonio Pedrero was evacuated on a stretcher, and Colombian Esteban Chaves restarted but pulled out 10 minutes later.