2023 UCI Cyclocross World Championships
Van Der Poel And Van Aert Set For Cyclocross World Championships Title Bout
Van Der Poel And Van Aert Set For Cyclocross World Championships Title Bout
The cyclocross world championships will culminate with a showdown between two of the sport's biggest stars Mathieu van der Poel and Wout Van Aert.
Feb 4, 2023
by AFP Report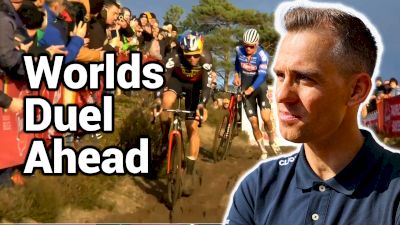 The cyclo-cross world championships, which opened on Friday with the Dutch winning the mixed relay, will culminate on Sunday with a showdown between two of the sport's biggest stars Mathieu van der Poel and Wout Van Aert.
Van der Poel, the four-time cyclo-cross world champion and the winner of three road classics, is on home mud in Hoogerheide in the Netherlands.
Belgian van Aert, who won the green points jersey in last year's Tour de France, has won the world title three times.
The reigning champion, Tom Pidcock of Britain is skipping the event to attend a training camp in Spain, preparing for the road-racing season.
Van Aert and Van der Poel have met 10 times on the mud already this season. All the races have been close, but the Belgian has come out on top six times.
"It will probably be 50/50. It will all depend on the form on the day. Until then, I'm going to rest well so that I have my best legs of the season in a week," Van der Poel said last Sunday, after he won the World Cup race in Besancon, France, where Van Aert did not race.
Neither man competed in the six-rider relays on Friday as the Netherlands beat Great Britain with Belgium third.
The championships, in southwest Netherlands, just north of Antwerp, are expected to draw tens of thousands of fans.
Barring mechanical problems, so frequent in the sport, it is hard to see who could disrupt the fight between Van der Poel and Van Aert.
Their strongest rivals are a trio of Belgians, Laurens Sweeck, Eli Iserbyt and Michael Vanthourenhout, who between them won the first six races as the big two both skipped the start of the World Cup season.
In the last eight rounds, Van der Poel won five times and Van Aert twice, with only Vanthourenhout breaking their domination. Sweeck, who finished every race, won the World Cup title.
In the women's race on Saturday, the overwhelming favourites are all Dutch, even though eight-time winner and defending world champion Marianne Vos will be absent because of "physical problems".
Nine of the top ten places in this season's World Cup standings, including the top seven spots, were filled by Dutchwomen.
Fem van Empel won seven of the 14 rounds to take the title. She was also part of the Dutch team that won the relay on Friday.
Puck Pieterse won four World Cup races and Shirin van Anrooij the other three.
In the past three years, the only non-Dutch rider to win a World Championship medal was Italian Silvia Persico, third in Arkansas last year. She is in the field on Saturday.